Co-captains Katrina Dingley and Aerin Humiston are excited to see how the team builds on 2019's success sending 10-of-14 swimmers to state 
Richfield synchro faced its toughest challenge yet this spring as historical powerhouse St. Louis Park picked up a 35-10 win at the Richfield Middle School Pool on April 29.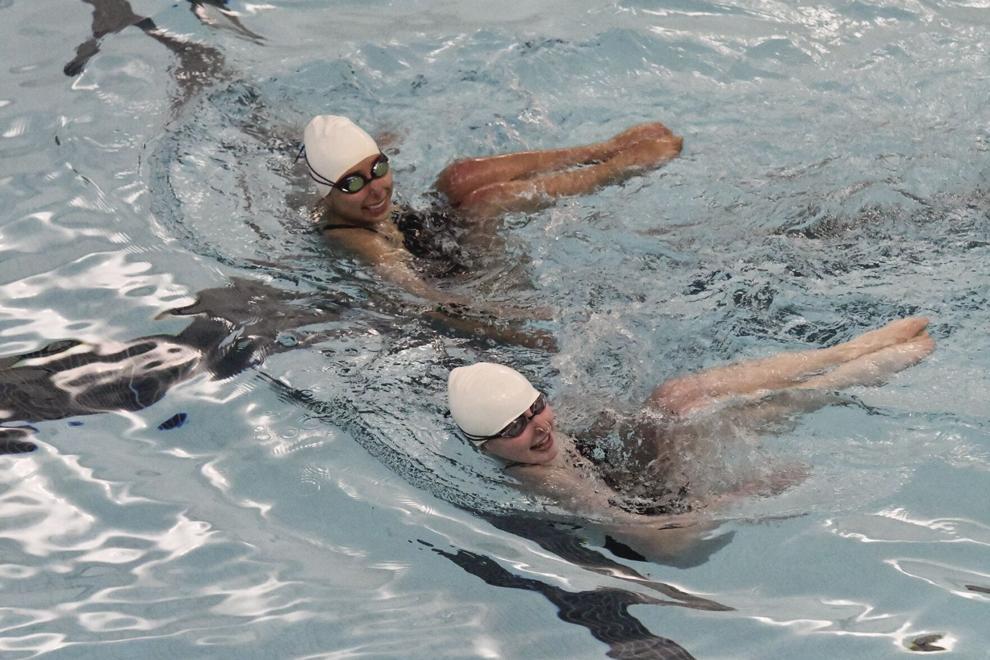 The Spartans competed in solo, duet and trio, while Park only competed in a team to add to the points total in their second routines meet.
Senior captains Aerin Humiston and Katrina Dingley appreciate the opportunity for a spring season after going through the opening week of the 2020 season only to learn it would be canceled due to the pandemic.
The April 29 meet was a milestone for Humiston, who missed the first meet while in quarantine after being exposed to COVID-19.
"I had to be away from the team for two weeks," she said. "Never got it but it still really hurt to be away from the team."
Dingley is a second-year captain after coming into the 2020 campaign as the only captain. "Having Aerin by my side has made everything easier. The girls are amazing and working so hard, being in the pool is great and after missing last season everyone wants to go to sections and state – they want it so much more and it makes the environment such a fun place to be every day."
"There really is no room for cliques because we only have 10 swimmers and are such a unified family," Humiston said.
Many of the synchro swimmers naturally gravitate from the fall swim and dive season, as the two sports help each other out on a number of levels from recruiting to training and building a level of community among swimmers in Richfield.
As for recruiting newcomers to synchro, Dingley said relationships only grow once the fall swimmers give synchro a try. "It's a win-win for everyone, both sports help correlate with each other," said Dingley, now in her sixth season with the team.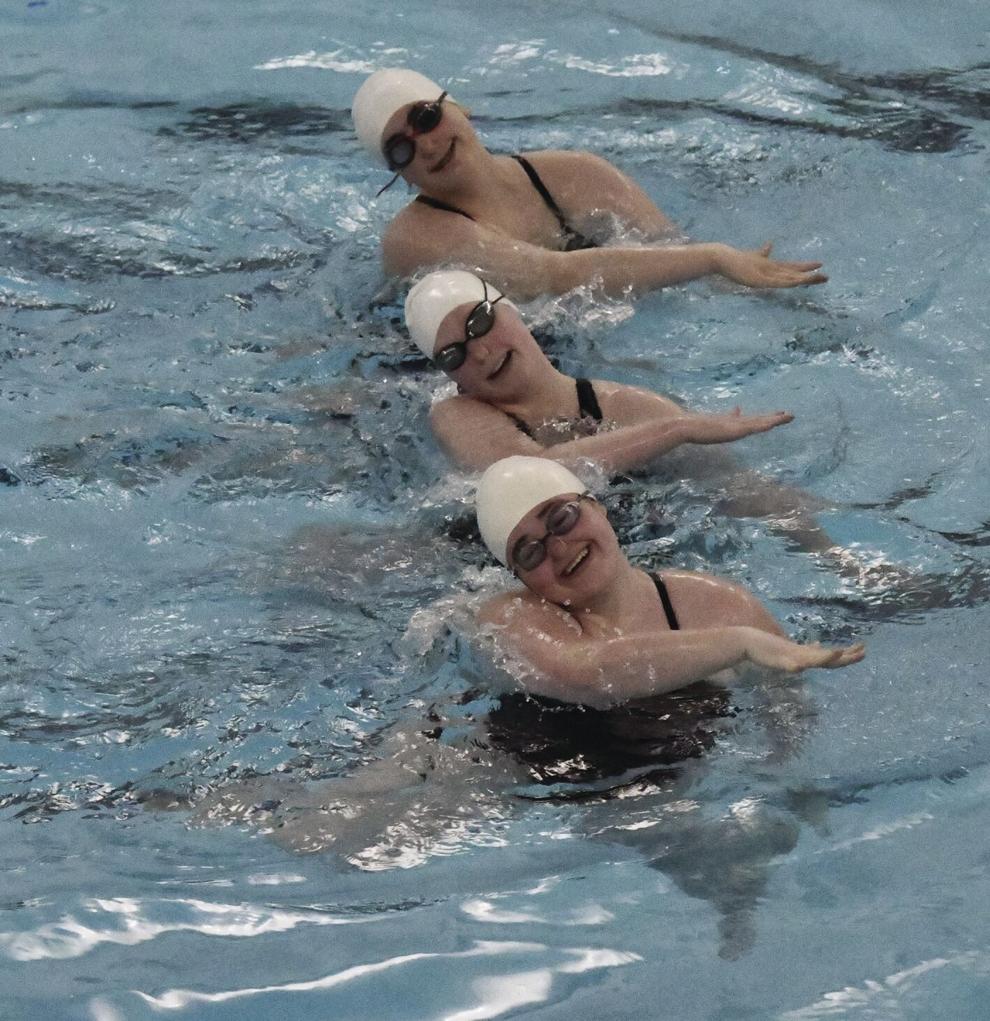 The toughest part of recruiting is getting over the stigma of, "flower caps and old ladies," Dingley said, "but once we show the girls at the middle school where we have a table set up with our suits and a video going. Some of the girls say, 'Oh wow! That's actually a lot different.' And some come to captains practice and are intimidated."
A typical practice runs 4:10-6:30 p.m. each weekday, along with a 7-10:30 a.m. Saturday practice. The weekend practice is focused on more individual work with yoga and breakfast, while the weekday practices begin with stretching and warm-ups in the pool before building endurance work through drills, figures and then break out to routines.   
"Our coaches try to make things not so mundane," Humiston said.
They even go through a Headspace time on Tuesdays to meditate. 
"Being a senior in high school about to go to college, it's really nice to get those five minutes in the dark to listen and relax. It's a really nice thing we do," Dingley said.
One of the regular drills at practice is known as "unders." Swimmers go the length of the pool along the floor, under the water. On Wednesdays, they modify it to "funders" where they go the width of the pool in a variety of ways from Spiderman unders, corkscrews, dance or upside-down unders. 
"It ends up being harder but the mindset is to make it more fun," Humiston said.  "And another is diagonal and not once have we had our seventh-graders pop up for air. It's a mindset and they are doing great."
Humiston's response to those who think it is too easy or tough is this: "It's all about mindset. You can do exactly as much as you think you can."
Dingley responded: "It's one of those sports you get out what you put in. If you don't work very hard you probably won't be that good but if you put the time and effort into it and are determined and you want it you will be great."
Humiston would come to Pirahna's practice early to watch the end of synchro practice and was fascinated by it. 
"It's magical," she said, where else can you swim to music?
Humiston came out to captain's practice in seventh grade and didn't return until her sophomore year. "I regret that because I'm much stronger than I thought I was and now I'm glad to be making up for lost time," she said. 
The choreography works well with a variety of music from Beyonce, Queen or Dua Lipa for example.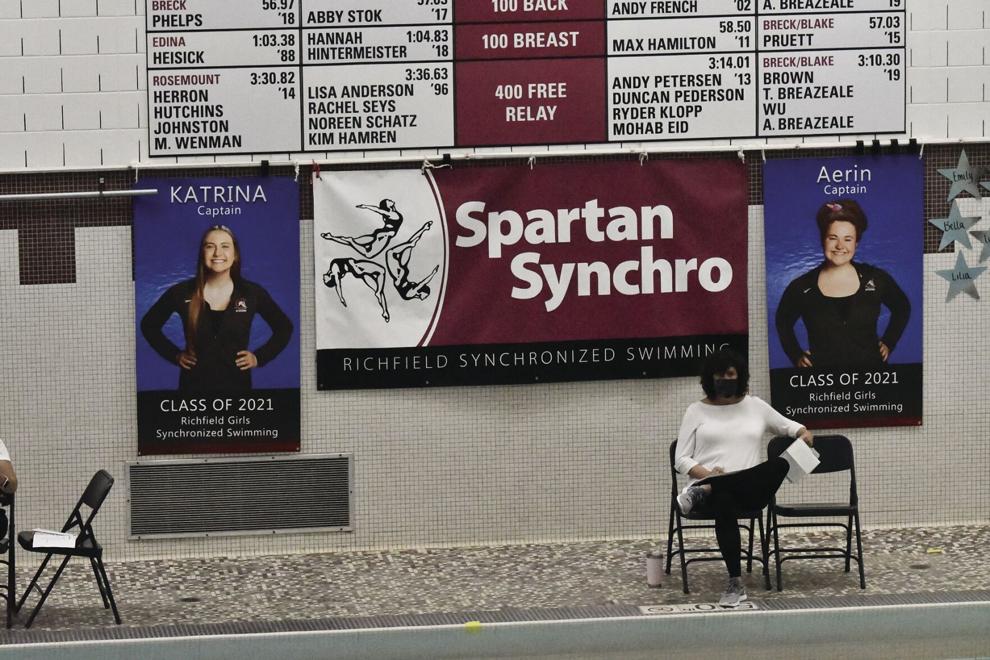 Humiston and her trios partners wrote their choreography as a sophomore and two freshmen to qualify for state.
Before the interview, Dingley sounded more like a coach, explaining to the team the need to clear the pool deck ahead of practice the next day before leaving. 
"Don't let it hit the pool," Dingley yelled to the teammates on the pool deck when Humiston jokingly chimed in, "We have four coaches (head coach Lauren Kranig plus two assistants)."
Instead of high fives from the other team, Park did the traditional Richfield synchro chant. Richfield responded with the final chant which included a line about Barracuda and kicking some butt.
Last spring the team was three weeks into practice and one week from the first meet of the season when everything was shut down.
"Katrina worked so hard to make sure the team stuck together with Zooms and workout Fridays," Humiston said. "The coaches drove by our houses and gave us little care packages with balloons and posters on their cars. We felt so special and they go above and beyond to make that season as normal as it could've."
Below the record boards for the lap swim team, Richfield synchro honored the seniors with full-size photo posters of the two captains, plus color-coded clusters of stars to signify scores. "It serves as a morale booster to strive to go harder and get that next high score," Dingley said. The swimmers take the stars home at the end of the season.
Richfield won solo and duet against Prior Lake the previous week but didn't compete in the trio due to COVID-19 precautions. McKay Hall edged out teammate Isabella Collins for the solo title, while Katrina Dingley and Hall teamed up to win the duet competition over Emily Dzierzak and Emily Garcia 61.833 to 60.333.
Upcoming meets remaining include the May 8 section figures meet, followed by the section routines meet May 22. 
Between the meets is the showcase May 15 with performances at 11 a.m. and 2 p.m. at Richfield Middle School where the swimmers are dressed in full costume.