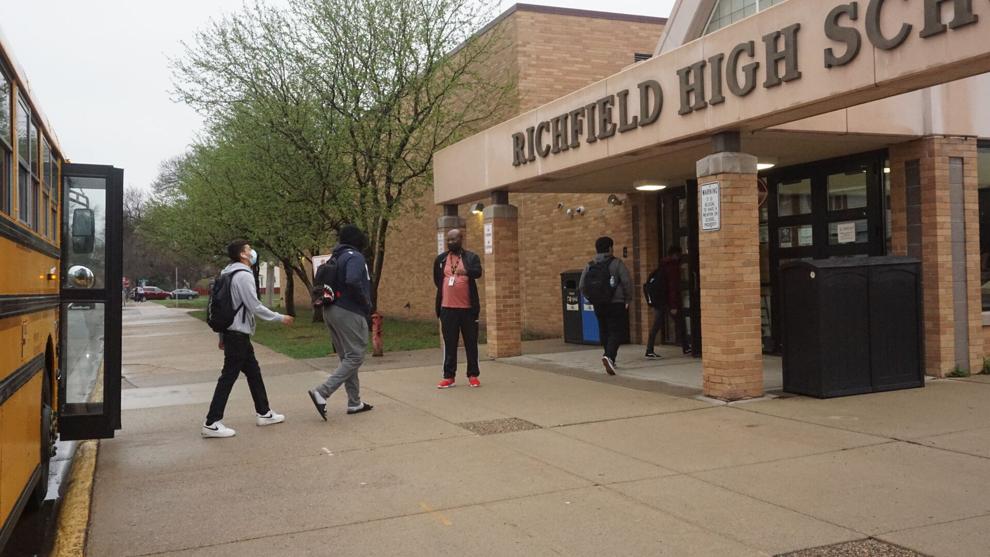 However, the student services ratios are concerning
The Richfield School District employs one of the most diverse teaching staffs in the state, a point of pride for the district, Superintendent Steven Unowsky said during the Jan. 3 School Board meeting.
However, the district, like most in the state, also has a significantly high ratio of social workers and counselors to students.
That information was brought to light in a staffing report presented by Craig Holje at last week's meeting.
The total number staff in the district has increased over the past year by 18. As of November 2021, the district employed 662 staff members, in 613.75 full-time equivalent positions.
The report lists all full-time and part-time employees with the exception of board members, reserve teachers, community education teachers, non-public employees and casual employees who work for short periods of time in seasonal positions.
Of the 662 employees, teachers make up the largest portion with 354. They are followed by paraprofessionals, which account for 117. There are 73 employed in custodial and transportation, 41 in administration and classified management, 32 in nutrition services, 26 in management and administration support services, 14 outreach workers and five student-engagement specialists.
Though staff members were added overall, there were departments that lost employees, namely facilities and transportation, which is down nearly five positions this year.
The reduction in the facilities and transportation group, according to Holje, resulted from a different delivery model because of the COVID-19 pandemic.
The group with the largest increase was paraprofessionals, with more than 12 added as a result of the move back to in-person learning.
It's been a steady climb toward hiring more people of color in the district.
Of the 36 teachers hired this year, 80% are White, 13% are Hispanic or Latino and 7% are Black.
Of the district's 354 teachers, 84% are White, 7% identify as Hispanic or Latino, 5% are Black, 2% are Asian, and another 2% are identified as "other."
In 2015, 87% of the district's total number of employees identified as White, while 13% were people of color. In 2021, 76% of all staff members identified as white, while 24% were people of color.
"It's always exciting and hard when we review these numbers because you look at 16% of teachers of color and you think, 'Hmmmm,' and then you realize it's one of top-five most diverse teaching staffs in the state of Minnesota, and we believe third or fourth most diverse – we won't see the exact numbers until all the state reports come out," Unowsky said. "Yes, it's impressive growth and a significant way to truly reflect our students."
The majority of teachers also have advanced degrees.
Of the 354 current teachers, 272 (77%) have a master's degree or higher. Of the 36 new teachers hired this year, 25 (69%) have a master's degree or higher.
But one of the categories in the staffing report, student services, provided the most engaging discussion among board members.
Helen Dombrock, a student representative on the board, said, "Looking at the student service ratios, and in particular, the counselor-to-student ratios, at first glance it does look really alarmingly high," Dombrock said.
Dombrock used her own experience in trying to make an appointment with a counselor to describe an issue that is not only being seen in Richfield, but across the state, according members of the board.
"Sometimes when making appointments with your counselor, my counselor could be backed up for a week, where you would have to wait a whole week to get that designated time with her," Dombrock said.
Though Dombrock was unsure if her counselor's schedule was always backed up, she said having to wait a week was disappointing, but that the counselor-to-student ratios at the High School (one counselor for nearly 303 students) was "alarmingly high."
"You're perceptive to have noticed that because it's a problem across the state of Minnesota, which historically has one of the worst ratios around counselors to students in the entire country," Board Director Crystal Brakke said. "So it's unfortunately a systemic problem. ... As grownups running the system, we have to figure out how to make it better."
Board Chair Tim Pollis echoed Brakke's and Dombrock's assessments, saying, "It is higher and it is one of the areas we've been taking a look at with funding. ... Last year we actually added a counselor to the High School. ... We've heard that concern and have provided some necessary supports, but we'll continue to look at that," Pollis said.
He added, "The awareness in our state is dreadful. Collectively, we're better than that. Our district is slightly better than the dreadful collective for numbers, but we are working on ways to improve them," he added.
The counselor-to-student ratios are as follows:
• Middle School, (two counselors) 1:418.5
• High School, (four counselors) 1:302.75
• RCEP, 1:58 (this counselor also works at the high school)
The social-worker-to-student ratio is as follows:
• RCEP, 1:58 split between high school and RCEP