Spartans senior credits teammates, coaches for the success
Richfield senior Lamar Grayson was presented with a Mr. Basketball plaque as a finalist for the annual award going to the top senior boys basketball player in the state.
Minnehaha Academy's Chet Holmgren earned the Mr. Basketball Award to go along with the McDonald Award, an award Grayson was also a finalist for.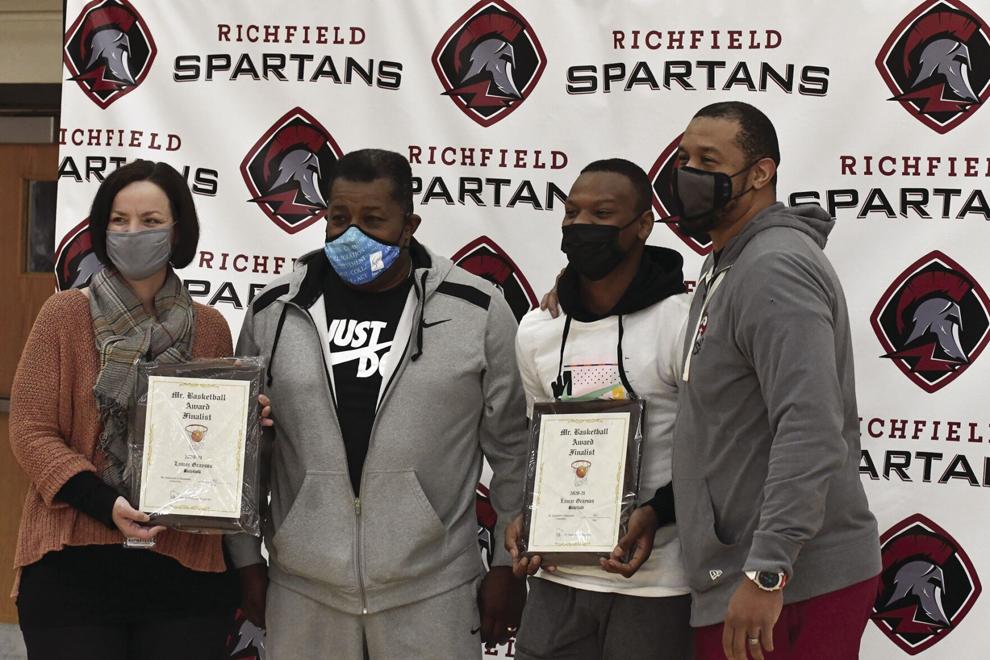 Grayson was surrounded by a few friends and family for a brief presentation with Spartans head coach Omar McMillan.
McMillan believed if it wasn't for Holmgren's emergence as the top national recruit, Grayson would've won both awards.
"He's like a second dad for me," Grayson said, expressing a lot of praise for his high school coach who served as a mentor and role model. "I appreciate him both on the court and away from the court. He always brought the energy for us and makes us want to do better."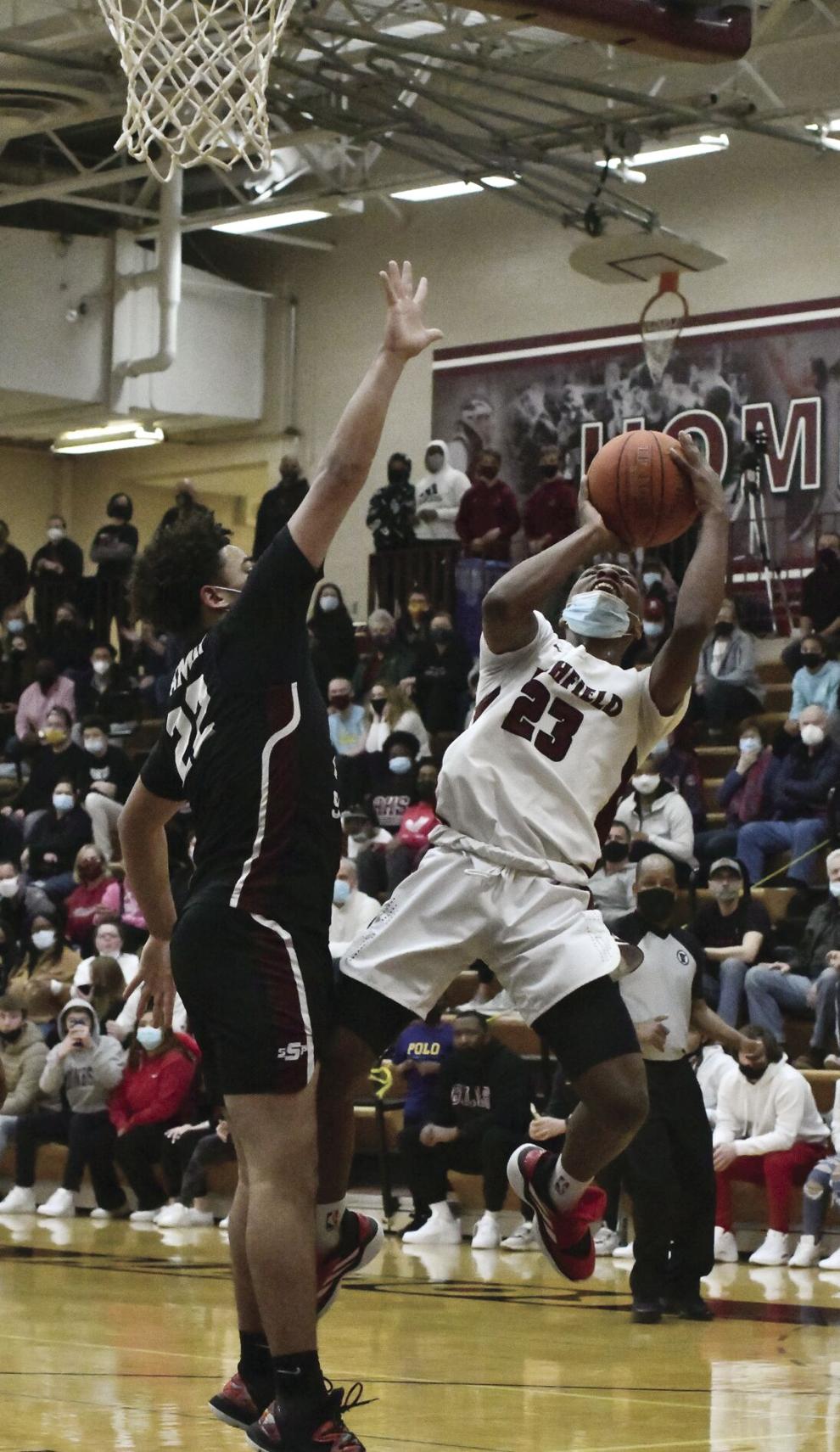 Some of Grayson's top memories revolve around joking around during practice or just being together, socially distanced, after practice when McMillan would treat the team to a meal. "I'll miss those memories," Grayson said after John Robinson presented Grayson with a Mr. Basketball award finalist plaque during a brief ceremony Friday at Richfield High School.
The McDonald Award honors Bob McDonald, the late Chisholm coach who won 1,012 games over 59 seasons and is presented by the Minnesota Basketball Coaches Association for a fourth season. Consideration for the honor includes performance on the court throughout the season, including an ability to excel on both ends of the floor, character on and off the court and contributions to the overall team effort. Previous winners include Tre Jones (Apple Valley), Matthew Hurt (Rochester John Marshall) and Jalen Suggs (Minnehaha Academy).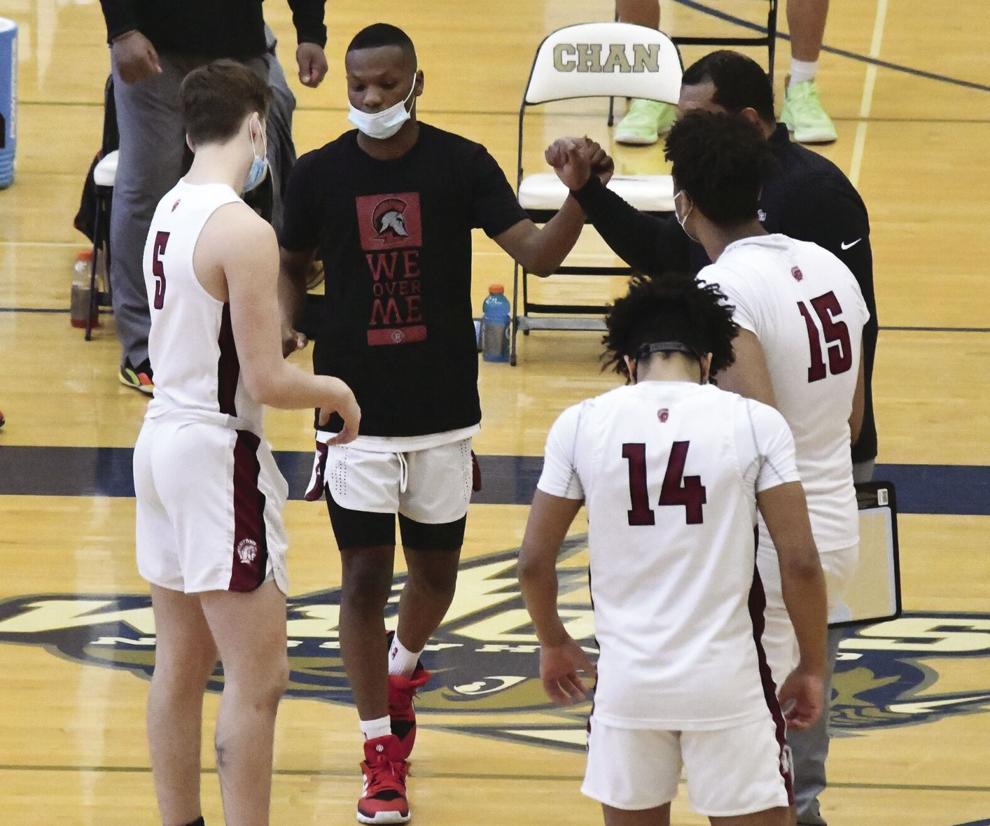 Grayson joins an accomplished group of finalists for the McDonald Award including Chet Holmgren (Minnehaha Academy), Trey Longstreet (Delano), Andrew Morgan (Waseca), Rowan Nelson (Melrose), Francis Nwaokorie (Champlin Park), Josh Streit (Eden Valley-Watkins), Davon Townley, Jr. (Minneapolis North), Will Tschetter (Stewartville), Kooper Vaughn (St. Charles). 
Grayson said the individual accolades mean a lot, especially after setting top-five in each award as a preseason goal.
The Spartans, including Grayson, didn't need much motivation to get up for the 2020-21 season given how the 2019-20 season finished with a section title but no state tournament due to COVID-19.
"It was a great experience, I felt like it was a great season," he said, summing up Richfield's run to the Class 3A state semifinal game. "To get back to state and play at Target Center, I can say this season was filled with a lot of great memories."
Finally playing on the state's biggest stage at the state tournament was at the top of Grayson's memories from his time as a Spartan. But nothing can replicate the emotions and energy he felt from the Richfield faithful after winning the Section 3-3A title over Holy Angels in March 2019.
"That was the most fans I have ever seen for us," Grayson said as the visitor's side was overflowing at Jefferson High School, the neutral site for the section final.
The gym was loud all game and that roar erupted after the final buzzer as the Spartans topped Holy Angels for the Battle of the Tracks Trophy, in addition to the Section 3-3A title.
"This year covid messed a lot of stuff up because we would've had even more fans with us going back-to-back," Grayson said. "I want to thank them for taking me in and making me feel welcome."
Grayson is a native Texan who moved to Minnesota in the sixth grade with his family, including older brother Lamont Grayson who graduated in 2019. Lamar credits his older brother for motivating him to stick with basketball instead of football. Lamont averaged nearly eight points per game in 10 games as a senior for the 6-win Spartans in 2018-19, the last season in the Metro West Conference. 
Without his brother on the same court for two seasons, Lamar said, "I had to get over it sooner than later and I've had a great group of teammates who are like big brothers to me. Lamont motivated me to be better."
The primary ball-handler for the Spartans, Grayson was elite in his ball-handling and distribution to get everyone involved on both ends of the floor from Mitchell January or Ryan Miles on the perimeter, or slashing inside the lane or down low into the paint where junior Jaden Wollmuth and Isaiah Casey-Hammond did their damage.
"It's good to have teammates like that and they definitely didn't get enough credit for what they did to take a lot of the pressure off me," Grayson said. "They've always been good teammates and I'll never forget it."
Being able to come back and have a season begin in January was all the motivation Grayson needed. "We wanted to [go back-to-back] for the seniors from last year and not only get back to state but win a championship," he said. "We had a lot of fun along the way and at the end of the day, that is what it is all about."
While the large crowds were a casualty of the COVID-19 protocols, Richfield super fan Joe Carr was there on the floor cheering the team along all the way to Target Center. "Just to see him smile motivates us a lot because I know if Joe's happy, I'm happy. He brings the energy."