Starting guard for Slovakia's Piestanske has promising season cut short by COVID-19
Jessica January didn't think about the possibility of playing professional basketball until her junior year at DePaul University.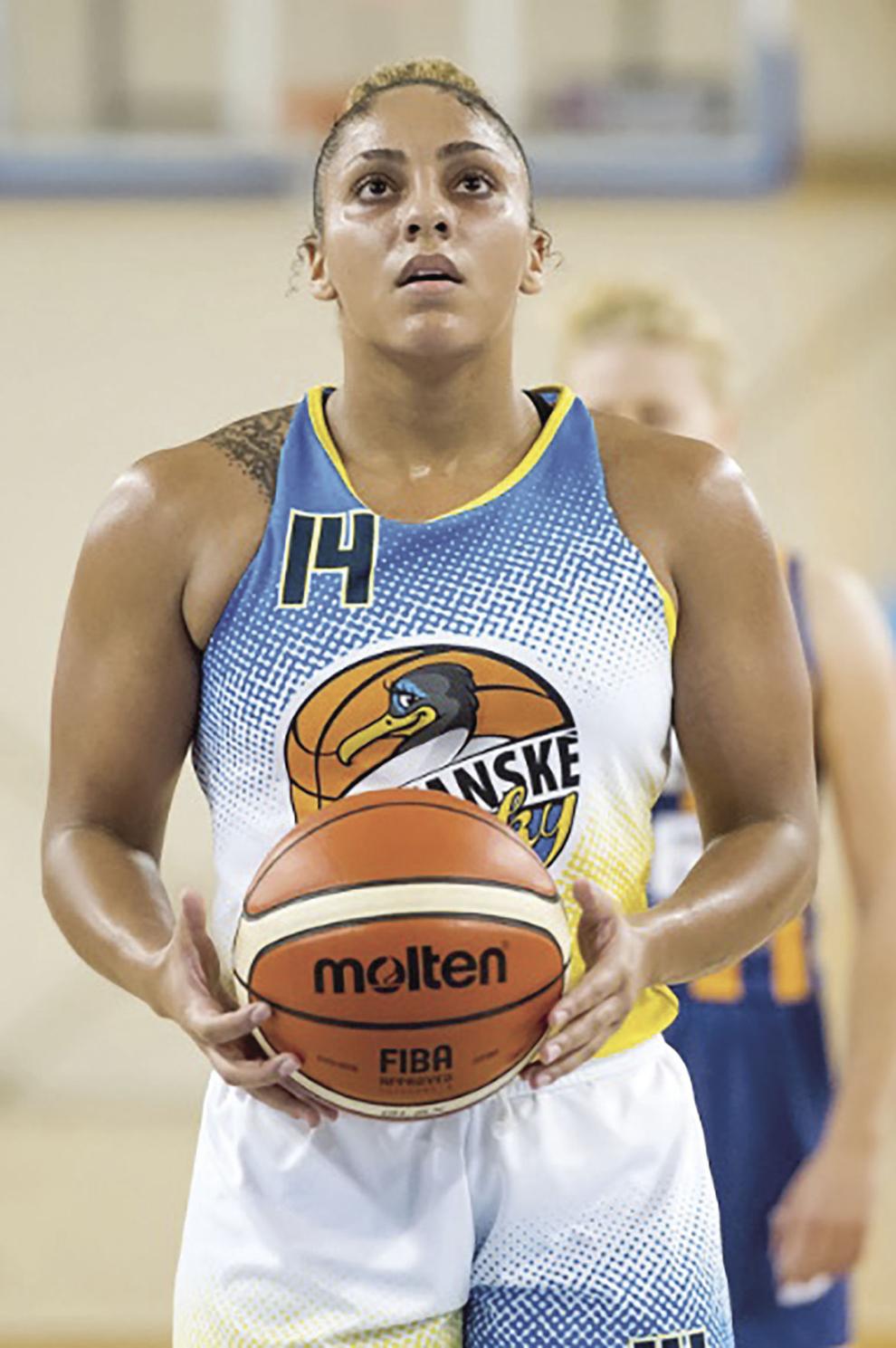 The Richfield High School standout on the basketball court and state track champion went on to a highly successful four-year college career at the Chicago-based Big East Conference program before being drafted by the Connecticut Sun with the 28th overall draft pick in 2017.
Depaul coach Doug Bruno helped explain the next steps toward professional basketball including finding an agent before the WNBA draft.
She helped the Blue Demons to consecutive Big East Tournament titles in 2014 and 2015, receiving CoSIDA NCAA Division I Academic All-American First Team honors in 2017.
After three successful seasons playing professionally in Europe, January signed a tryout contract with the Indiana Fever, which was announced on March 19. The season is scheduled to begin Friday, May 15.
Fever assistant coach Steve Smith was on the Sun staff when they selected January in 2017. "He put in a good word for me in Indiana," she said. "I am extremely excited for the opportunity and hope to make the team this summer."
The 2019-20 European season wrapped up early due to COVID-19. 
January not only experienced another strong individual season but made a tremendous impact on Piestanske Cajky of the Slovakian League.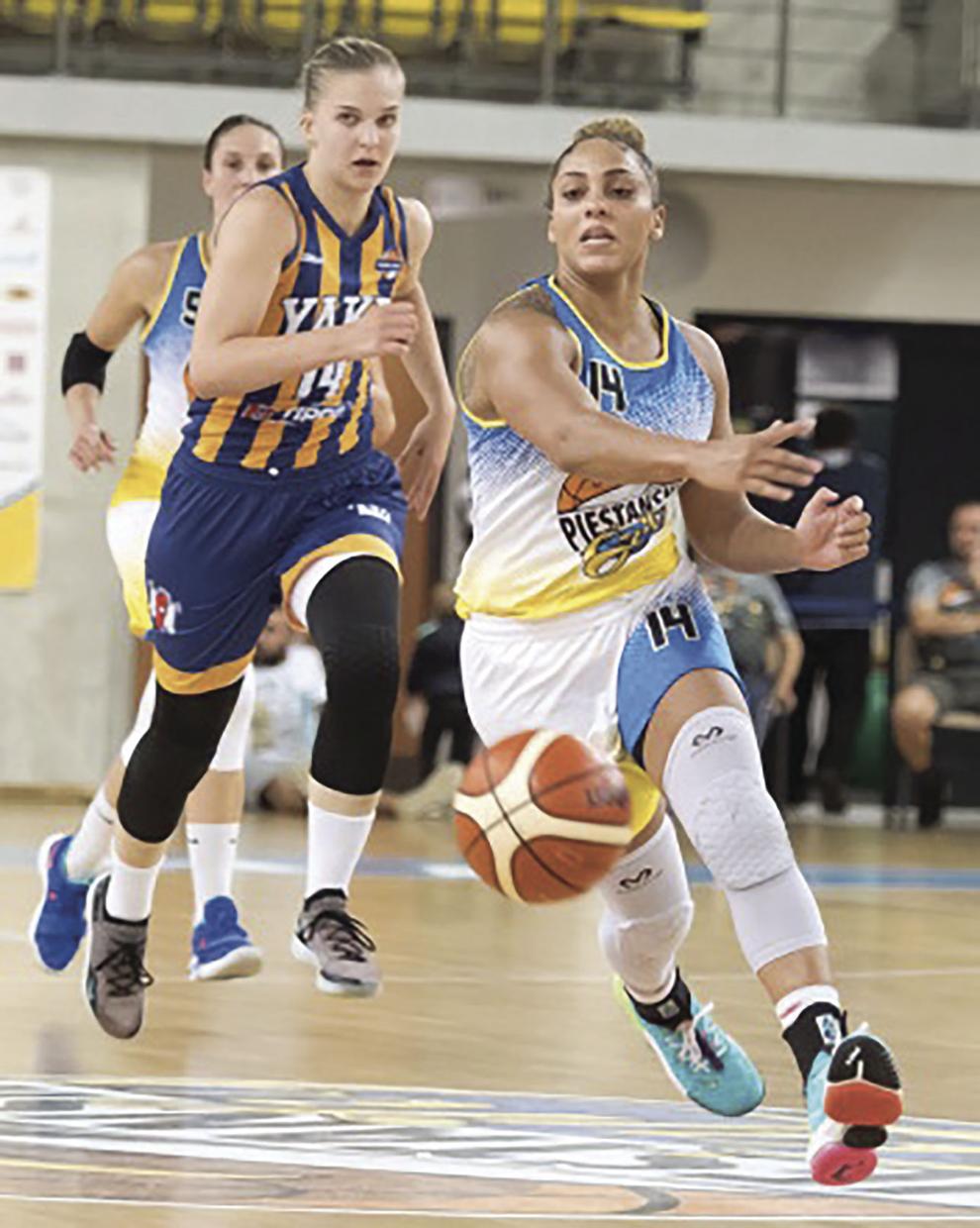 The Seagulls made the final four for the CEWL (Central European Women's League) and EWBL (European Women's Basketball League). It was the team's first EMBL final four appearances and January was named MVP for the playoff win over Rostov.
She capped off the season earning a spot on the All-First Team list and was named the Defensive Player of the Year for the Slovakian League.
January averaged 14.8 points, 7.2 rebounds and 4.5 assists for the 14-4 squad to place second in the six-team Slovakia-Extraliga standings. 
She earned Player of the Week honors twice as the team advanced to the EWBL Final Four for the first time in Seagulls history. 
She led Piestanske to a 66-43 win over Czech side Chomutov back on Jan. 17 to stay at the top of Group A with a 6-1 record. January turned in a double-double with 18 points and 10 rebounds to go with four assists and four steals.
Piestanske was scheduled to begin the CEWL playoffs on March 28 against Marbur.
In EWBL games, Piestanske posted a 6-1 regular season to qualify for the playoffs. Two wins over Rostov in the quarterfinals set up a semifinals matchup against Dynamo NR, scheduled for March 21 but has since been canceled.
January was 2-of-8 from the field playing 26 minutes to go along with six assists, four rebounds and one steal in a 78-56 Game 2 win over Rostov. She opened the series with 29 points on 11-of-19 shooting from the field in a 77-70 win over Rostov. She made 5-of-7 3-point attempts and pulled down 11 rebounds for a double-double. January also had six assists and three steals. 
January loves the passion in the stands in European basketball games.
"Fans love women's basketball," she said. "They are just as passionate about us winning as we are. The atmosphere at games is always energetic, fun and exciting."
January moved on to Slovakia's Piestanske Cajky for this season which ended early due to Coronavirus, but not before a highly successful season.
She enjoyed her time in Slovakia, playing in great facilities and developing a strong bond with her teammates. 
As for the coronavirus impacting the season, January credits the franchise and league for their response to the situation.
"They waited as long as they could (what was safe) to determine if the season was going to be canceled," she said. "As soon as it was, they got all of the foreigners out of the country quickly and safely. They upheld their contract responsibilities and put the safety of the players first. I can't thank them enough for their professionalism in such a hectic time." 
January was released before that 2017 WNBA season and signed with Romanian team CSU Universita where she averaged 17.1 points, 6.7 rebounds and 4.2 assists per game, over 19 games to earn Eurobasket.com All-Romanian League Honorable Mention honors.
It would be the first of three seasons playing in Europe. She posted double-doubles in her first two seasons in Europe.
January moved on to HyPo of the Finnish Korisliga during the 2018-19 season where she posted 16.2 points, 7.4 rebounds, 5 assists and 2.2 steals over 18 games helping the team to the regular—season title and made it to the semifinals. She was voted to the Eurobasket.com All-Finnish League Honorable Mention list.
Adjusting to the European-style of the game not only meant learning new rules but also overcoming a more physical style of play and more ball screens.
The way teams call timeouts in Europe is different from North America and fast break fouls are called flagrant fouls, instead of a typical foul call. She enjoyed her time in Slovakia, playing in great facilities and developing a strong bond with her teammates. 
January admits the biggest challenge for her was being away from home and family for long periods of time.
"Although I was away from Minnesota in college, it was only a six-hour drive to Chicago," she said. "Clearly, that isn't so easy in Europe. I am very close to my family, so I am homesick often. It is a little easier in my third season, though."
Her parents, Montral and Stefanie, visited during her first pro season in Romania.
It also doesn't help that she is a self-admitted picky eater. "So trying new food and finding meals that I enjoy is a little bit of a process," January said. 
One perk is exploring different countries and cities on a day off. "When I'm traveling for games or on off-days, I've had the chance to immerse myself in various cultures."
The culture shock took some adjustment, being one of only a few Americans playing pro basketball in the country.
"Whether it is a difference in the language, traditions, way of life, etcetera, it's something that requires adjusting. However, on the other hand, I am able to play basketball for a living."
Being able to travel the world, meeting new people, developing her game, creating memorable experiences and growing the game, she's found many positives from the experience. "It's not the way of life that many people get to experience," she said.
January earned a bachelor's degree in public relations, advertising, communications and media and put that to use through her sideline reporting, play-by-play and color commentary through Radio DePaul and the Big East Network.
Ahead of this season, she joined the Nets Republic, a Brooklyn Nets blog site, as a contributor with seven published stories following the Long Island Nets from afar. Her goal is to move into broadcasting with writing a necessary step in the process.
"Watching games, analyzing schemes and articulating the ins-and-outs of the game will help," she said.