As if holding an election during a pandemic isn't difficult enough, this year's presidential race is raising the stakes for election officials, who are tasked with informing voters of their ballot-casting options while ensuring the proper election procedures are followed. 
"The city of Richfield, along with Hennepin County and the Office of the Secretary of State, have been working together to get prepared for the upcoming election, especially in light of the COVID-19 pandemic," said Elizabeth VanHoose, Richfield City Clerk.
"In Richfield, our job is to ensure that we have the ballots in our possession, locked up and monitored at all times," VanHoose said. "We don't actually count ballots here. Hennepin County is in charge of counting the ballots. With all the checks and balances in place, voters can be assured that their vote will be counted, and that the county and the Office of the Secretary of State will take every measure to avoid voter fraud."
Plans for all voting locations have been reviewed to ensure that voters may cast their ballots while taking precautions against COVID-19. Voters should make a plan for when they want to vote, and review the information provided before heading out to cast their ballots.
Richfield voters have a variety of ways to vote this fall. From in-person voting at polling places Tuesday, Nov. 3, to curbside voting at the Municipal Center, to mail-in voting, there is a way for everyone to cast their ballot.
To register to vote, visit tinyurl.com/yyhadnfp.
On Election Day Nov. 3, voters may cast their ballots in person at their specific polling place. Polling places are open from 7 a.m. to 8 p.m. on Election Day. Voters must be in line by 8 p.m. to cast their vote.
To find a polling place, visit pollfinder.sos.state.mn.us. To see the Richfield precinct map, visit tinyurl.com/y34cz2o9.
On Election Day, voters will be required to wear masks and maintain social distancing. Voters are being advised to plan ahead and give themselves plenty of time to wait at their polling place. By Minnesota law, people have the right to take time off work to vote without losing pay, personal leave or vacation time. More information can be found at trimurl.co/51Vk39.
Any Richfield resident may cast an early absentee ballot at the Municipal Center from 8 a.m. to 4:30 p.m. Monday through Friday. Additionally, Tuesday, Oct. 27, marks the beginning of early direct absentee balloting, in which ballots are immediately counted. Direct balloting also takes place at the Municipal Center.
For some residents, getting to their polling place or the Municipal Center isn't possible. Perhaps because of fears of contracting COVID-19 or a limitation that makes it difficult for people to leave their home.
Other options exist to give everyone the right to cast their vote. Absentee voting by mail is one of those options. Absentee ballots may be requested online at tinyurl.com/y82vzlcn.
On Election Day or during in-person early voting, those who cannot easily leave their vehicle you can ask to have a ballot brought out to them. This is known as curbside voting.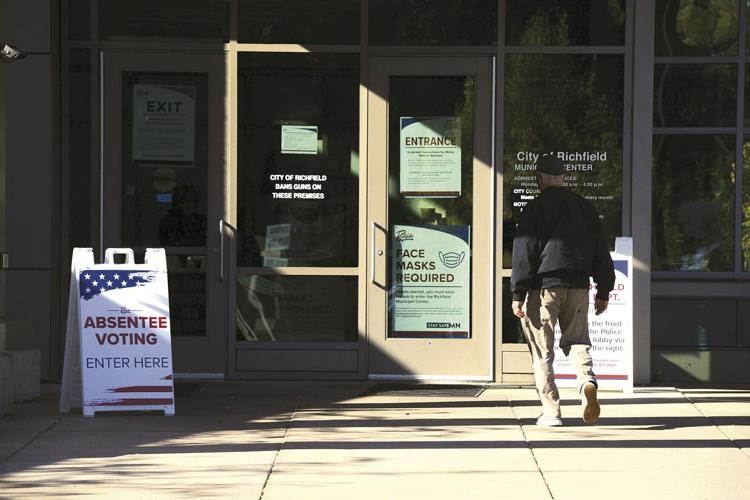 Those who are unable to deliver their absentee ballot in person may have someone else drop off their completed ballot. Those ballots must be brought to the Municipal Center before 3 p.m. on Nov. 3.
The person delivering the ballots will be required to show identification, and may only deliver completed absentee ballots for themselves, plus three others.
More information about getting assistance with voting is available at trimurl.co/GNaEMC; and to see what races will be on the ballot this fall, visit trimurl.co/XbHpLe.
– Courtesy Richfield Communications Department