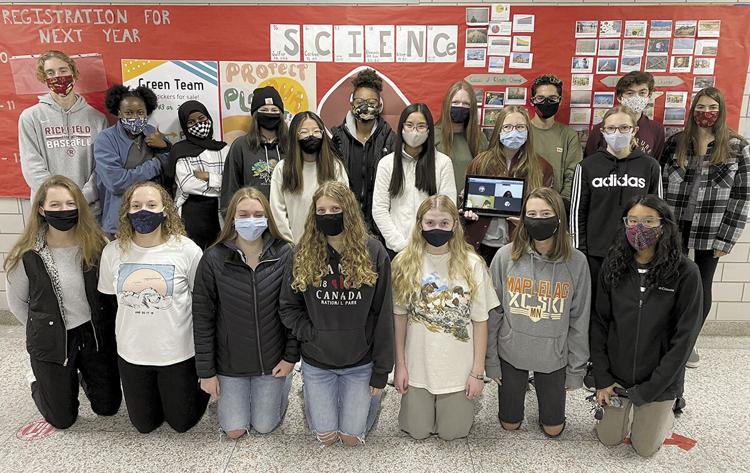 Despite pandemic, team members carry on
Being green is a really good thing.
Just ask Richfield High School student Natalie Hanson, the president of the Richfield High School's "Green Team," previously known as the environmental club.
With a dedicated core group, the club has boasted as many as 38 student members working to incorporate ideas to promote sustainability, not only at the school, but within the entire community of Richfield.
Other officers of the club are Allie Nelson, Andy Soto, and Bridget Foley.
"It's a pretty new group," Hanson said, "but we just recently adopted the 'Green Team' name."
Hanson described the team's overall goals: "Our organization wants to promote sustainability within the high school and the community of Richfield.
We're working to try and help students learn about sustainability and how they can incorporate that into their lifestyle. We want them to learn about climate change, because it really is an important issue that we're going to be facing in our future. We want all the students to be educated about that and know how they can make a difference."
With an initial goal of providing educational information for high school students, the group, despite the COVID-19 pandemic, is now working to reach into other district schools, as well as the entire community through projects they anticipate will have long-lasting effects.
Hanson, who has been president of the team for the past two years, said the current group was established about three years ago.
"In 2018 and 2019 we did some brainstorming and worked on smaller-scale projects," Hanson said. "We worked on a video about recycling and sustainable options for within the home, as well doing things like using refillable water bottles instead of plastic. The idea was to be talking about more sustainability in the school. That was our focus."
In addition, the group has worked with middle-schoolers.
"We did an event at the middle school because they had recently gotten new trash cans that included trash, recycling, and compost. So, a couple of us from the club went to the middle school and helped them to separate their trash correctly, letting them know which items belonged in each bin," Hanson said.
However, the biggest effort at the high school is an aquaponics project being led by Andy Soto.
"We're using some of the containers from the school construction with this project," Hanson said.
She described the sustainability aquaponics project: "We'll have a tank and in the bottom will be fish and in the top we'll be planting plants so the roots will grow down into the water and basically the fish and plants live with each other – in harmony," she said.
With the aquaponics project being the focus during the first half of this school year, Hanson said they are working on a project to incorporate composting at the high school. However, with the ongoing construction and issues with the pandemic, it has been slow going.
Another project on the team's radar is solar. With Allie Nelson leading the project, Hanson said the effort is just getting off the ground.
"We don't know the logistics of that project yet, but that's something we're looking into for the future," she said. "That project will definitely extend beyond the school year and probably the next year, but we're definitely trying to get that started soon."
Hanson said the group is pleased with the in-school work they have accomplished, but they have also been extending their reach and influence into the community at large.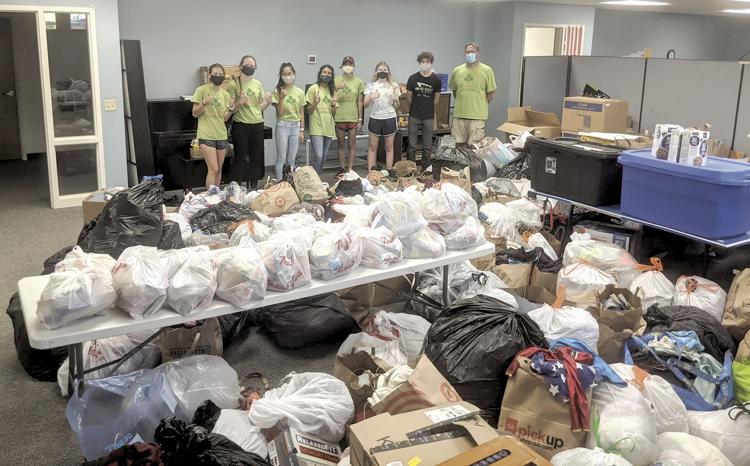 Last month they held a clothes drive and donated hundreds of bags to a Bloomington organization helping youth.
"A bunch of members set up tables outside the high school and community members were able to drive by and drop off any clothes they weren't using anymore, so they could be donated to Oasis for Youth," Hanson said.
"They are also a partner with our school. We reached out and wanted them to get involved in what we are doing and the clothes drive was a great way to do that. We had a ton of community members stop by and drop off. We had over 300 bags of clothes donated in the end. That's definitely the biggest (community) project we have done so far."
The student-led team has about 20 members who are most active. Hanson said involvement is dependent on students' participation in other activities and their availability.
"We have an Instagram account where we really try to promote and get new members through that," Hanson said. "We post updates on what our club is doing and when we have meetings. We really try to promote new membership all the time."
The team's advisor is Matt Brown, a science teacher at the high school.
The school shutdowns last spring didn't help the group establish much traction with projects they had planned, and this year is offering its own challenges.
But Hanson remains optimistic they will continue to grow as a club and make a difference.
"Since our year got cut short last year because of the whole pandemic, we definitely wanted to start strong this year," she said. "We didn't get a whole lot done last year and we just wanted to get our feet in the water and really start running with all these projects."