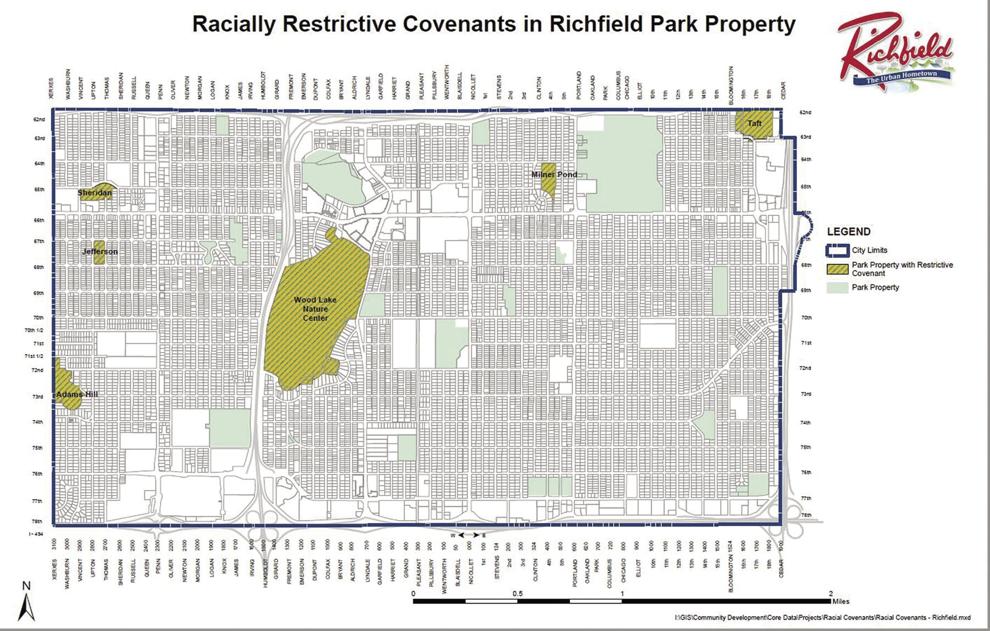 City formally discharges racial language from park land
The Richfield City Council on July 13 approved a measure that will formally discharge racial covenants from all city park land and require staff to review all future park land acquisition titles and discharge those covenants at the time of sale.
The approval came after months of staff work and council discussions. The city also worked in collaboration with the Just Deeds Project, a coalition whose mission is to educate and acknowledge systemic racism in housing across the state.
The action to formally discharge racial covenants from city property is a starting point for the city as the goal is to get residents' assistance in discharging discriminatory covenants from all city property titles.
With the city's participation in the coalition, residents are eligible for free help to find and discharge discriminatory covenants from their own property titles, erasing language that, though no longer legally enforceable, prohibits non-whites and non-christians from owning the property.
In all, the city owns 27 parcels of land that contain a discriminatory covenant, including parcels occupied by Adams Hill Park, Milner Pond, Upton Park, Jefferson Park, Taft Park, and the Wood Lake Nature Center, as well as parcels owned by the Housing and Redevelopment Authority.
Mayor Maria Regan Gonzalez credited Recreation Director Amy Markle with leading the effort to renounce discriminatory language from the city's park land deeds, as well as promoting equity within all city recreation programming.
"It is because of the tremendous leadership of Director Markle, who is putting this into action with all of our programs and our services in the recreation department," Regan Gonzalez said.
The city's initiative has been assisted by a law passed in 2019 allowing property owners the right to individually discharge and renounce the discriminatory covenants by recording a discharge form in the county property records.
The discharge doesn't remove the language, but instead acknowledges it and its intent, and formally renounces it.
According to recent staff report, "removing the covenant from a property deed merely erases the painful evidence of past wrongdoing, while formally renouncing the covenant."
For about the first 60 years of the 20th century, a commonly used tool to prevent Black, Indigenous, People Of Color and non-Christians from buying property was to include language that specified racially based biases.
One of the more commonly utilized statements included in property deed for much of the first half of the 20th century was, "No person or persons other than of the Caucasian race shall be permitted to occupy said premises or any part thereof."
That statement came directly from a property deed on a Harriet Avenue parcel in Richfield.
A recent staff report laid bare the issue: "While unequivocally deemed illegal with the passage of the Fair Housing Act in 1968, this discriminatory practice had a far-reaching impact on the development of the Twin Cities and communities of color, resulting in racially segregated communities and creating severe inequities between white and BIPOC communities still felt today."
Councilmember Simon Trautmann thanked staff for taking the initiative and described "why it's important that we take time to do that."
He continued: "What you see is how we chose to build our city. If we don't take time to recognize that, we aren't cognizant of how our city came to be, and some of the struggles we still continue to have."
Those long-term effects are visible in today's Richfield.
Staff included in its recent report to the council that, "According to the 2019 American Community Survey (ACS), 70% of white households own a home, while just 31% of households of color own a home in Richfield."
"As a bi-cultural family and Latino family that came to Richfield, we saw how neighbors were suspicious of us when we came in the '80s and I was a child. That was a controversial thing in the '80s in Richfield," Trautmann said.
With the assistance of staff from the Just Deeds Coalition, residents now have the opportunity to place their renunciation of language on their deed and have it recorded.
A web page has been developed by the Richfield Community Development Department, describing the city's participation in the Just Deeds project.
Pro bono services will be provided by the Minnesota Association of City Attorneys to help residents with the process.
To find out if a deed has a racial covenant, visit the Mapping Prejudice map at bit.ly/3aid5j6.
Information about the Just Deeds Coalition may be found at justdeeds.org.
For more information about how to participate in the effort, visit bit.ly/3e4EciO.