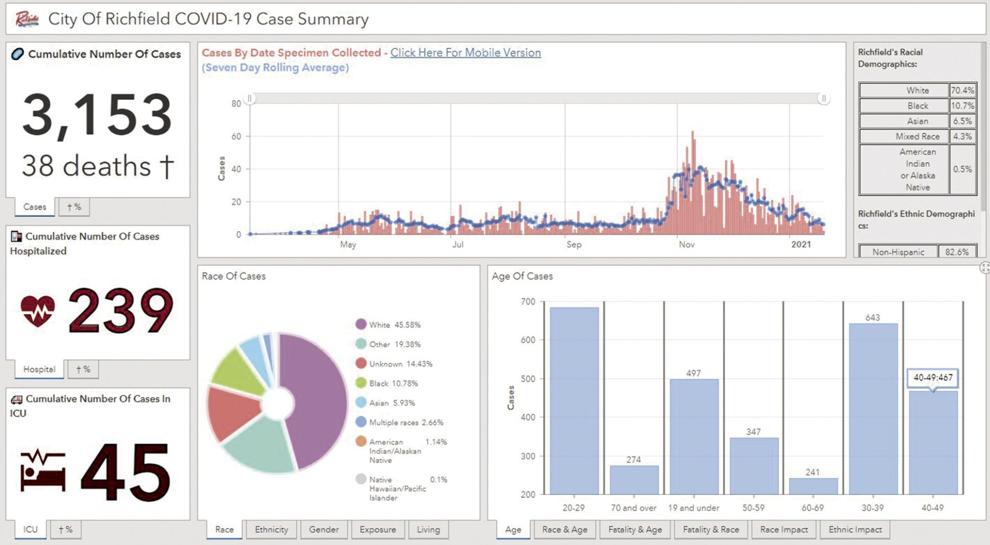 Case rates have declined, but it's not time to relax, Jennifer Anderson cautioned
COVID-19 has welcomed itself into every corner ofevery city, every county and every state, and Richfield is no exception.
As of Jan. 22, 38 Richfielders have died from the disease and 3,153 have tested positive. Two-hundred-thirty-nine have been hospitalized, and of those cases, 45 have landed in the ICU, according to the city of Richfield's online COVID-19 dashboard.
The first case in Richfield was reported April 5, and the daily case rate has been in decline in the city since a high of 63 cases was reported Nov. 9.
Jennifer Anderson, Richfield's Community Health Services administrator and Support Services Division manager, has been watching the numbers and working with the community to soften the spread of the disease. She feels the city, the residents and the business community have been accepting of changes that have included social distancing and the wearing of masks, as well as closures.
Answering a series of questions via email, Anderson explained that the recent fall in cases is due to "a combination of several mitigation strategies over the past several months to keep numbers down in Richfield. Considerations have been made in terms of park and recreation activities, community center activities and programming and keeping city staff working from home as much as possible."
In addition, the city's health department continues to work with food establishments and retailers, while providing communications in multiple languages.
"The city has also worked diligently with its community partners like non-profits and schools on communications to improve outcomes," Anderson wrote.
She added that patience is key. Though daily case rates have declined, now is not the time to relax efforts, Anderson warned. She doesn't think the worst of the pandemic is behind us, despite the emergence of vaccines.
"I think the vaccine roll out gave us the ability to see some light at the end of the tunnel and that coincided with the end of 2020, so people were feeling really upbeat about 2021," Anderson wrote. "However, the ball dropped on New Year's Eve and with that came news of the new variant strain of COVID, which is understood to be much more contagious, but found to not cause more serious disease."
Citing the fact that the vaccine roll out has been slower than anticipated, Anderson said larger volumes of the vaccine are surely to make it to the state in the near future.
It can't come soon enough.
"We're all weary of masking up and social distancing from our friends and family. We've been homebound for a year and had to spend holidays apart from those we love. We will still be masking up, social distancing, staying home when we're sick and getting tested well into 2021. So, we're not out of the woods yet, but we've certainly turned a corner," Anderson observed.
The case and death numbers are significant in the city, but Anderson also said the situation could be worse.
"Living in a metro area, I don't think you can analyze Richfield's numbers in a vacuum," she wrote.
"People live, learn, work and recreate throughout the metro and then call Richfield home, so I believe you need to look at the regional numbers as much as the city's individual numbers to get a better picture of the pandemic.
That being said, Bloomington has experienced 6,581 positive cases and 128 deaths among its residents (as of mid-January). Similarly, Edina has seen 3,260 residents test positive for COVID, with 73 deaths."
Life and work for local health care workers and their families has been trying, Anderson acknowledged.
"It's really difficult to accurately capture how the pandemic has affected our public health staff," she wrote. "As much as it sounds like a cliché, this truly has been an unprecedented year of work for public health: Navigating the unknown, daily and weekly COVID mitigation planning, guiding our community and city leaders through the case spikes, planning, yet staying nimble as new information comes out, partnering with others in the community, and now, vaccine planning that is changing sometimes hourly. All of this on top of our 'normal' job duties."
It can be easy to forget that those whose job it is to fight the virus also have their own health to consider. The daily grind and constant fluctuations have resulted in staff "running flat-out for a year, and not just in public health," Anderson wrote.
"Self-resiliency is something that public health staff is familiar with and that I think has helped these last few months."
And when the pandemic is finally over, its effects will linger, Anderson reasoned.
"What concerns me is the length of time we've all been under this stress," she wrote. "Pandemics are long-term events and the consequences of this will have an impact on our community, as a whole, for years to come. What that means is public health will have to be at the forefront in not only getting us through COVID, but helping us come out of it, too."
There have been 82 Richfield residents who have likely contracted Covid-19 through working in a health care facility, according to Anderson.
The variant strain has thrown a significant wrinkle into controlling the virus, and Anderson said vigilance in practicing distancing and masking protocols will be even more important in the months to come.
She wrote that the models "are showing March could be another really difficult month in Minnesota. I think we managed to weather the holidays pretty well, but as I said before, we're not out of the woods yet."
Anderson added that health officials will continue to update the city's COVID-19 dashboard on a daily basis and will continue to be proactive in "not only day-to-day planning, but looking at what's coming and being prepared so we can keep our residents safe and healthy. It's a team effort from many agencies and local organizations."