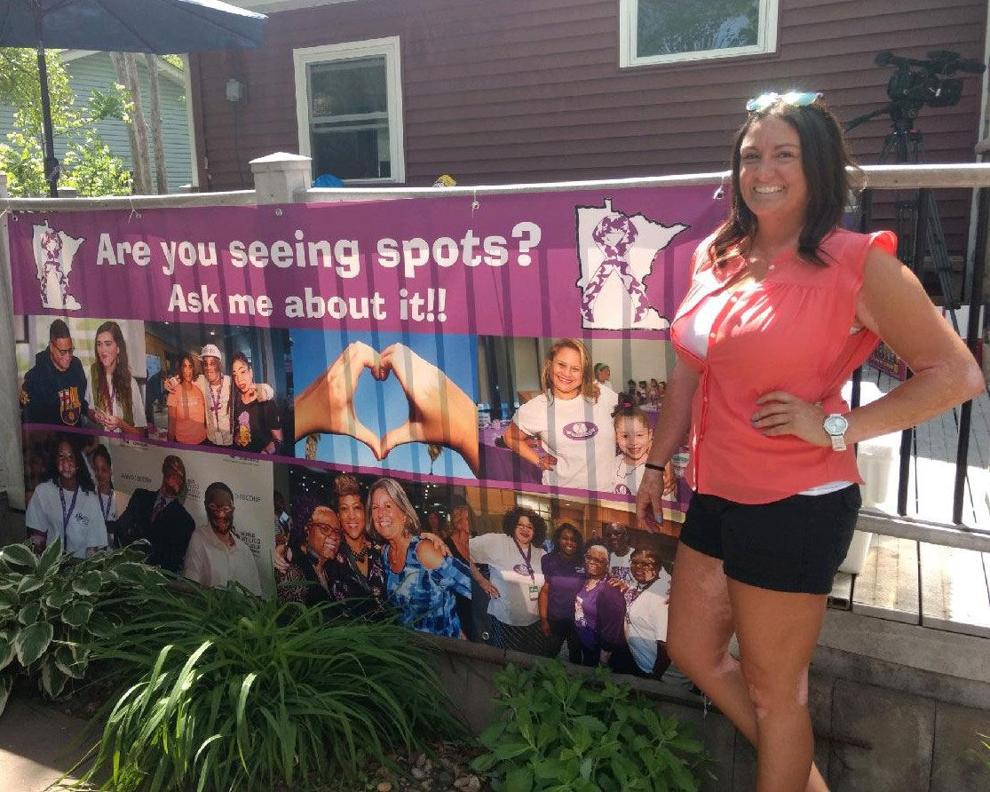 Tiffany Onischuk describes life with the skin disease
Tiffany Onischuk spent much of her life thinking she was alone. She felt there was nobody like her, nobody who experienced the sideways looks, the comments, the smirks.
And it's all because she lacked healthy pigment cells due to a disease called vitiligo.
It wasn't until she was in her early 20s that the Edina High School graduate, who now lives in Richfield, met another person with the auto-immune disease, which creates white spots on the skin by attacking pigment cells.
But once Onischuk became aware of others with the disease, she began to reach out and in recent years has joined VITFriends, whose social network has helped her connect with others on her way to becoming one of the leaders of the group's Minnesota chapter
The group's vision is "to inspire hope as we bring people with vitiligo together every year. We want to unite for the purpose of supporting, encouraging, and building each other as we provide a listening ear and a sounding board for each other."
Onischuk traces her vitiligo story back to her youth.
"I was first diagnosed at 5 years old and there was very little information on it. There was no social media, no networking, no support groups – there wasn't really anything out there," Onischuk said. "There were no children's books, and no pamphlets for my mom to help her figure out what to do. There was no one else out there with it that we knew."
The disease affects people across the spectrum – no matter age, sex or race.
"People all over the world get it," Onischuk said. However, it only affects 1-2% of the world population.
Remembering back to her experiences as a child, she said, "There was a lot of teasing and bullying and I covered up a lot."
Onischuk considers herself fortunate that her spots are mostly on her arms and torso. "I don't have a lot on my face where a lot of people do."
But that doesn't mean she didn't feel different. She felt very different and was reminded of it by the treatment she sometimes received from others.
"The bullying and name-calling, the stares, the smirks – (others) didn't know what it was and I can't blame them. They were unaware," she said.
Since networking with VITFriends, Onischuk has teamed up with Alicia Roufs, who is the Minnesota chapter leader. Onischuk is the chapter assistant.
Minnesota was pegged to be the site of the organization's in-person conference in 2020 and 2021, "but COVID ruined that," Onischuk said.
Instead, Minnesota will host the 2022 gathering around the end of June as "World Vitiligo Day" is celebrated.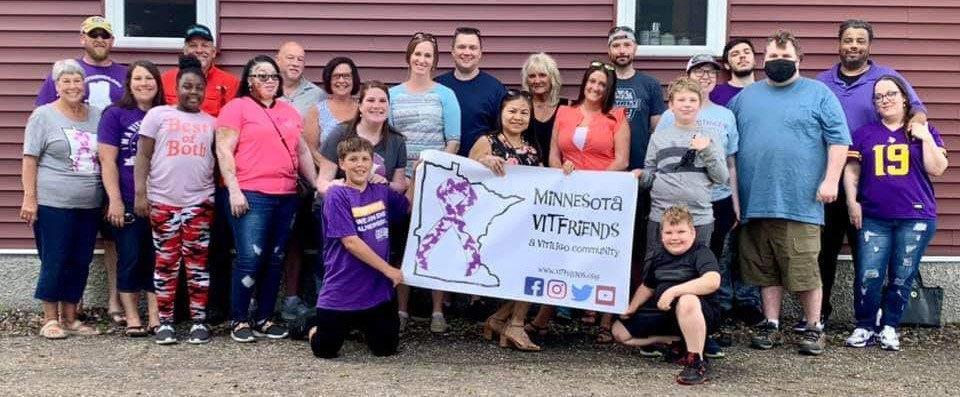 The Minnesota chapter, which numbers around 300 members, continues to be an active organization led by Roufs and Onischuk.
"We do get-togethers and community events throughout the year," Onischuk said.
While it's a chance for members to reach out, the organization also considers the whole person and all those within their sphere of influence.
"Really, it's for the parents, and significant others who are looking for a community of support. That's one thing I never had growing up. ... No one could relate to me or understand what I was going through," Onischuk said.
She said that the organization helps create a sense of community for those that might need it and also raise awareness of the disease.
"Vitiligo can affect some people so much that they don't like to go out in public, they don't go to events or parties and they cover themselves up so much they can be afraid to go to job interviews," Onischuk said.
"There have been times when I've been a little self-conscious going into a job interview. I asked myself, 'Are they looking at my vitiligo? Are they not going to hire me for the job if they see it? Are they going to ask about it? Are they not?' It kind of makes it a bigger deal."
However, with the help of others she has met, along with her own persistence and self-confidence, Onischuk has been able to come to peace with her condition.
"I'm now 37 years old, I bought a house, have an awesome dog, a great career and I consider myself successful," she said. She currently works in food service sales as a broker in the eastern metro area.
She doesn't view vitiligo as a liability anymore. "I live with it. I embrace it," she said, adding that she's "hoping to be an advocate and role model for those who can see what I've accomplished in my life, even with having it basically my entire life."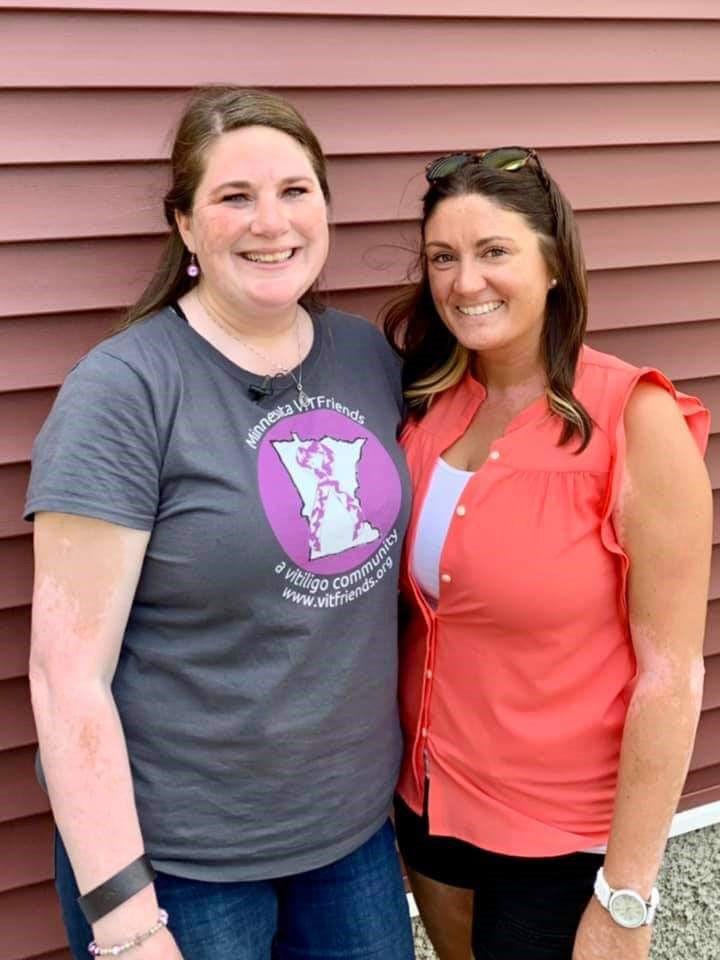 As for educating others about the disease, Onischuk said the biggest thing is to make people aware that it's not contagious.
"There are a lot of people who are afraid that it's contagious so they try to stay away from you or they don't want to touch you or they ask if it's contagious. I think that's one of the biggest things for me, just helping people understand that it's not contagious," she explained.
As for advice to those suffering from the effects?
"Embrace who you are. ... You can do anything like anyone else. Who says there is such a thing as 'normal?' Many with vitiligo say, 'I just want to be normal,' but what is normal?"
Knowing there is a community dealing with the same physical and emotional issues has helped Onischuk continue on with her life.
"We can connect and share stories and create that sense of community. Just know you are not alone," she said, noting that these days, technology makes a lot of resources available.
There's no need to be alone. Anyone seeking help may join VITFriends' Facebook group by searching VITILIGO Support/Minnesota or by calling 844-374-3639