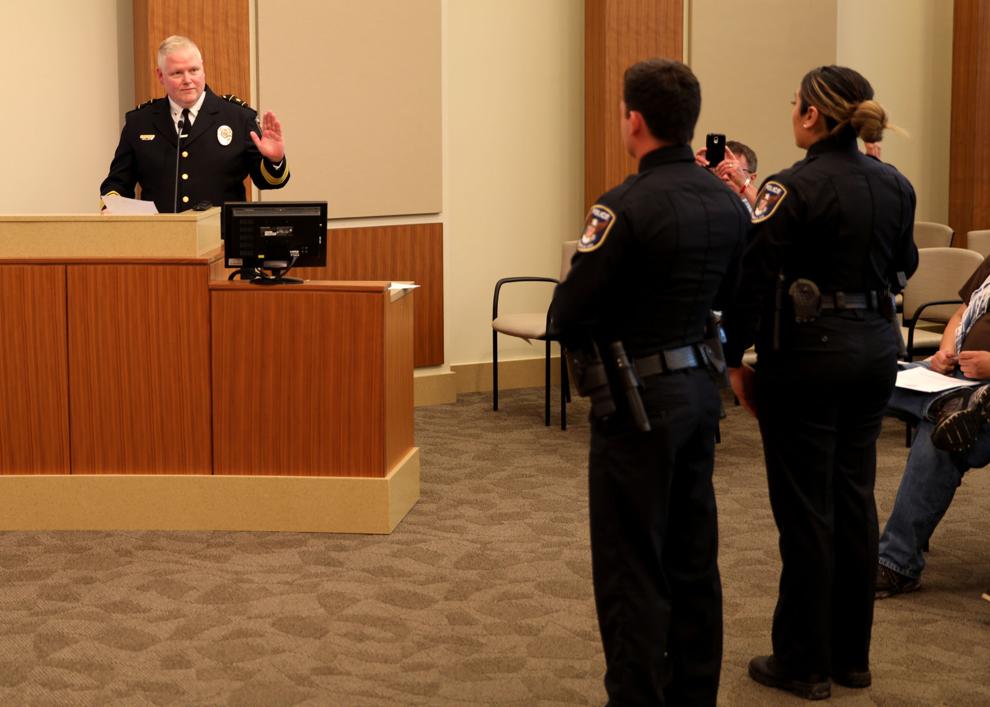 Officers join department that places emphasis on well-being of personnel
Richfield Police Chief Jay Henthorne introduced and conducted a swearing-in of two new police officers at last week's city council meeting.
Henthorne welcomed officers Kristian Schultz-Sanchez and Angie Figueroa to the department and introduced them to the city council members.
"When we swear in police officers, one of the things I do as chief is to make sure that as part of our officer wellness program we make sure they have a support system in place," Henthorne said.
Emphasizing the importance the department places on officers' well-being, Henthorne also recognized the families who had come to support the officers.
"I want to honor [the officers'] families who are also here tonight," Henthorne said.
Henthorne also told the council that the officers recently completed the training process with the department.
"It includes a month-long academy along with a 14-week, very strenuous field training officer program," he said.
"This is where we teach them to police the 'Richfield way.' They have been with the department for a year, they have been off probation for only a couple of weeks. These officers exemplify our mission statement, which is to safeguard the lives and property of the people they serve, to reduce the incidents of crime and to enhance the public safety while working with the community to improve their quality of life. That's what we expect out of all our officers."
Officer Angie Figueroa is 21 years old and was born and raised in Minnesota. Her parents are both from El Salvador. They arrived in Minnesota more than 25 years ago.
"I have always had the support of my parents through every decision I've made," Figueroa said. "I wouldn't have made the decision of becoming a police officer if it weren't for their support. Ever since I was a kid I've always wanted to help people. The first time I thought about becoming a police officer was when I was in 11th grade and I knew that I wanted to a pursue a career where I would be able to positively impact the lives of others. A couple of years after high school I received my degree in Law Enforcement and while attending college I was hired with Richfield Police Department as a Cadet. Eighteen months later I was promoted to an officer. Becoming a police officer was challenging, but it was worth it."
For Officer Kristian Schultz-Sanchez, his experience is similar.
"I knew I wanted to become a police officer since middle school," he said.
He grew up in Mahtomedi where there "was an officer who made me want to pursue this career," he added. 
Schultz-Sanchez continued: "This particular officer would come by my neighborhood and play sports with all the kids living in the area and he would tell us about the job. The interactions I had with this officer made me want to pursue a career in law enforcement. After graduating from Mahtomedi High School, I enrolled at Hamline University where I obtained my Bachelor Degree in criminal justice/criminology. While enrolled at Hamline University I obtained a job doing loss prevention at the Menard's in Richfield. During my time there, I had many interactions with the Richfield Police Department. All of the officers I interacted with were very friendly and helpful. The interactions I had with them made me want to become a police officer in Richfield. Shortly after graduating from Hamline University, I enrolled in the SKILLS program at Rasmussen College. While enrolled at Rasmussen College, I obtained a new job as a community service officer for the MSP Airport. I worked as a CSO for several months before applying to become a police officer for the city of Richfield. I was ecstatic when I got the offer to work for the city. It has been a little over a year since I've been working for Richfield and I love the job!"  
Following the oath of office that was administered to the two new officers by Henthorne, members of the council also expressed their appreciation.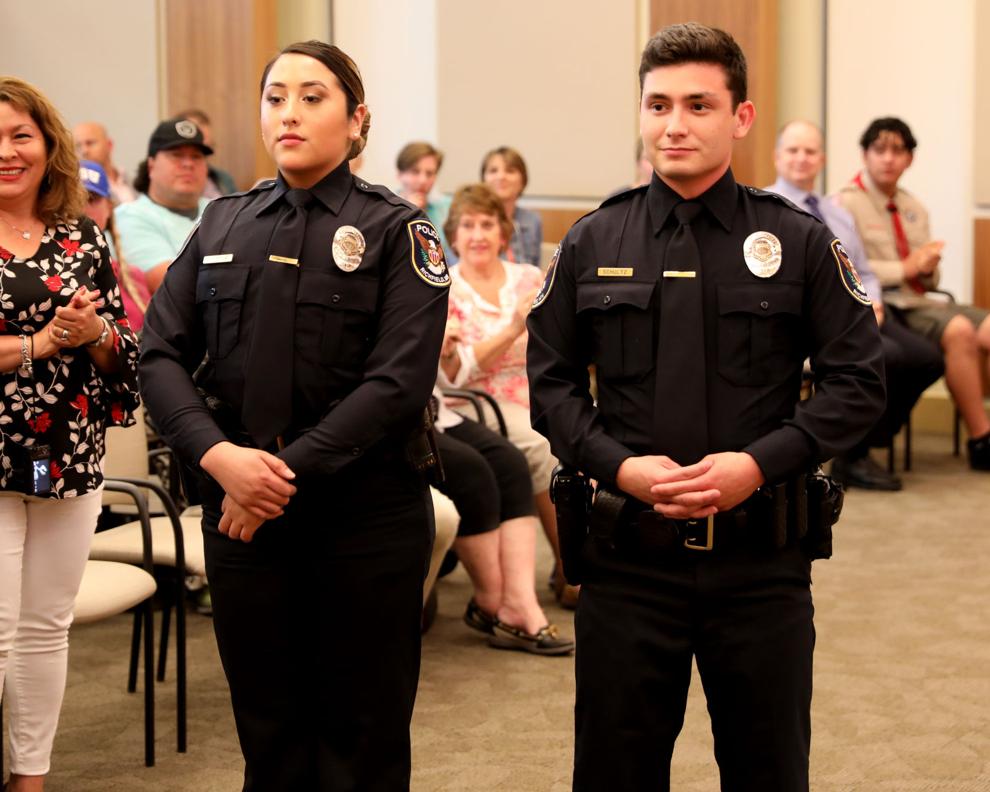 Councilmember Edwina Garcia, said, "I just want to say thank you to all of the family members that are here and I want you to know that we appreciate the fact that we have a diversified police department. I think Chief Henthorne has done a terrific job and he's been a great leader in mentoring a lot of these young officers that come on board. We're very proud of these young officers and we appreciate that they are here. We need them, we look forward to working with them and we ask the family members to please continue to support the young officers. They really contribute so much to our community and safety and well-being of our community. Gracias."
Councilmember Simon Trautmann was a bit more specific, citing an incident he experienced with officer Schultz-Sanchez.
"I want to call out specifically Kristian Schultz-Sanchez because I waved him down on a cold – one of those 20- or 30-below winter days – and we had a wellness check on one of our residents," he began. "He didn't know who I was. I was just some guy waving him down. I said, 'Why don't we do this together? You guys do tough, hard complicated things, and we're grateful for it. But you also do small things. There was such a genuine joy – and there was such a strong, 'Yes, let's go do that this morning.' That's so important. I'm recognizing [Kristian Schultz-Sanchez], but I'm recognizing so many of our officers. For the small things you do with joy and character, we're just really grateful." 
Mayor Maria Regan Gonzalez wasn't about to let the moment slip by without her own congratulations and words of praise.
"Welcome and thank you for coming to Richfield and serving our community," she said. "And thank you to the families for raising amazing kids and for providing the support every day. They go out and don't know what type of dangers they may face in protecting and that's a big deal. We know it's a big deal for the officers and for the family members as well. I also had the pleasure of getting to know officer Schultz-Sanchez as well. We had a ride-a-long together. He was down to earth, very kind, very friendly ... the way he worked with residents, partnered with other police officers, with our fire [department] as well."