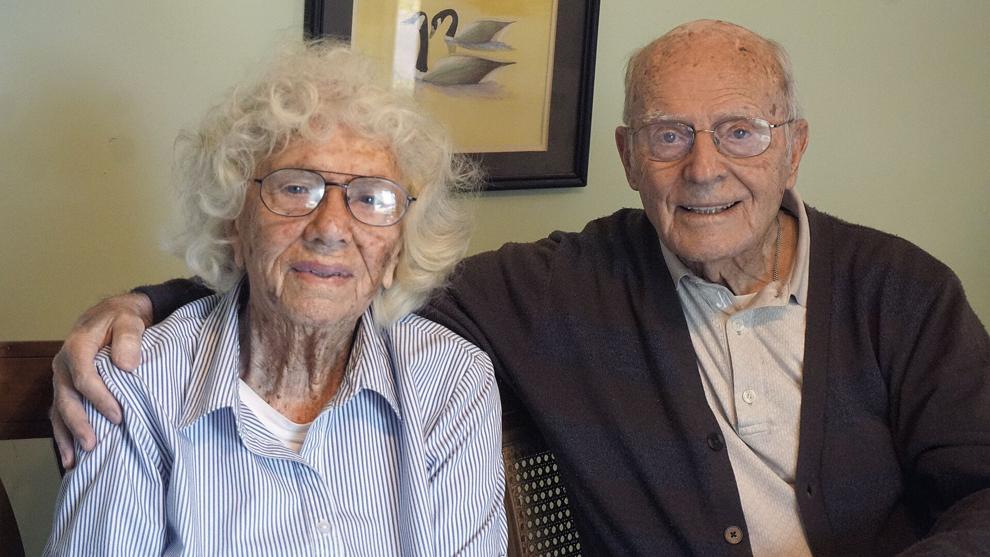 For nearly 72 years, the couple has remained resolute and dedicated to family
At the end of October, Lue and Roger McInerny will celebrate 72 years of marriage.
They were married Oct. 29, 1949.
It was the same year that George Foreman, Billy Joel, Alan Menken, Richard Gear, and Sigourney Weaver were born. At the top of the best seller lists were "1984," "The Martian Chronicles," and the Pulitzer Prize-winning "Death of a Salesman."
No doubt, Lue and Roger watched "Kind Hearts and Coronets," "The Third Men," and "Samson and Delilah" while on one of their many dates to the palatial motion picture theaters of that year.
From that background, the McInerny's journey began.
And in much different times 72 years later, they continue to honor one another, while still living in the same home they bought in Richfield back in 1956. It's where they raised six children, where they've felt the exhilaration with the news of a grandchild, or a great-grandchild being born. It's also the home where they shared the terrible news of the death of their first-born, Roger Jr., with their other children.
Not only have they survived the punches life has thrown over the course of nearly three-quarters of a century, but they continue to beat the odds by surviving falls and the long fingers of a horrendous pandemic. The past year confined at home because of COVID-19 has been especially difficult for the couple.
"We couldn't go to church," Lue said. "Anyone over 65 couldn't go to church. And we used to go daily." Watching Mass on television wasn't the answer either.
But having socially distanced visits with family during this time has helped Roger and Lue cope.
Yes, there have been difficult times, but as Roger said, "We've been blessed."
Growing up in the same Minneapolis neighborhood, Lue and Roger knew one another as children, but it was while they were both on a church hayride in Columbia Heights that their connection grew.
"We started going together at the church," Roger said. "We had a teenage group that met every week ... and there was a hayride up in Columbia Heights."
Catching a chartered streetcar at 34th, Roger saw that Lue, sitting across the aisle from him, was having trouble opening the window.
"So I opened it for her and then we kind of stayed together during the hayride and ever since," he said, smiling at his wife.
Lue said she understood the kindness Roger showed her after she was pushed off that wagon.
"We were up north, which is like a foreign country," Lue said. "I was really scared. I didn't know where I was. But Roger got off the wagon and stayed with me and walked with me. I had no clue where we were. Afterward, I thought, 'well, that was really nice of him. He stayed with me the whole time.'"
They never did catch up to the hay wagon and ended up hopping on a streetcar at midnight to take them back home.
Roger graduated with his twin brother, Ray, from Cretin High School in 1945. At the time, Cretin was an all-boys military school.
Within months of graduation, Roger had joined the Navy, leaving Lue behind like so many other servicemen did at the time.
After leaving the service in 1946, Roger attended the University of Minnesota. They decided to wait until Roger was finished with college before getting married.
"We set the wedding date and I didn't even have a job. But that's the way we were – we were optimistic," he said.
It was on Christmas Day 1948 that Roger gave Lue a diamond engagement ring.
He didn't ask for her hand in marriage, nor did he carry out the traditional proposal on bended knee.
"It was just kind of understood," Roger said about their destiny to marry.
That all led to their marriage at St. Helena's Church in Minneapolis on Oct. 29, 1949.
Their first two children were born while living in their first apartment near Loring Park.
When Roger's father took a job in Silver Bay, they moved into his home for five years before making their first and only home purchase on Richfield's east side in 1956.
Lue said their new Richfield home was the model built for the development.
"This was the only house on the block," Roger said. "By the end of summer, it was filled."
He went on to describe their home's proximity to what is now Minneapolis-St. Paul International Airport: "We could look out the back door and see the planes landing on the airport. There was nothing behind us ... and there was a farm across the way. So it was a wide open space – for about two years," he said.
During those early years, Roger worked for a wholesale hardware store, spent some time working for his father in construction and then signed on with a small startup company as a purchasing agent. He remained in that job for 34 years until he retired in 1989.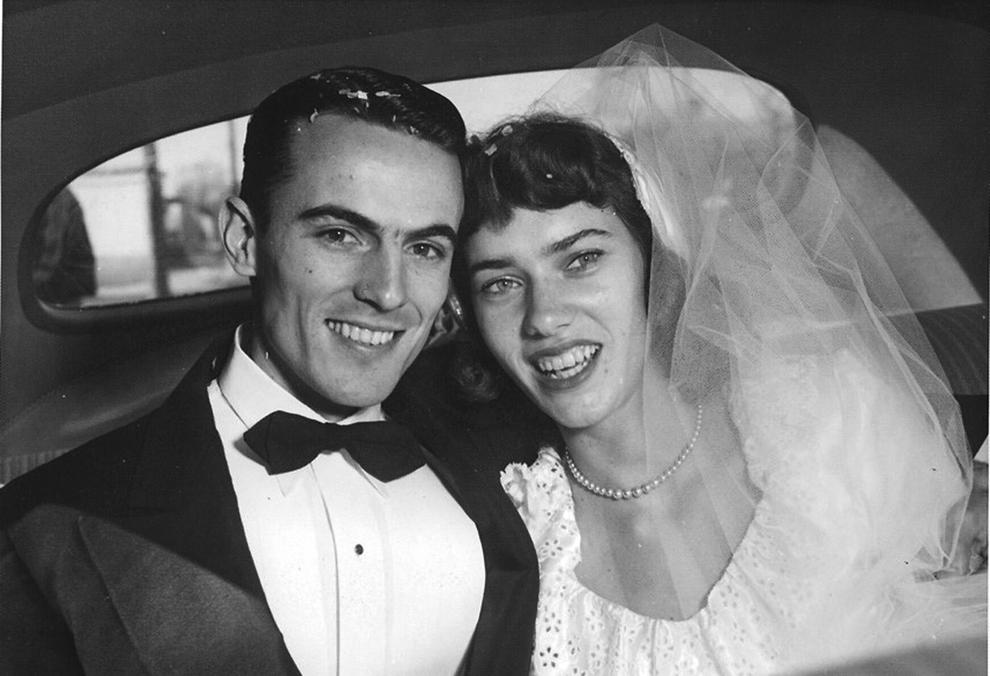 The times were good. The economy was moving. Richfield was growing, and so was the McInerny household. In describing the best of times over their seven decades of marriage, Roger said tearfully, "it was when the kids came."
In addition to Roger Jr. and Paul, Lue would give birth to Jenny, Vivian, Joe and Maurice.
Like all growing families, the home life was hectic, yet fulfilling.
The best times, they agreed were when the children were young.
"It was good," Lue said. "When they were little, we would go on picnics over at Minnehaha Falls. We grew up in that neighborhood, so that was the old stomping grounds for us. We always had fun there."
But like all families, individuals develop and children grow.
"It was fun, but then the kids get to be teenagers," Lue said.
The McInernys worked their way through those challenging years, too.
Roger and Lue realized that with every joy family brought, there can be dark days, too.
One of their darkest came in early April 1970.
Roger couldn't talk about it, even after all this time.
Lue said, "The toughest time was losing our oldest boy. I was at work at the Richfield High School and my neighbor called and she said, 'Lue, there's someone at your door. I think you need to come home and talk to them.' I said, 'who is at my door?' She said it was a serviceman. So I told the people at work that I needed to go home."
She was told that Roger Jr. had been killed in Vietnam and couldn't quite comprehend what she was hearing. "At first I thought he was just hurt. But then they said he had been killed."
Knowing she had to immediately tell her husband, she drove to his office. She didn't want to tell him in front of his co-workers, so she eventually coaxed him out to the car where she broke the news.
"Then we had to drive home so we were there for the kids when they came home from school. It affected all of them, and not in a good way. That was difficult," Lue said.
"Yeah, that was our toughest time," Roger said. "Otherwise, you know, everything has been good. We've been blessed."
One would think that after more than 71 years as husband and wife there must be some secret, some special sauce that has allowed them to stay together.
There should be plenty of advice to dispel.
"There is no secret to it," Roger said.
"Just keep breathing in, breathing out," Lue added with a smile.
Roger said modern medicine has also had a hand in their longevity.
As far as advice, Lue was realistic: "You can't give kids advice, you know."
But she did say that there is "a lot of give and take. Sometimes he gives and sometimes I give."
Compromise is sometimes a thing, too, Lue said.
She described how Roger likes to watch television.
"He watches TV all day with no sound. It drives me crazy, but I leave stuff for him, which probably drives him crazy. I like to have the radio going all the time. But he is always pushing it off."
Maybe it's the simple things, the acknowledgment of a good meal or a clean house that helps them through the days, months and years.
"She is amazing," Roger said of his wife. "All the work she does. She does everything now that she did 40 years ago with all the washing and ironing and cleaning house."
"And he appreciates it. That's the good part," Lue said. "He always thanks me for dinner and says it was good, even though sometimes it's not."
Lue is comfortable in how she has provided for the family and for Roger through the years.
"I have always done all the housework – and I'm still doing it," she said.
As the lone dishwasher in the home, Lue says wryly they have never had to fix it.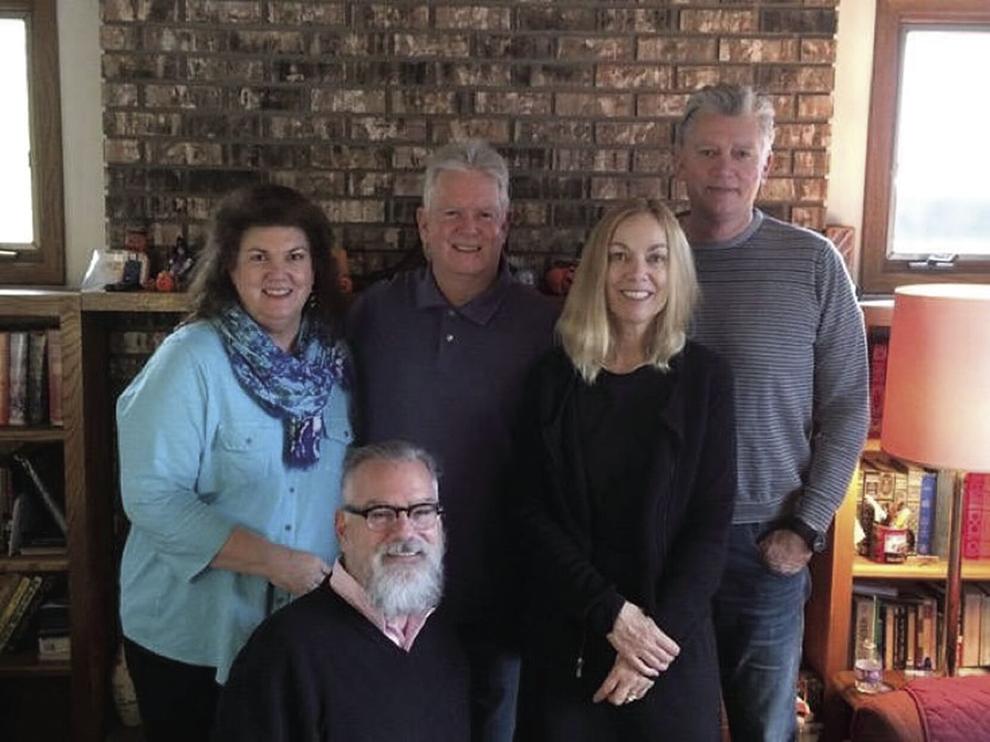 Lue admitted that technology has grown well beyond her interests and that she doesn't own a smart phone. She gets along fine without it.
But it's not like the McInernys have no interest in modern technology.
Roger, who said they loved movies and grew up during Hollywood's golden age, continue to enjoy their subscription to Netflix, even if some of what they watch are films from the 1930s.
They had for many years been an active couple, enjoying their leisure time out. Roger was involved in golf league play, while Lue was active in bowling.
"She was an outstanding bowler," Roger said of Lue. She also said she finally gave up "my sport" just a few years ago.
They remembered living through the assassinations of John F. Kennedy, Robert Kennedy and Martin Luther King.
They remember the moon landing. "We were right here at home," Roger said.
They united with the rest of the country when the 9-11 attacks occurred, and most recently have both continued to survive the coronavirus pandemic.
Their personal resolve and dedication to one another have allowed their optimism to continue to percolate to the surface.
Life may throw some curveballs, but their steady, no nonsense approach to their own lives has left them even stronger in their love for one another,
Roger and Lue both said they miss friends.
"We've outlived a lot of the friends we used to hang out with," Roger said.
But they both do still have friends that they continue to socialize with, and they both still drive.
That independence is also an important factor in their health. Living in their own home and not having to rely on strangers for help has been important to them.
"It's nice to be able to step outside and just look," Lue said about living in their own home. You don't have to do anything. If you go to assisted living, everything you want to do, you have to go into an elevator. That's a step backwards," Lue said.
Even though making it through the day is a challenge in itself, she has also come to terms with relying on family. "It's getting harder. We keep needing more help from the kids."
However, they are grateful for that help and appreciate that family can stay with them in Richfield.
For Roger and Lue, they have given and sacrificed so much of themselves for their children and appreciate what they continue to give in return.
Over the years, they've also given much of themselves to one another.
Though they wouldn't admit it, that would be good advice for the younger generation, and one of the biggest reasons why nearly 72 years together has been worth it.
"We've lived ordinary lives, really," Roger said, "but they've been great. We have no secret answer as to how we did it. We're just lucky."