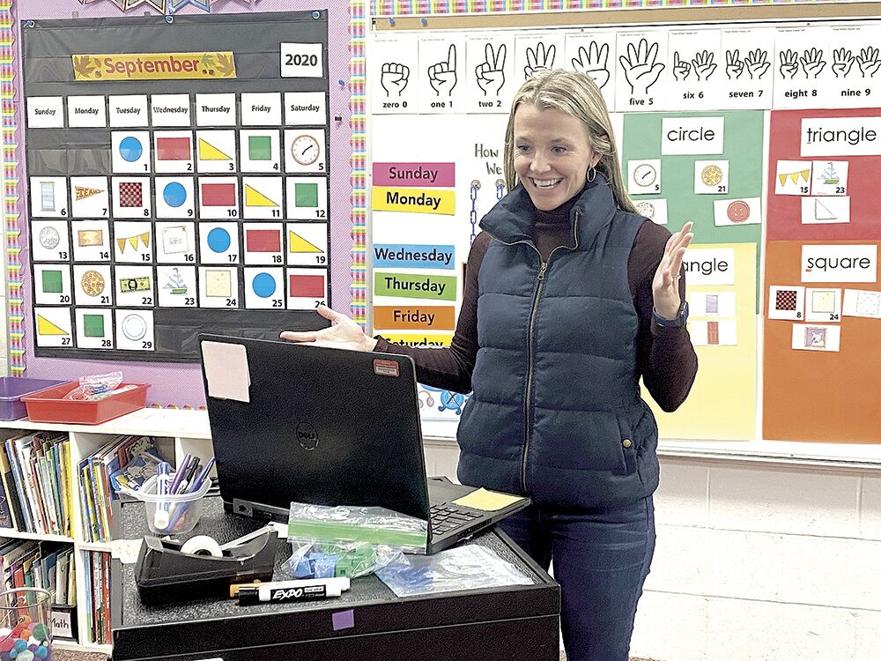 'We have to embrace it,' says Richfield's Brittany Anderson
Teaching, like most occupations in 2020, has been different. Very different.
Schools were shut down last spring, were re-opened in the fall with a hybrid instructional model, and then shut down again in November as all teaching went online.
For Brittany Anderson, a kindergarten teacher at Sheridan Hills Elementary School in Richfield, the challenges have been immense, but she has faced them head-on. Anderson has been teaching online since the shutdown last March, finishing out the 2019-20 school year virtually and starting the current academic year as the designated online kindergarten teacher at Sheridan Hills.
"I like it," Anderson said about teaching online. "It's different, and as a teacher I feel we have to embrace it, and that's how we become better teachers – by adapting to change. That's what we do in our profession. We adapt and change."
The hybrid model meant students spent much of their time learning online at home, but would also go into their specific schools at least once per-week. Meanwhile, families could also opt for an online-only learning model, with a pool of teachers designated to instruct those students.
When Anderson was offered that role at for kindergarten at Sheridan Hills, she was glad to accept.
To make the hybrid model work, Sheridan Hills designated Anderson as the school's full-time online kindergarten instructor, while the other kindergarten teachers worked directly with students in the classroom.
"It is a challenge, a unique challenge," Anderson said. "In March, (online learning) looked very different from what it looks like this fall. In March, we really got thrown into it and this fall we had time to plan and prepare. In March, we had the relationships with the students and families already, but this fall, it has been different because we are building relationships digitally."
Anderson said that although there are no more hugs, she has still managed to get acquainted with her students, as much of the teacher-student relationship building is the same, just taking place in a different venue.
One silver lining to come out of online learning, especially for younger students, she said, is the chance to establish a relationship with the child's mother, father or even grandparents who may be watching over the process.
"I'm kind of feeling like I'm getting to know the families better, which is so crazy," Anderson said.
"It's better because I'll see the dog in the background and I get to talk about the dog's name. So now I can say good morning to the student and the mom or dad and the dog. It's another level of connectedness," She said.
Being a kindergarten teacher, Anderson said, requires a unique partnership with families, including efforts to ensure nothing gets lost in translation.
"We are in a partnership with the family," she explained. "We're making sure they get logged in at the right time, and that they come back after we separate for independent reading time. In the older grades, the kids are more independent and might not have that close level of connectedness with the family."
Anderson continued, "The relationships, I think, are amazing this year. I feel my relationships with the families are stronger than ever because I see them all the time, I see them in the background and I say hello when I see them. I know the dog's name, the siblings' names. It truly takes a village and we're showing it takes a village."
Anderson has been teaching for 10 years, six in Richfield, and has yet to see anything quite like the past year in education. Teaching the younger grades attracted Anderson because, she said, "it's different. Teaching them the community-building, the character-building and how to be a friend and how to be a teammate is what I like. I take that very seriously."
She has taken what she's learned over the past 10 years in education and adapted those experiences to online instruction. The groups she works with are still small, and with the use of more technology, Anderson feels the online teachers have found ways to help kids excel.
"The kids are troopers. Most of the time they are engaged, they are where they are supposed to be," Anderson said. "The kids are learning at the same pace they would be in the classroom, if not learning more because we have small group time."
The success Anderson is seeing in students would never be possible without the adults in the room.
"I am profusely thanking the parents – every year parents and teachers are partners in the education of their child, but this year I feel we are truly partners with the families because if they weren't involved it wouldn't be successful."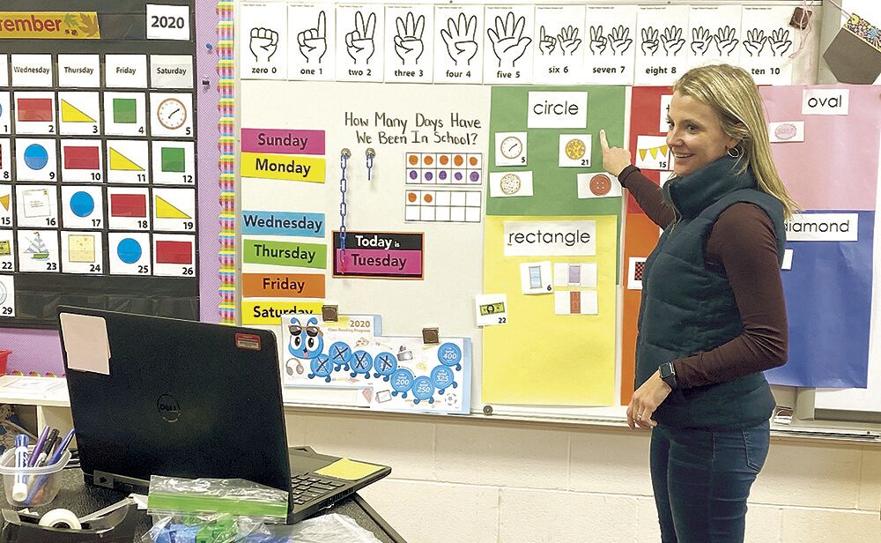 Anderson also understands that things happen.
"I think the most important lesson I've learned is to be able to adapt every single second of every minute, because you can plan the perfect lesson, but all of a sudden a baby is crying in the background, or the dog is barking, or someone came to the Google Meet without a shirt on. ... I mean, you never know what you're going to encounter.
"At this point, we have seen it all. You can plan and prepare and prepare and have it in your mind as just perfect, but life happens. In your classroom you have so much control in what's going on, and there are so many extra variables with the kids being at home. You just have to be flexible."
She further described how one family had a beeping smoke alarm in the background that drove a dog at another home to start barking. "Everything you can't think of will come up and you just have to go with the flow," she said.
For Anderson, it's important to understand that everyone is doing the best they can, given the circumstances.
"I think you have to have a sense of humor," she said, "and know that you're doing your best and the kids are doing their best."
Sharing newfound expertise
Working as the lone online teacher for her grade level at Sheridan Hills to start the school year, Anderson and other online teachers across the district helped train their colleagues when the order came down in November to go to full distance learning.
Anderson said the online teachers worked closely with the classroom teachers to describe what worked best and to allay their fears about the online process. They began accumulating that expertise well before the start of the current school year.
"This summer, I worked with another kindergarten teacher in Richfield. We created a schedule that was user-friendly, so we wanted it to look attractive for the kids, but to be functional for the parents," she said. " ... We talked about what happened last spring and what we found to be successful this year. It was really helpful just in preparing everyone."
The move from in-person to online instruction still rattled nerves, however.
"There was a lot of anxiety around going from hybrid to distance, which was fully understandable. The expectations on teachers are a lot higher this year versus last spring," Anderson said.
It's not lost on her that families have had to make drastic adjustments, too. "I know it's hard managing work, pets, kids and just life right now. We really wanted to make it doable for the families," she said.
Families' efforts have been key.
"I want to give a big compliment to the families because I feel like they have really been a huge part in their child's education. Whether it's the parents or the grandparents, we're partners in their child's education normally, but I feel like we're truly 50-50 partners this year. We couldn't do it without the family members at home," Anderson admitted.
The traditional role of the kindergarten teacher may be skewed by online instruction, but Anderson has embraced the learning experience.
"I definitely miss the in-person interactions, but like I said, as teachers we adapt and modify what we're doing and we still get to see the kids' smiles every morning. We still wave and say, 'Good morning.' There's just no hug with it," she said.
While the end goal is to get children back into the schools, teachers like Anderson also see an opportunity to improve as educators.
"At the end of the year, we're all going to reflect on this and we're going to be stronger teachers and better teachers because we have had to adapt and change nearly every aspect of our teaching," Anderson said.
"I feel change is happening and it's not the perfect situation, but I feel I'm making the most of it, the kids are making the most of it, and the families are making the most of it."