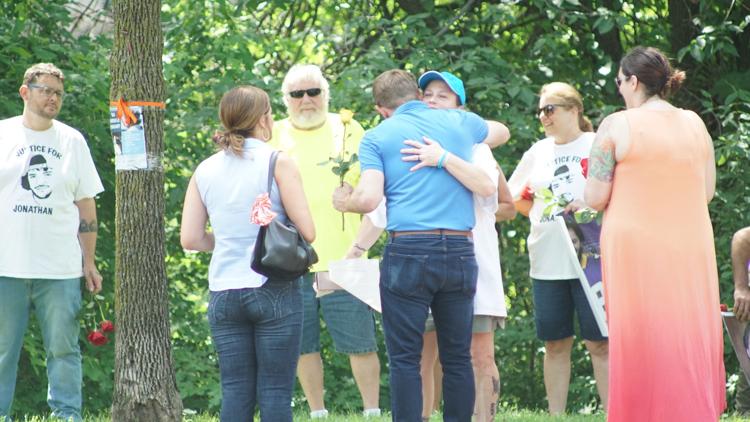 In recognition of Jonathan O'Shaughnessy, who was shot and killed at the corner of 64th Street and 4th Avenue two years ago, July 2, 2017, family and friends gathered at the location to remember him and to read a letter to those who killed him.
The ceremony brought together O'Shaughnessy's mother and father and members of the community.
Richfield police officials said the department continues to focus on the investigation.
The statement read by the family at this ceremony is as follows:
"We are speaking to the shooter or shooters who gunned down Jonathan O'Shaughnessy on 7/3/2017 around 11:15 p.m. on 64th Street and 4th Avenue - while he was walking home from the city street dance.
"You shot and killed Jonathan for NO REASON.
"Jonathan is a innocent bystander; was only 24 years old in the prime of his life. Jonathan is our son (my only child) he was someone's brother, nephew, cousin with so many friends. Everyone misses him terribly and want to know why? Imagine this was your son, brother or family member? Jonathan did not deserve to die for NO reason. For 2 years our lives have halted and changed so much while your life has continued. Why our son?
"July 3, 2017, you picked up a gun with the intention of killing someone. You made the decision to kill someone when you picked up and used this gun and killed Jonathan who was, and is so loved. Your act of shooting Jonathan was intentional. You chose evil over good but it's never too late to do the right thing.
"As Jonathan's family, We ask that you confess what you did to our son, Jonathan. Turn yourself in. You made the decision to use the gun and you need to be responsible for your actions and accept the consequences.
"We ask that someone (family/friends) SPEAK out - tell what you may know about who stole Jonathan from us. You will remain anonymous!
"As parents, our family and Jonathan's friends deserve peace and justice.