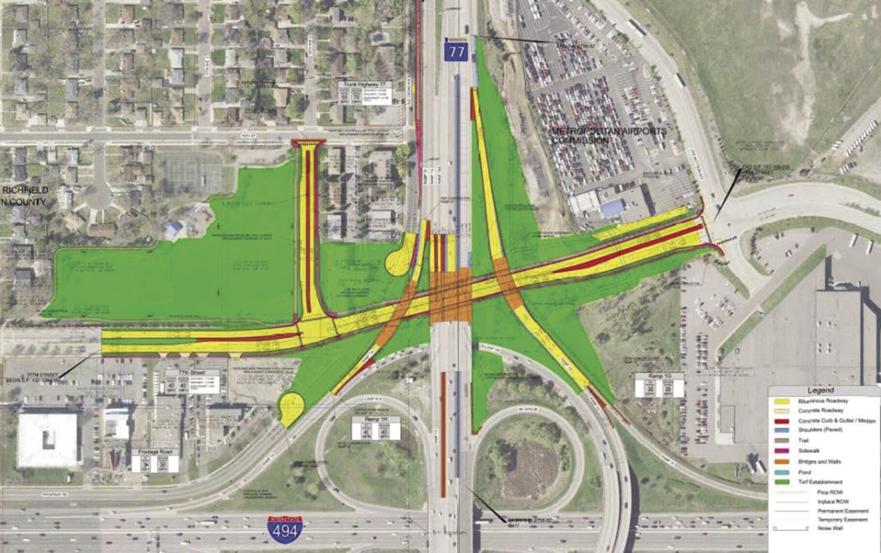 Project construction set to begin next spring
After 30 years of planning, coordinating and hoping, officials announced last month that Richfield's Highway 77 underpass project has finally been fully funded.
"It took decades to acquire the necessary funding to bring the 77th Street Underpass to Richfield, but both current and previous city, county and state leaders never stopped working and believing in the necessity of this project," Richfield Mayor Maria Regan Gonzalez said.
"The benefits of a 77th Underpass are almost too numerous to count. The underpass will not only benefit Richfield residents, but the entire region."
At a recent special session of the Minnesota Legislature, the issue of the 2020 bonding bill was approved. Within that bonding bill are the funds to allow for the Richfield project.
With a price tag just short of $50 million, the funding package will realize a total of $6 million through the state's bonding bill. In addition to those funds, the project is also receiving $7 million from the federal government, $1.5 million from Hennepin County, $4.5 million from the Minnesota Department of Transportation, along with $21 million from various other bonding sources.
Richfield City Manager Katie Rodriguez said she "has been smiling" since the state approved the funding.
Safety, access to improve
The underpass project was designed to improve safety and access along that stretch of the interstate.
"Almost as soon as I-494 was complete through the Richfield-Bloomington area in the late 1960s, the interstate experienced traffic problems," Public Works Director Kristin Asher said.
Asher added, "The road sees more than a half a million users travel on it each day and it is congested more than 30% of the time. A solution is needed to make it work better for local, regional and statewide travelers."
"It's really been a consistent effort," Rodriguez said. "It was a couple of things that happened that gave it momentum: One was getting the $7 million in federal funding. Once we had that piece, (we) worked with MnDOT and they committed just shy of $4 million of in-kind funding for the project.
"We were so close. We secured letters of support and went and talked to a bunch of folks. We got support from the city, the Metropolitan Airport Commission, and strong support from MnDOT. And then our legislators did a fantastic job, particularly Rep. Mike Howard and Sen. Melissa Wiklund."
Rodriguez said Hennepin County Commissioner Debbie Goettel also provided support and assistance.
"It was a lot of years with really patient and determined work. It took a village," Rodriguez said.
Over the last 30 years, Richfield has spent $142 million to upgrade 76th Street, 77th Street, Penn Avenue and Lyndale Avenue bridges.
These projects were all completed to pave the way for the Highway 77 Underpass, the final piece.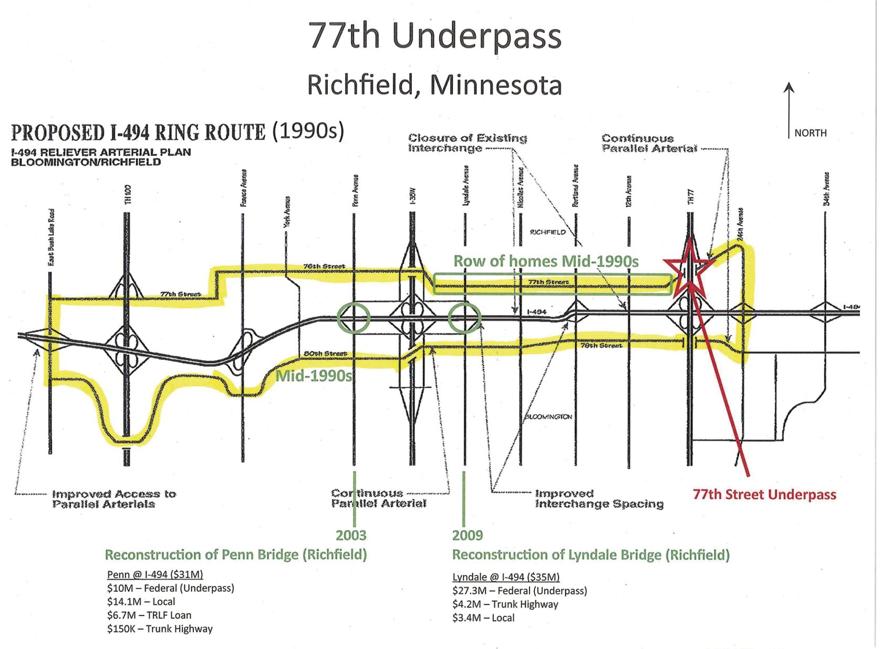 "The section of I-494 that runs along Richfield's southern border is one of the most congested sections of interstate in the country," Richfield Transportation Engineer Jack Broz said. "Over the past three decades, the city has done its part to provide area travelers with enhanced transportation options. The only thing left was the underpass."
"This is going to allow for an option for those in Richfield and another option to keep them off the most congested part of I-494," Asher said. "The day that (underpass) opens, it's going to relieve a lot of traffic for I-494. It will be safer and improve mobility for everyone. There will be much better access to the Mall of America."
Rodriguez also pointed to the southeastern section of the city, saying this project could open that area to development and better access to transit and jobs.
"That section of southeast Richfield is very diverse and this will connect them to jobs at the airport, the Mall of America. It will also help provide public transit to that area that isn't served very well now. The day this opens they will be serving that corner of the city," Rodriguez said.
Both Asher and Rodriguez knew the possibility for completion of the project was at a tipping point prior to the funding approval.
Rodriguez said that had the federal government not provided the city with a one-year extension on the $7 million in federal funds, it may not have reached this point.
"The $7 million federal funding was at risk," Rodriguez said. "If we had not gotten the bonding money this year, we would have been returning those federal funds and then we would have probably been done trying after 30 years."
It's a project that won't just benefit Richfield, Bloomington and other area residents. This is a stretch of highway utilized by people and businesses from across the state, Asher said. In all, about 23% of the traffic moving through the I-494 Richfield corridor on a daily basis come from the 87 counties of greater Minnesota.
So, moving this project to completion will benefit all corners of the state.
There are important hoops the city must still jump through to get shovels in the ground.
"Now that we're fully funded, we're dusting off the plan and don't have a contractor yet," Asher said. "We have to finalize all the rights of way and lands that we need so we have a permanent easement for storm sewers and such. We have to dot the I's and cross the T's, and then we can submit everything to MnDOT.
"That's where we're at. We plan to advertise (for bids) early next year with the idea to have the council award the contract next April. Right now we're just working to get all these documents. I think there are at least three different agreements to get through three different bodies and the city council before we can bid this," she added.
If all goes as planned, construction is expected to begin next spring, with winter construction expected between 2021 and 2022.
Project completion is expected in early fall 2022. "I'm ready. Let's do this," Asher said.