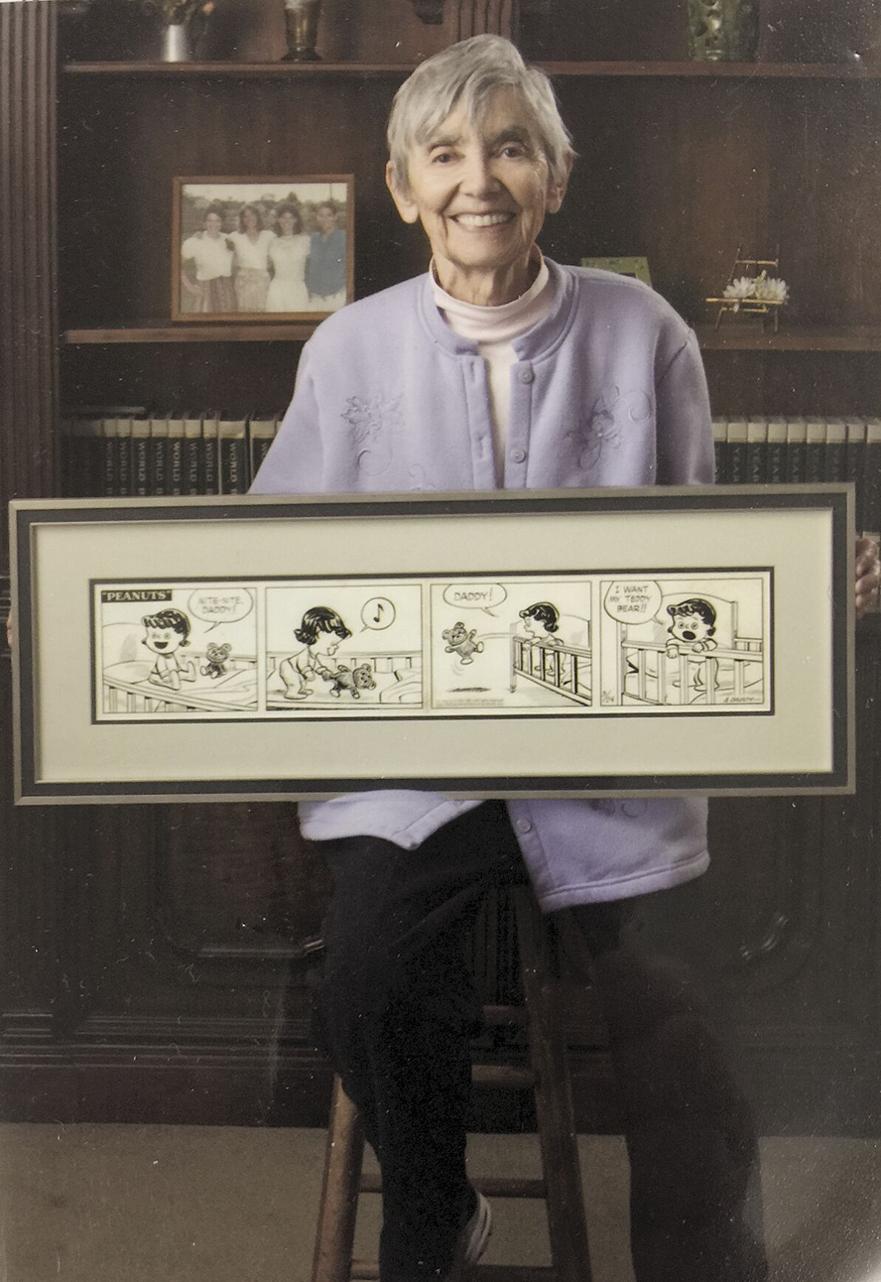 'Sparky' lived across the street from Stark in the early 1950s
Dorothy, "Dot" Stark, a longtime Richfield resident, has had a long, fruitful life surrounded by a loving family and community.
She also has a tale nobody else can tell.
Stark and her late husband, Jim Stark, were neighbors and friends of Charles M. Schulz, the creator of the "Peanuts" comic strip, when Schulz lived in Richfield between 1952 and 1955.
Those close to Schulz knew him as Sparky.
"I'll never forget the day that Sparky and Joyce moved into the neighborhood," Stark states in a recollection she penned. "I walked over and shook their hands to welcome them."
That conversation led to invites for dinner and activities that would continue for the next three years.
"Within minutes, Sparky discovered that Jim and I played bridge. Soon they invited us over for dinner and bridge," Stark remembered.
During those times together there was much laughing and sharing. Stark remembers Schulz talking about his friends in art school. "He wanted us to know about them so that we could appreciate them, too," Stark said in an interview.
Jim Stark and Schulz also played golf together regularly and Schulz even dropped by one evening to give a presentation to the sixth-graders whom the Starks helped teach at their church.
"One night Sparky gave a talk to six or seven of them," Stark said. "As he spoke, he drew the Peanuts characters on large sheets of paper. He would rip them off and throw them on the floor. The kids would dash for them. Much smarter than I, they seemed to know those signed pictures were important."
In 1955, the Schulzes announced they were moving to Minnehaha Parkway.
"As quietly as they moved in, they moved out," Stark wrote.
It wasn't long after their move to Minnehaha Parkway that the Schulzes moved to California.
"Our friendship continued, but it was through Christmas cards and phone calls," Stark remembered.
"Sparky was generous sending us signed books and calendars, but for the most part, Sparky and I had a phone conversation about once every decade," she shared.
Dot, Jim and their children did take a trip west and visited with the Schulzes.
"We talked, laughed, and remembered. Sparky's face showed playful merriment," Dot said about their time together at the Schulzes' California home.
Schulz left the family with eight tickets to "You're a Good Man Charlie Brown," the musical.
Her last memories of her friend, Sparky, came with her description of their final phone call and ends with their final hug in St. Paul.
"It was a long conversation and more serious than the others," Stark recalled. "Sparky asked about the whole family and for the first time, I told him about our last 25 years. Sparky was a good listener with intelligent questions."
While that was the last time Stark spoke to Schulz, the last time she saw him came about six years prior, when Schulz sent an invitation and tickets to a tribute Minnesota was giving him.
"The day came. Maybe Jim was ill, but I couldn't get him off the davenport where he was watching football. We got there three hours late to a four-hour party. When I saw Sparky, he gave me a cold, angry look," Stark said.
After some time, Stark found an opportunity to approach Schulz when he was alone.
After apologizing for being late, the old friend brightened.
"In a few seconds the anger left his face and he gave me a long hug," Stark remembered. "He was called away and that's the last time we ever saw him. I knew our long friendship was still intact."
Schulz died in February 2000. Jim died in April 2009.

Stark has a physical reminder of their friendship – the comic strip he created and gave to her on that summer day in 1952 as she pulled weeds in her yard.
"When he gave me the strip, I was outside at my house on 68th and Wentworth in Richfield," she said. "So I'm out sitting in black dirt picking the dandelions and Sparky comes over and says, 'This is for you and Jim. Take good care of it. It's going to be worth something. I'm going to be famous.'"
The original 1952 strip features a young toddler in a crib who ends up throwing a stuffed animal to the floor in hopes her father will pick it up for her. Schulz signed the strip, "A Daddy."
At the time, Stark didn't think much of the gift, though she was thankful he would think of her and her husband.
Not knowing exactly what to do with the strip, Stark put it in a place where she thought it would be safe.
"So I stick it in this wet, damp basement, but it turns out it was perfect. It was there for decades," she said.
Stark eventually rediscovered the strip, had it framed, and hung it in an out-of-the-way hallway near a bathroom in her Richfield home. "Then I took it out into the kitchen one day and hung it," she said.
Over time, Stark had expressed an interest in either selling or giving it away.
To that end, she called the Charles Schulz Museum in California around 2010 and eventually talked with Jean Schulz, the cartoonist's second wife, who had helped initiate and manage the museum.
After chatting about the strip for a while, it was clear Jeannie and the staff didn't know it existed.
To that end, Jeannie decided to make a trip to Richfield to see the strip.
It became quickly evident that Jeannie was interested in the purchase of the strip, but Stark said Schulz's second wife felt badly about taking it.
To remedy that situation, Jeannie had an exact copy of the strip reproduced for Stark – a facsimile she proudly owns yet today.