Current Minnesota Wild assistant coach Darby Hendrickson, a Richfield native whose list of accomplishments and accolades runs the full 200-feet of an NHL ice sheet, was one of the early skaters on the ice for the Wild's outdoor practice in St. Louis Park Jan. 2. 
The event offers fans and players an opportunity to take in an outdoor practice on a rink many have skated on at some point.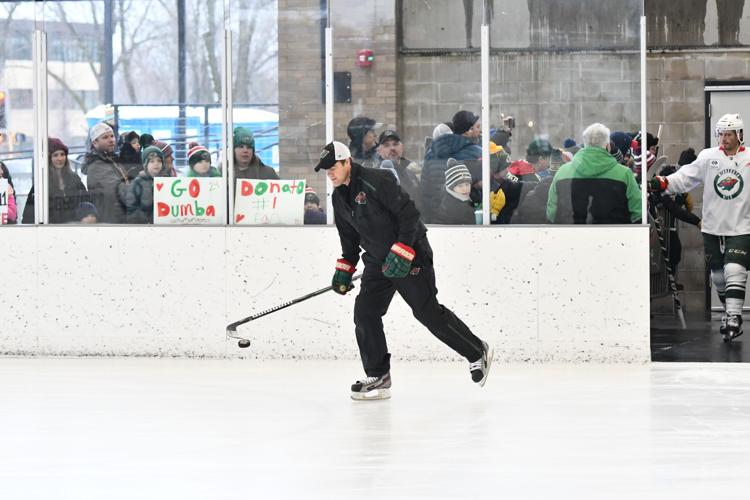 For Hendrickson, practicing in the elements with fans watching, "is refreshing," he said. "Obviously it's a throwback to the whole outdoor thing but the combination with the kids and people who support us, we love doing these things. There is just a good vibe, good energy and if you asked every player, they'd love it."
Hosting the NHL's next Winter Classic outdoor game Jan. 1, 2021 is an opportunity that doesn't come around very often and Hendrickson believes it is pretty cool.
"It's been rumored and nobody knew for sure. But the event we had before with Chicago, everyone saw what a hit it was in our state and to have the actual big game on New Year's Day is awesome and showcases our state and how unique our hockey culture is and it is great for the Wild."
Getting the Wild out to a community ice rink facility for a one-day practice where 1,500 fans show up speaks to the culture behind the game.
"This rink is used all year by the youth, then for us to be able to come and be part of it with our team at our level is what I'd say is refreshing to get outside," Hendrickson said. "These days are good and it would be fun if we could get a few more if our schedule would allow it. This one fits a perfect day, the weather was mild and a chance to talk about the outdoor game fit perfectly." 
Hendrickson is in his 10th season on the coaching staff with the Wild and feels blessed for the various opportunities.
"I've been really fortunate, not only to play but coaching, to be around a lot of good people and try and make a difference," he said.
The 1991 Mr. Hockey award recipient played two seasons under Doug Woog at the University of Minnesota before a 12-year NHL career including four seasons with the Minnesota Wild, starting with the 2000 expansion draft. He scored the first home goal for the Wild coming late in the first period of a 3-3 draw against Philadelphia, Oct. 11, 2000, and scored one of the most memorable goals in franchise history – the game-winning goal in Game 7 of the Western Conference Semifinal at Vancouver on May 8, 2003.
The former Wild forward will take part in the first Hockey Day Minnesota NHL Alumni game set for 7 p.m. Friday, Jan. 17 on the Hockey Day Minnesota rink outside Parade Stadium in Minneapolis. 
Hendrickson will play on Team Minnesota, joined by Keith Ballard, Chris McAlpine, Connor Beaupre, Mark Parrish, Brian Bonin, Shjon Podein, Aaron Broten, Chris Porter, Ryan Carter, Dave Snuggerud, Matt Hendricks, Erik Westrum and Paul Martin. Coaches are Paul Broten and Brad Maxwell. Team Minneapolis will include Shawn Chambers, Jordan Leopold, Dave Christian, Mike Modano, Ben Clymer, Erik Rasmussen, Joe Dziedzic, Gordie Roberts, Mike Greenlay, Robb Stauber, Stephane Veilleux, Reed Larson and Wes Walz. Tom Chorske is the coach.
Hockey Day Minnesota 2020, the 14th edition of HDM, kicks off with girls hockey teams from Academy of Holy Angels facing Minneapolis in a Metro West Conference contest t 6 p.m. Thursday, Jan. 16. 
Before the NHL Alumni Game on Friday, the State of Hockey Women's All-Star Game will be played at 6 p.m.
The roster of the Women's All-Star game includes former Gopher and current Jefferson assistant coach Kelsey Cline, along with former Gopher and Olympic gold medalist Kelly Pannek who is also on the Jaguars coaching staff, Laren Barnes, Winny Brown, Samantha Donovan, Kalli Funk, Rose Alleva, Liv Halvorson, Meghan Lorence, Sadie Lundquist, Lisa Martinson, Erica McKenzie, Allie Morse, Meaghan Pezon, Caitlin Reilly, Audra Richards, Nina Rodgers, Chelsey Rosenthal, Nichole Schammel, Haylea Schmid, Allie Thunstrom and Taylor Williamson.
Grand Rapids-Greenway against Blake girls follows at 8 p.m.
The full slate of action on Saturday begins with Warroad at Minneapolis boys at 9:30 a.m. Then Blaine takes on Blake at 1 p.m. The outdoor action concludes  with Big Ten Conference women's hockey as Ohio State and Minnesota take to the ice at 4:30 p.m. for the final game from the outdoor rink. 
The Minnesota Wild wrap up the day against Dallas from Xcel Energy Center at 8 p.m.