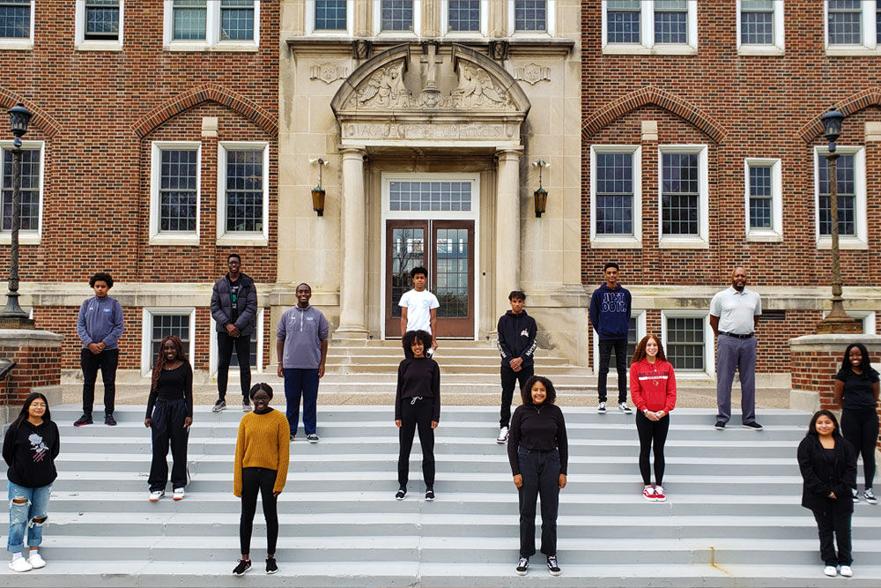 Academy of Holy Angels students, faculty, and staff met in an assembly last week as they learned of the efforts of the school's new Diversity Club.
The Diversity Club, moderated by Mr. Woods and Mr. Kautzman, was formed earlier this year as a result of the work of the Cultural Awareness Committee.
Its founding members took turns speaking about the club's mission, purpose, and goals for the year. 
Sharing her thoughts on the club, sophomore Amelia Kidd said, "In an effort to create a safe space for people of color to feel welcome and free to speak of their experiences – but also to allow for discussion and connection – the AHA Diversity Club was born. As a collective, we hope to push our facility in the right direction, a direction where everybody is heard."
Club members connected their work to the values learned in the school's Catholic theology classes and pointed out the synergies between the joint mission of AHA and the Sisters of St. Joseph: Profound love of neighbor without distinction.
"Here at the Academy," sophomore Cymone Hamilton said, "we are asked to honor practices of inclusion and anti-racism in our everyday lives through the AHA Way by communicating you matter. This, of course, goes without distinction as to where you come from or what you identify as because we are all made in God's image and likeness as stated in the Book of Genesis."
The group highlighted the importance of diversity and acknowledging human differences. They spoke about the need to increase awareness of different races, cultures, and backgrounds in order to expand bubbles, educate others, increase understanding and lessen conflict.
The two major objectives of the Diversity Club will focus on education and connection in order to continue building AHA as a school community of inclusivity, positivity, and love.
"As a generation, we are called to push forward the agenda of our predecessors that gave us the lives we are fortunate to be living right here, right now," said senior Lourit Lako. One of the ways they will achieve this is by outreach to Twin Cities middle school students of color through a new mentorship program; the goal of the mentors will be to offset the damaging effects of racism and prejudice and help more students of color find a home at Holy Angels.
In conclusion, members asked for more students to join the Diversity Club.
Senior Semone Matiyas said, "In order for our group to reach our goals, it's crucial that we bring all of AHA together in awareness and understanding for a better world – a world where we are all seen, where we are all heard, and where we are all loved as equals."
The Diversity Club members delivered their message during one of the school's weekly Convocations, which provide a time and space for AHA to build community, learn, pray, celebrate good news, and listen to new and relevant speakers. During the AHA hybrid learning model, some students attend Convocation in person and others view it online from their homeroom.
- Provided by Academy of Holy Angels