A developer is proposing a new residential-office project that would put more than 200 units next to Edina City Hall.
The project, proposed by Reuter Walton in partnership with BKV Group, includes plans for a seven-story apartment building and a four-story office building at a site that currently houses a Perkins restaurant. But due to part of the site being referenced in the city's Grandview transportation plan as the corridor for a desired roadway, the development team is also proposing an alternative plan that would accommodate that goal instead of placing an office building there.
The Edina Planning Commission provided feedback at a Jan. 13 meeting.
"The project is being designed to create a positive impact for the community through the redevelopment of the site to a high quality visual, pedestrian, resident, employee, and patron experience," the development team said in its memo to the city.
The 2.08-acre site, located at 4917 Eden Avenue, is currently zoned for planned commercial. Due to desired adjustments deviating from city code, the development team is pursuing a planned unit development, or PUD, rezoning.
If the first option is pursued, with no roadway, plans would include an apartment building with 208 units, an office building encompassing 52,000 square feet and 353 parking spaces to be used for both buildings. In either option, the developer proposes an art plaza, two levels of below-grade parking, walk-up units and a roof with garden boxes for residents. Half the units would have two-bedrooms, Reuter Walton President Nick Walton said at the meeting.
The residential building is supposed to have a boutique hotel feel, Walton said.
According to city planning documents, city staff show preference for the alternative plan with only the residential building and no office space, citing concerns with the density, which amounts to a floor-area-ratio, or FAR, of 3.0. This is "very high" for Edina, the planning documents stated.
The alternative option, which would have an FAR of 2.4, is still high, but would generate less traffic due to being residential-only, according to the documents. The newly approved development plan at the U.S. Bank site, located at 70th Street and France Avenue, has an FAR of 2.1.
The new roadway proposed with the alternative option for the Perkins site could help justify a PUD rezoning, city staff said.
The desired roadway, as described in the 2016 Grandview Transportation Plan, is supposed to support a new exit ramp off Highway 100 and a frontage road. If the alternative option goes forward, establishing the new road would still be years out in the future. The new road construction would include getting rid of the current exit ramp off of Highway 100 that opens in front of City Hall.
BKV Group has worked on Edina projects in the past. Notable sites include One Southdale Place and Edina City Hall, said Chris Palkowitsch, a partner with BKV Group.
"We know the city and we pride ourselves in doing good work within Edina," he said.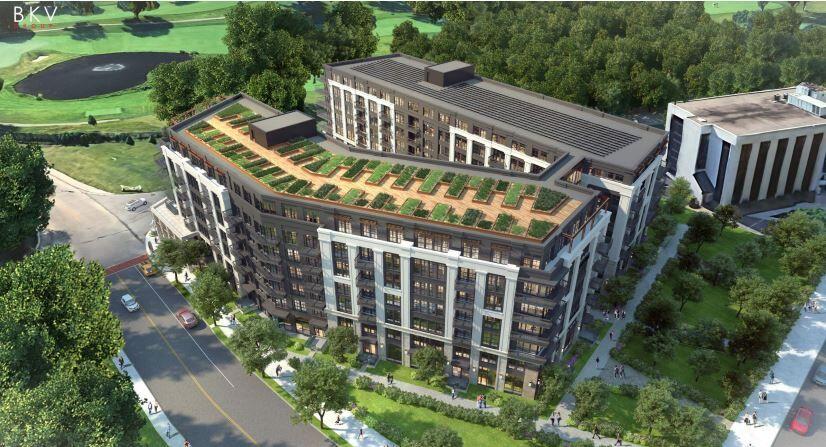 Planning Commission provides feedback
The Planning Commission discussed the site Jan. 13, generally supporting the project's alternative option. According to the developer's memo, the development team wanted to present the plans ahead of neighborhood engagement to gain clear direction on which option – with or without the office building – should be pursued.
Commissioner Sheila Berube asked the development team why they are proposing two separate buildings for residential and office space, instead of adding office or retail space under the residential space in one complex. Walton responded that in his experience, the site would be more successful with separate buildings. Additionally, it would be hard to make retail work at the spot, he said.
Other commissioners, Kate Agnew and Lou Miranda, continued to express interest in a mixed-use building. Agnew suggested the development team think about implementing a coworking office space.
Miranda noted, "Being across from City Hall, you're kind of missing an opportunity to have a coffee shop or small cafe or something where people could escape ... That would be a nice small amenity."
Berube and Miranda both indicated they did not see a problem with the density or height as it is not encroaching upon people's homes. "There's huge buffers," Berube said.
Prior to a site acquisition deadline in August, the development team intends to return to the city with preliminary and final development plans and ask for the site to be rezoned to PUD, the development team's memo states.
– Follow Caitlin Anderson on Twitter @EdinaSunCurrent