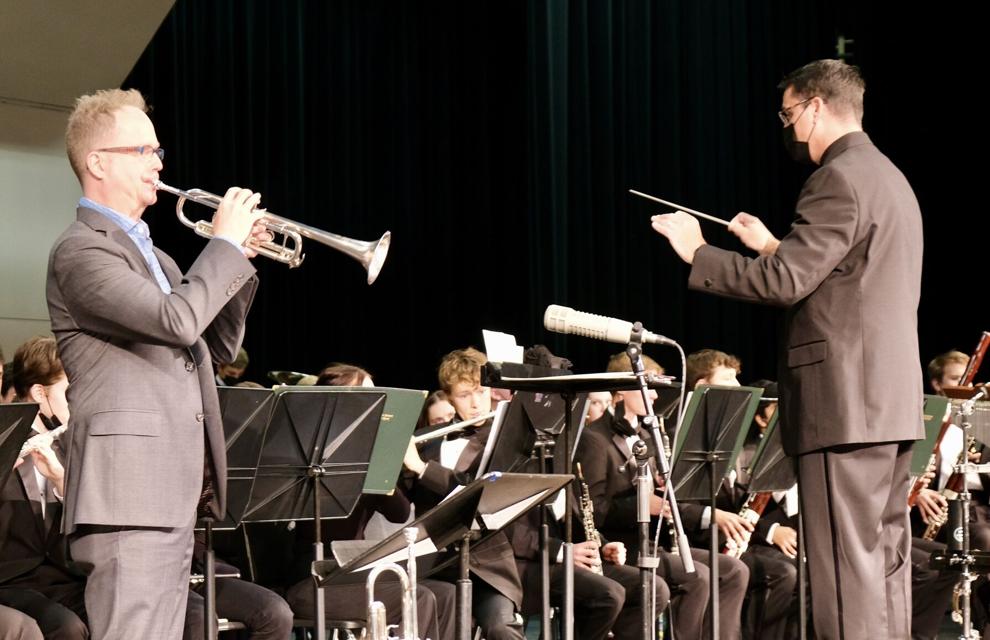 The community coming together as a team to reach an end goal is the guiding concept by which Paul Grangaard, a 1976 Edina West alum, launched a new charitable partnership with longtime friend and world-class trumpeter Charles Lazarus earlier this year.
That idea played out in real-time late last month as the partnership organized a benefit concert in collaboration with the Edina High School Concert Band, supporting mental health services. CircleRock Concerts for Community, the partnership and unofficial nonprofit, held its first-ever concert at Edina High School Oct. 25. Proceeds from the event went toward The Family Partnership, a nonprofit that works to help families in various ways, including through early education, family home visiting and mental health care.
In addition to 80 high school students performing in the concert, Lazarus and his group, including vocalist Tonia Hughes Kendrick and the former keyboardist from Prince's New Power Generation band, Tommy Barbarella, played alongside the students. Percussionist Daryl Boudreaux, bassist Jeff Bailey and drummer David Schmalenberger also performed.
"The combination was really magical," Grangaard, the concert's producer and donor, said.
Lazarus agreed. "It was so satisfying to see such synergy," he said. "Grangaard (has the) ability to be a builder of community connections. ... He is very visionary in that way."
The value Grangaard places on working together dates back to his time in high school, playing in the Edina High School Concert Band in the mid-1970s under then-band director Ed Melichar.
"I think of him still, to this day, a lot in the things that he taught us not just about music, but also about playing together, playing in tune, taking the lead when it was your turn to take the lead," Grangaard said. "And then, just the idea of, what does it mean to be supportive?"
That includes "working as a team trying to accomplish something that is way better than you could do by yourself," he added.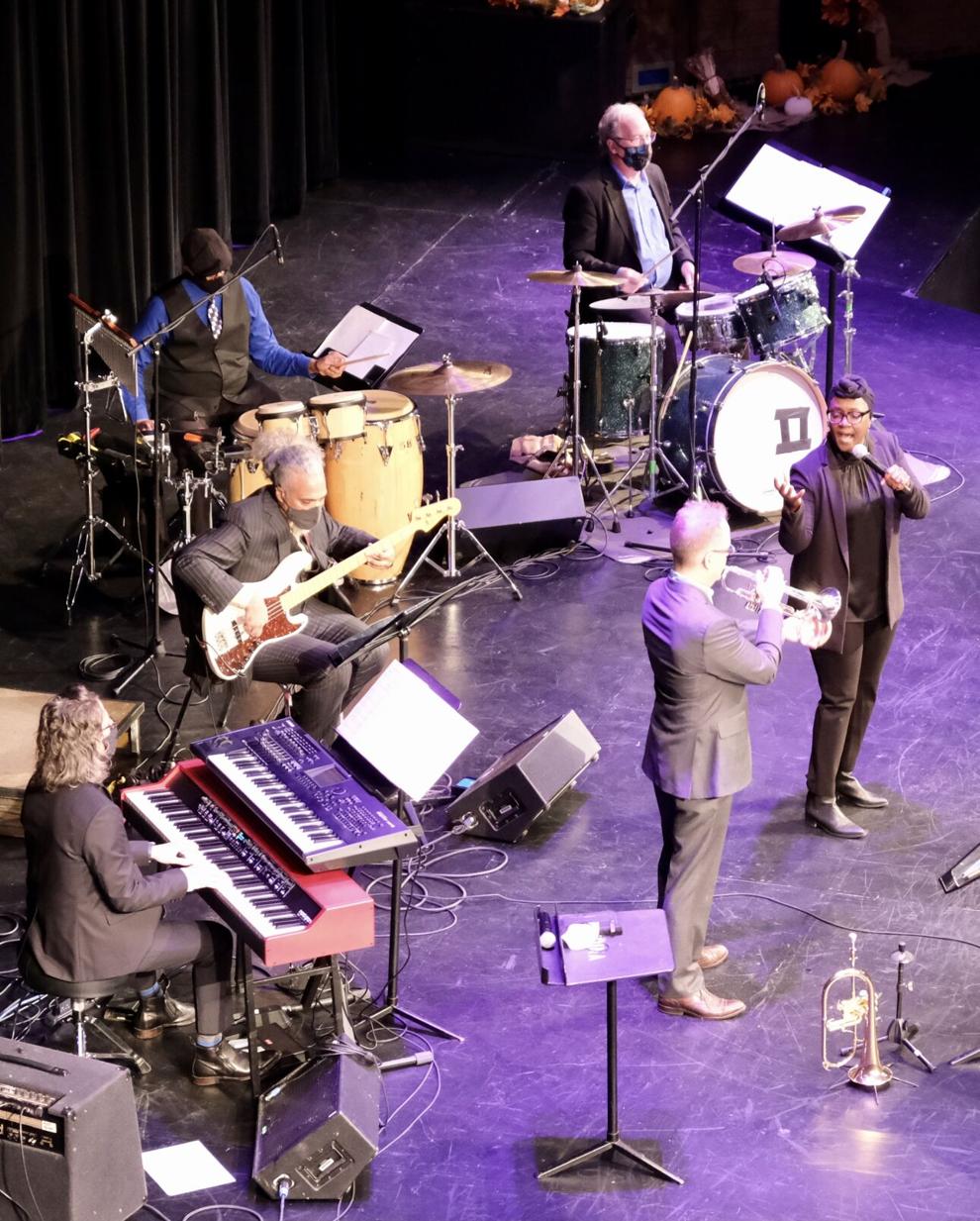 Melichar's influence has also spilled into other areas of the Edina community, including the annual Torchlight Concert, which is put on with the help of the 1st John Philip Sousa Memorial Band's Scott Crosbie, a former student of Melichar.
The name of the partnership itself – CircleRock – is tied to a place of community for Grangaard. Its origin stems from his childhood growing up in Edina. He used to live on Duggan Plaza, which splits into a circle in one section. Grangaard recalls the circle being a place where his neighbors could gather to chat and host an annual picnic, and where he played his first game of baseball. A big, red rock also sat in the circle, attracting his interest.
"It's the first thing I remember being really curious about. And I think curiosity is the source of a lot of good things that have happened to me in my life," Grangaard said. "The rock symbolizes the things that we rally around."
Prior to launching the partnership, Grangaard had also used the CircleRock name for a men's clothing line in 2018 that later merged with Faribault Woolen Mill Co. Grangaard is now CEO of that company.
Grangaard, who has been friends with Lazarus for years through their individual ties to the Minnesota Orchestra, started the charitable organization with the hope of supporting mental health causes through music. Grangaard's daughter, who is now a practicing psychologist, went through her own mental health crisis in college – and with the help of resources, made a full recovery. She now counsels students in high school, college and graduate school, he said.
Grangaard and Lazarus, who co-created the annual Merry & Bright concert with the Minnesota Orchestra, were discussing the mental health crisis in the U.S., both before and especially during the COVID-19 pandemic, Grangaard said. Because so often people can't afford mental health assistance, the two decided to put on a concert.
"We should do something that serves this cause because that's the thing that could make a tangible difference in people's lives. And also, we get to make great music together," Lazarus said.
Lazarus, a member of the Minnesota Orchestra since 2000, thought to reach out to Paul Kile, director of the Edina High School Concert Band, to help put on the concert. Lazarus had previously played with the band and had known Kile for years.
He didn't hesitate to say yes, Kile confirmed. "Not only is the cause so worth it, but I'd love for my students to see other people making efforts to help causes out and to learn about philanthropy," Kile said.
The process for putting on a concert of this scale was no easy feat, Kile said. It included finding repertoire, or a set of pieces to perform, rehearsing with and without Lazarus and coordinating the event through many Zoom meetings, he said. This was the students' first concert in more than 18 months since the start of the pandemic.
The work was "grueling," Kile said. "But you know, when you put all your chips in on that one hand of cards, you can win really big. ... I put all the chips in and the win was huge."
Before kicking off the concert, the organizers held a presentation featuring quotes of students reflecting on their mental health throughout the pandemic. Questions asked of students mirrored the songs the band played during the concert.
One question asked, "Can you share an experience that has 'tempered' you?" in reference to a piece called "Tempered Steel." A student responded, "Living through the pandemic has certainly tempered me – I am a lot stronger in terms of being able to bounce back when I'm at my worst."
Another question asked students about the state of their mental health over the past year-plus dealing with the pandemic. Responses included acknowledgment of loneliness due to fewer social interactions, anger because others were being less safe than they were, and feelings of increased anxiety.
Choosing The Family Partnership, a nonprofit that provides mental health support for families, was "a perfect fit," Lazarus said.
"The most powerful thing that a young person has is the ability to make choices. But in order to be in a position to make the best choices that lead them down a path of a positive life, they have to feel mentally and physically safe and healthy," Lazarus said.
On Oct. 19, the American Academy of Pediatrics, American Academy of Child and Adolescent Psychiatry, and Children's Hospital Association declared child and adolescent mental health a "worsening crisis" tied to both the COVID-19 pandemic and the struggle for racial justice.
Molly Greenman, CEO of the The Family Partnership, said that when Grangaard was telling the audience about the experience of his daughter, people in the crowd could be seen nodding. "We know how important mental health needs are now even more after almost two years of COVID," she said.
Greenman added that the concert was "a great opportunity for us to get the word out about not just what we do, but the needs of the people that we serve."
The nonprofit also holds a special significance for Grangaard, as he sat on its board in the late 1980s and has been donating ever since, he said.
Students were also asked if they were excited about playing alongside Lazarus and his group, the presentation showed. One student wrote, "He is an inspiring example of how good you can be with hard work and dedication."
A senior at Edina High School and trumpeter in the Concert Band, Sam Ramirez, said the experience was "fulfilling."
"It just felt really good that we could actually use the money that was (from) the tickets to actually do something with it and offer donations to this cause," he said.
After the presentation, the Concert Band opened the show with five pieces, two of which included Lazarus soloing with the students on. After that, Lazarus and his group closed out the concert with a 50-minute set, Kile said.
"It was an absolute home run," Kile said. "Not only do I think the high school students performed so well for so early in the year and coming off a pandemic, I loved the energy and enthusiasm they brought to the audience when (Lazarus) and his group took over."
Grangaard said that hearing "beautiful music" like the sounds Lazarus, his group and the Concert Band created is why he enjoys doing this work. "We need more great music in the world and it's fun to help bring it about."
Kile noted that he perceived a feeling of Edina pride among the students because of Grangaard. "That here's a gentleman that used to be sitting right where I am now, that helped pull this whole thing together because of his experiences in the Edina Concert Band," he said. "It kind of serves as a model for what those students could do when they graduate."
In February, CircleRock Concerts for Community is planning to host another benefit concert at St. Philip the Deacon Lutheran Church to benefit Minneapolis-based Mental Health Connect.
For Lazarus, a sense of connection is why he is a musician. "Intrinsic in making music is teamwork, leadership, and most importantly, the ability to listen."
"It's so great working with kids, working with young people, to see them engaging in music and building community ... but also learning those skills that will serve them well in all facets of their life," Lazarus said.
– Follow Caitlin Anderson on Twitter @EdinaSunCurrent