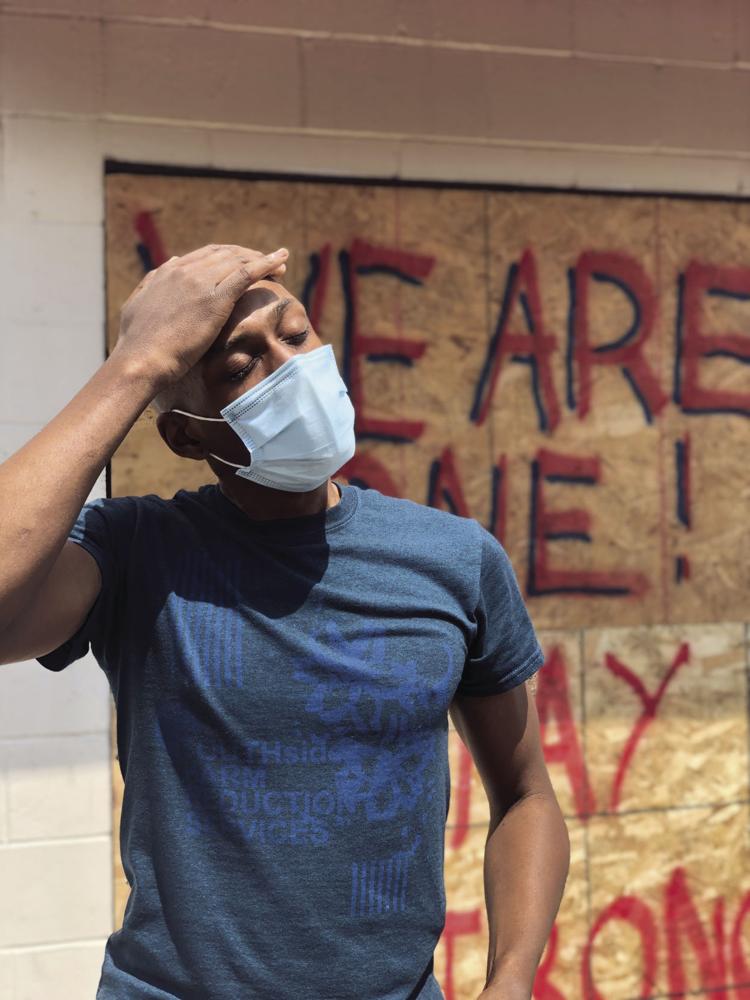 Personal crises don't step aside for global ones.
So, for those who've made it their life's work to serve vulnerable individuals wherever they may be, there is no such thing as working from home. Such is the case for Michael Neil, who has ventured into the teeth of the COVID-19 pandemic and an atmosphere of civil unrest as he draws upon lessons from his own personal struggles.
Neil, who grew up in Edina, took a job this spring with the Aliveness Project, a Minneapolis organization that serves people living with HIV. It was the latest step forward for someone who just two years ago was living on the streets battling addiction. Now, the 32-year-old Bloomington resident uses that experience to get people the help they need.
Until this spring, that meant practicing harm reduction by handing out clean drug needles wherever they might help prevent the spread of disease amongst people living with addiction. Now, despite the threat of COVID-19, it means venturing out into those same streets with another method of prevention in mind.
As a community outreach navigator at The Aliveness Project, Neil administers HIV tests in the field, able to detect the virus with a fingerprint and a minute's wait. So while the organization practices social distancing and limits public contact at its office in south Minneapolis, Neil continues going wherever he has to go to make the human connections his mission requires, just as he planned after his life changed forever on an icy night in Duluth two winters ago.
That's where Neil, who was homeless after years spent in and out of drug rehabilitation, was badly beaten during a drug transaction gone bad. It's also where he vowed to change his life. Soon, he would become known in Minneapolis as "The Needle Guy" as he made the rounds in the area of Franklin Avenue and Highway 55 while volunteering for the nonprofit Southside Harm Reduction. Uniquely able to serve as a bridge between the streets and the social services infrastructure, Neil knew he would make a career of this type of work even before he earned a cent doing it.
"My plan is working out perfectly," he said last month, a couple weeks after being hired at The Aliveness Project to bring his unique skill set to the fight against HIV.
Neil's hands-on approach is new for the organization, according to Brad Bryan, outreach and care linkage manager at The Aliveness Project. "We're really exploring what that would look like to develop that particular type of outreach," Bryan said.
The 30-year-old organization's standard approach, he explained, has been to work with treatment centers, outpatient facilities and homeless shelters to reach their clientele, a contrast to Neil's street-based approach.
"He's willing to go to the underbelly of Minneapolis and the Twin Cities," Bryan observed. "That's where we need to be."
"He gets to do things that we fantasize about doing," Alex Palacios, a colleague of Neil's, added.
Due to his understanding of people battling addiction and the environments in which they live, Neil possesses a knowledge base that can't be cultivated by merely reading a textbook. Thusly, he possesses "a deep understanding of harm reduction and social disparities and how they're interconnected," explained Alex Palacios, who first became connected to The Aliveness Project as a client.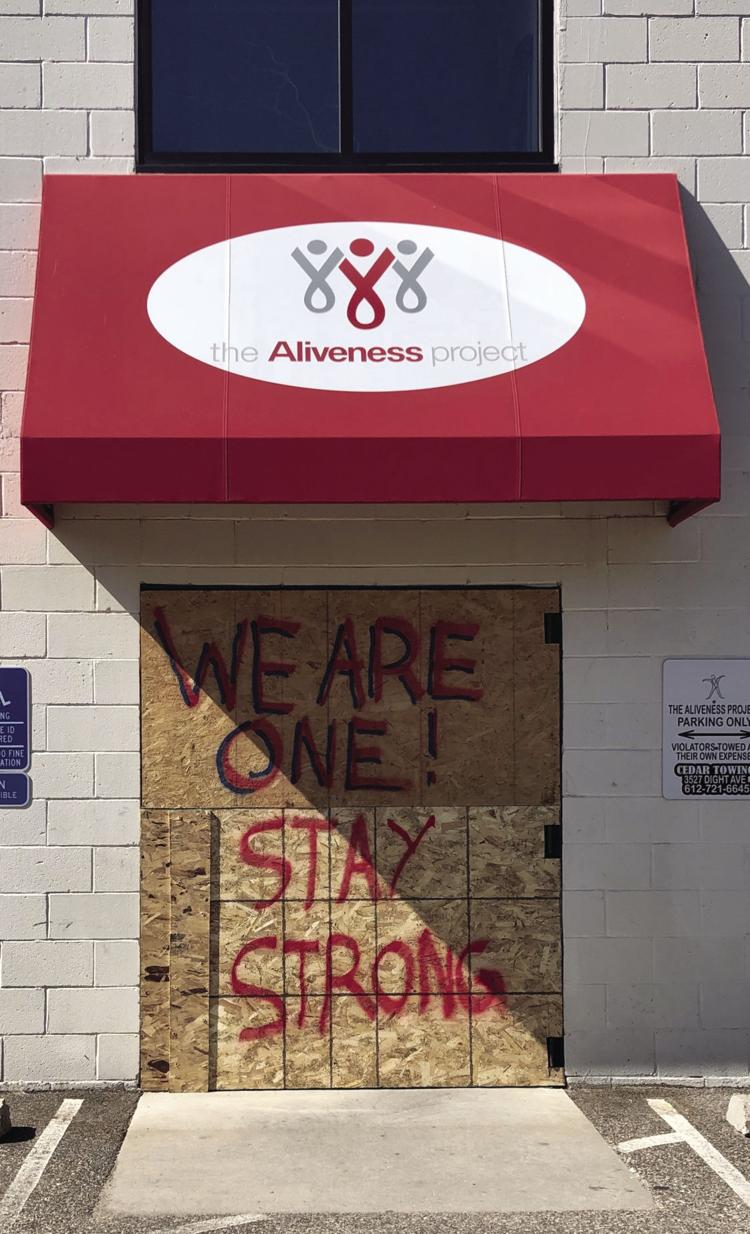 A public health concern endures
As treatments for HIV have progressed to the point where the virus can be rendered untransmittable and undetectable in individual patients, it doesn't occupy the same place in the public consciousness that it held in the 1980s and 1990s. But the virus that causes AIDS hasn't gone away.
There were 275 HIV cases reported in the state in 2019, according to the Minnesota Department of Health. Of those new cases, 61% of those infected were people of color. "It's definitely not forgotten about. It's still an infectious disease that wreaks havoc on your body if not treated," Neil said.
Of course, treating it means detecting it first. "And that's what makes Michael such a great asset," Bryan said. "Michael can seamlessly go into these places and then give those tests."
To Neil, harm reduction means meeting people wherever they are at – emotionally, mentally and physically. This means he can't do his job sitting behind a computer, no matter the dangers that may await outside. Connecting with someone through a screen – "That's not the same," Neil said.
In fact, the pandemic brings even more urgency to his work since his clients are already immunocompromised.
"We're serving a particularly vulnerable population," Bryan said.
And now, the pandemic is accompanied by the backdrop of civil unrest that erupted after the killing of George Floyd. In the aftermath of the homicide, Neil's work brought him to the Midway area of St. Paul, where a Sheraton hotel became an ad hoc homeless shelter during the chaos.
Neil said he was there the day the hotel's temporary residents were forced out. Having heard of shortages of food and medical supplies, he visited every floor of the building while administering the instant HIV tests, handing out $5 Target gift cards to encourage people to have their finger pricked.
He was thankful no one tested positive that day, but even as a traveler among the marginalized, he was taken aback at the squalor at the hotel. "I've seen a lot of stuff, but I've never seen anything like this before. Ever," he said.
Neil described a sense of mistrust among the homeless population that has become more palpable after Floyd, a handcuffed, unarmed black man, was killed under the knee of a Minneapolis Police officer in broad daylight.
The people who Neil typically comes across in his work "don't want to be around white people, and they sure as hell don't want to be around law enforcement," he said.
It's impossible for Neil to ignore the heightened tensions. "I can't walk down the street as freely as I used to," he said. "There's a sense of like, you're not 100% safe."
He worries about being the target of someone with hate for black people, or gay people, or for people perceived as enabling drug addiction. "I just need to know that I can make it home safely at the end of the night," Neil said.
Or, after a day spent at his day job, he might be headed to his shift as a server at the Edina Perkins. In addition to those two jobs, Neil has started an organization called Outreach Nation LLC, which helps businesses donate food to those in need.
With all the responsibilities piled on top of his work with The Aliveness Project, Neil acknowledges he's juggling a lot right now. "I don't know how I manage all this stuff," he admitted.
One thing that helps keep him going, though, is a deep sense of purpose, one that won't go away in the face of a pandemic or heightened tensions on the streets. "There's still people that need my help," Neil said.
– Follow Andrew Wig on Twitter @EdinaSunCurrent