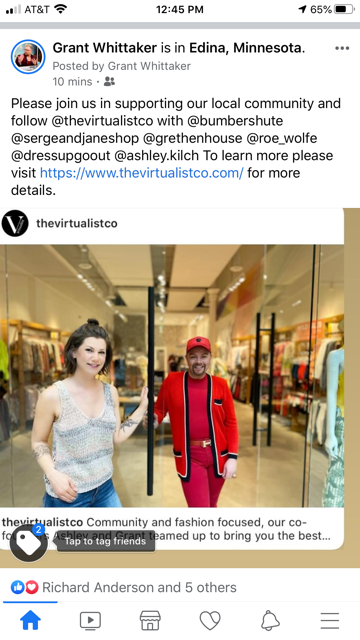 Not all retailers were ready to shift their focus to online sales last spring as would-be shoppers stayed home due to the coronavirus.
Many independent shops didn't have a web store to begin with, but two Edina fashion purveyors were there to assist in the emergency. Their solution is called The Virtualist, which simulates the personal shopping experience typical of boutiques such as those found at 50th & France or the Galleria in Edina.
With The Virutalist, a shopper can access a website, thevirtualistco.com, where they input their fashion aspirations and individual requirements. Next, after a short consultation, stylist Grant Whittaker uses FaceTime to take the shopper through the store and peruse the merchandise. Whittaker, an Edina resident and a Twin Cities media personality, teamed up on the project with Ashley Kilcher, owner of Roe Wolfe in the Galleria.
Whittaker, who owns a fashion consulting and production company, had reached out to local shop owners to see who could use help adjusting to the new retail landscape. Kilcher was the first to call, he said.
Reminiscent of the Home Shopping Network, they produced videos promoting Roe Wolfe's offerings, posted them to Instagram, and "it just kind of developed from there," Kilcher said.
The effort paid off. "We sold out of an entire row of coats that she had, for example," Whittaker said.
After that experience, they were ready to make The Virtualist a reality. "Within a week we were up and running," Whittaker recalled.
While retailers were able to re-open with social-distancing precautions in place after the most stringent period of the stay-at-home orders had kept them closed last spring, that didn't mean all shoppers were ready to return, Kilcher remembered. "Some don't feel comfortable going out to stores yet," she said in July.
She puts any competitive instincts aside as she helps fellow shop owners cover the distance between themselves and their customers. "I kind of operate personally and professionally under the idea that when we all do better, we all do better," Kilcher said.
She and Whittaker aren't yet charging a fee for their service as they pilot the program, but they do have plans to expand and turn it into a money-maker. If they had been charging, "we could have made major commissions," Whittaker said. "I was selling $4,000 within an hour."
When someone makes a purchase, whether its for thousands of dollars or a more modest outlay, they may have it delivered, pick it up curbside if the store offers that service, or try on the clothes in the store before taking them home.
Virus precautions extend to the try-on process, too. Kilcher said she sanitizes the clothes by steaming them after every trip to the fitting room.
She's gotten used to such precautions as she continues to contemplate the future of her industry. "Everything's going to look different," she said.
– Follow Andrew Wig on Twitter @EdinaSunCurrent