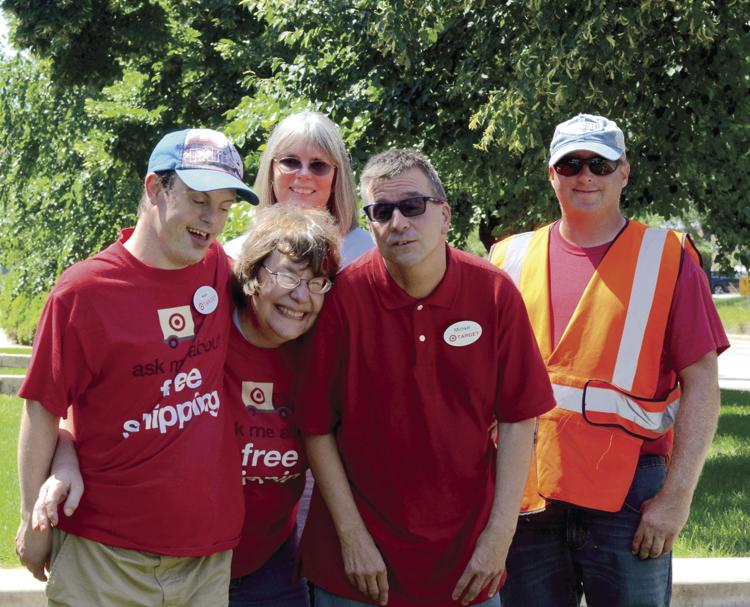 It's a rarity when a team of five people stays together for longer than a decade. Even blindingly successful rock bands usually burn through a drummer or 10, because in a chaotic world, there are just too many factors that can pull people apart.
A team of employees at the Edina Target, though, has for 12-plus years proved immune to such forces. Helming this picture of stability is Sue Houghton, who makes the short commute from western Richfield to the York Avenue store twice a week to support three grocery stockers and a cart-pusher.
After all that time spent together, their bond is simple, Houghton said after completing a shift last week: "They're just family." Even on non-work days, the group can't stay apart, getting together for excursions throughout the week.
Houghton is a recent recipient of the Direct Support Professional Award from the Minnesota Organization for Habilitation and Rehabilitation. The annual award comes from a trade organization claiming a membership that serves more than 26,000 Minnesotans with disabilities. Houghton was among six professionals honored by the organization's summer conference in St. Cloud.
She works with her veteran team through Partnership Resources, Inc., which connects employers to individuals diagnosed with developmental disabilities.
"They just want to be a part of everything," Houghton said of her crew. "It's fun to see them so excited about the other people and the jobs they do. It's very touching to watch them in action."
She remembers first being drawn to people with disabilities during her high school days, when she was working as a playground supervisor and got acquainted with a boy who had Down syndrome. Later in life, she had a similar experience with a co-worker at a pizza place.
After raising three daughters through their early childhood years, Houghton came upon the job opportunity at Partnership Resources, and 27 years later, she continues working as a job coach, having worked exclusively in Target stores since 2000. At 66 years old, Houghton keeps up the work out of an appreciation for her team's earnest nature.
"I guess it's just their genuineness," she said. "There's no phoniness about them. They just tell it like it is."
Not that they don't know how to have a good time; joking, ruffled hair and big hugs are all part of a regular day, Houghton said. Her supervisor doesn't see it as an accident that she's cultivated such bonhomie.
"She is, in our language, very person-centered, meaning, she really knows the people that she's supporting," said Terri Bauernfeind, program director of Employment Support Services with Partnership Resources.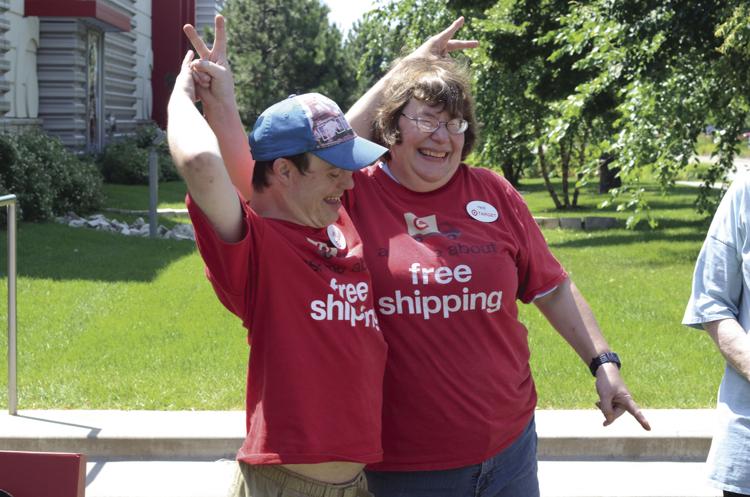 Fostering a positive atmosphere and a connection to the workplace culture is important, Bauernfeind notes, but "at the end of the day, the job still has to get done."
Bauernfeind described the deft touch it takes to balance the demands of the modern workplace with the challenges faced by people who have disabilities. "She does it in such a way that you don't even know that she's just nudged you and pushed you into doing a better job," Bauernfeind explained.
And anyway, she said, Target is looking for the kinds of employees whom Houghton supports – upbeat people who are proud to wear the company colors. "They hire people like that," Bauernfeind said. "They have a certain culture that they're looking for."
The York Avenue location is one of three Target stores in the metro employing workers through Partnership Resources, according to Bauernfeind. In addition to Target, the company connects people with disabilities to jobs at stores such as Trader Joe's and Cub Foods.
Partnership Resources also places workers in food service jobs in addition to industrial settings such as packaging and production. Of note in Edina, Partnership Resources has people collecting recycling at Fairview Southdale Hospital while also running the facility's office supply station, Bauernfeind noted.
Partnership Resources employees are hired directly by the businesses who employ them and work by the side of workers hired through more conventional means. They all earn minimum wage or better, according to Bauernfeind.
A desire for a diverse workplace is among the motivations of the companies that work with Partnership Resources, she noted.
"I think businesses also do look at the human impact," Bauernfeind said. "It is the right thing to have people with disabilities in your business."
There's consumer demand for it, too, she said: "There's been research to prove that customers value businesses who hire folks with disabilities."
Founded in 1983, Partnership Resources has been part of a movement to break down the walls between the mainstream population and people with disabilities. "There has been an evolution where more and more people with disabilities are wanting to work in a business in their neighborhood, not necessarily working in a segregated setting," Bauernfeind said.
Mainstream employment means a sense of normalcy for the clients and their families, she explained. "Now, I think a parent that has little ones with disabilities can foresee, 'My son or daughter can have a normal life,'" she said. " … We've changed our culture."
Meanwhile, Houghton and her foursome have had ample time to develop their own team culture. When they aren't at Target, they can be found all over the metro area, whether strolling around a lake or volunteering somewhere stuffing envelopes.
Wherever they go, Houghton prefers it to be far from the spotlight; she's quick to note her reticence amid the attention brought by her recent industry honor.
"I'm not very comfortable with this whole thing," she admitted. "I just like doing my job."
– Follow Andrew Wig on Twitter @EdinaSunCurrent