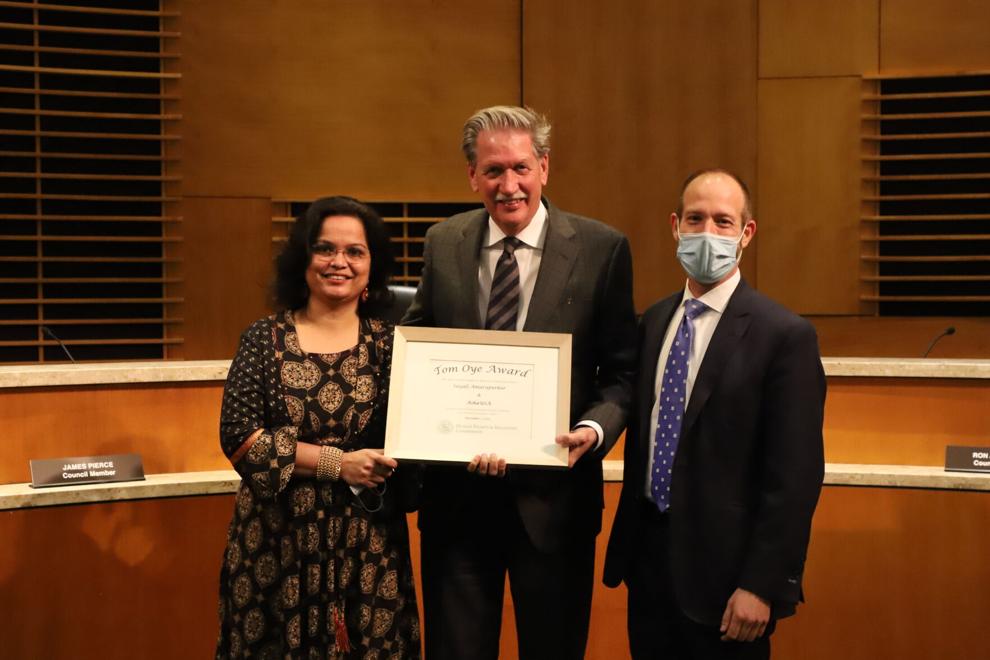 Sayali Amarapurkar's passion to help others is, as she says, just in her blood.
And that's one reason she was honored with this year's Tom Oye Award, which recognized her work to uplift South Asian families in the community.
"I feel very honored and really humbled. … It's nice to see that work gets noticed," Amarapurkar, executive director for the nonprofit AshaUSA, told the Sun Current. "The recognition is for the work more than myself as a person."
She added, "I'm happy that the residents and the city of Edina recognize the importance of the work, and this was just the beginning."
After a nomination process, the Human Rights & Relations Commission presented the 47-year-old resident with the award at the Edina City Council's Dec. 7 meeting. The annual award was established in 2006 in recognition of the late Tom Oye, an Edina resident who was an early member of the city's Human Rights & Relations Commission, serving for over 30 years. Oye, a second-generation Japanese American, was also a Nisei soldier in World War II, serving in the 100th Infantry Battalion of the 442nd Regimental Combat Team.
Nominees are judged based on their efforts to "foster respect and dignity for others, model courage and/or compassion in the advancement of human rights, and demonstrate leadership by example for improving human relations or advancing human rights," the city said.
Amarapurkar grew up in a small town in India where she lived with her extended family until she was 8 years old, when she and her immediate family moved to Bombay. In 1995, she earned a bachelor's degree in psychology and two years later, a master's degree in human development from the University of Bombay.
After graduating, Amarapurkar moved to the U.S. with her husband, Balkirishna Jahagirdar, in 1998. The two resided in Chicago until they moved to Minnesota the following year. In the fall of 1999, Amarapurkar began studying family social science as part of a Ph.D. program at the University of Minnesota. At the time, her husband was also studying at the university, so the pair lived in Roseville near the St. Paul campus, she said.
In 2009, the couple moved to Edina "basically for the school district," Amarapurkar said, as by this time, she now had two sons reaching school age. With her Ph.D., which she achieved in 2004, Amarapurkar was now doing research and teaching at the University.
But when the family moved to Edina, the mother of two decided to take a break from working and instead chose to do volunteer work when she wasn't taking care of her young boys.
In 2014, with her interest in supporting racially and ethnically diverse families, Amarapurkar helped her friend and fellow volunteer, Kamala Puram, once a longtime Edina resident, to create the organization, AshaUSA.
While the two were volunteering together, they noticed an increasing number of South Asian families in Minnesota. The pair also found that these families were facing issues such as mental health, child-rearing, family relationships, accessibility and, for seniors, loneliness, Amarapurkar said.
The organization, whose name, "Asha," means "Hope" in Hindi, has the mission to "foster health and harmony in the South Asian community," she said.
Amarapurkar added, "The idea was, can we provide resources and help them before they reach a stage where, you know, it's a crisis?"
The South Asian population in Minnesota increased from 21,925 in 2000 to 42,739 in 2010, according to U.S. Census data. An updated count for this demographic was not available from the 2020 Census.
These are often families with origins in countries including India, Bangladesh, Pakistan, Nepal, Sri Lanka and Tibet, Amarapurkar noted.
Since AshaUSA's founding, Amarapurkar has sat on its Board of Directors. Two years ago, when Puram moved to a different state, Amarapurkar stepped into the role of executive director. Puram is still involved in the organization as the board chair.
AshaUSA has three main focuses: research, programming and community education, Amarapurkar said.
The organization partners with entities like the University of Minnesota and Minnesota Department of Health to conduct community research. Recent work has included studies on the health needs of the South Asian community and the use of alternative medicines.
For programming, AshaUSA hosts a monthly group for seniors to meet to address feelings of loneliness. The group started with just seven seniors six years ago and now attracts over 40, Amarapurkar said. "It is going strong," she said.
Another program is a Mental Health Matters initiative, which the organization started in 2015 to "create awareness and fight the stigma associated with mental illness and mental health issues" via offerings such as panel discussions and online resources, Amarapurkar said.

And with diversity, equity and inclusion training being a bigger focus for organizations in recent years, AshaUSA has kept busy. Its leaders have traveled to different cities in the metro, speaking to school districts, government agencies, healthcare providers and universities to talk about South Asian culture, Amarapurkar said.
AshaUSA is "sort of like a cultural consultant in that aspect," she said.
Amarapurkar's other roles
Coming out of her community education work for AshaUSA, Amarapurkar began working in 2018 as the Edina school district's South Asian cultural liaison. Her role is to help South Asian families navigate the school system and while working with the district's other cultural liaisons, she said.
Mary Manderfeld, the now-retired Edina Public Schools administrator who hired Amarapurkar, told the Sun Current that her former employee has done a "fantastic job" and is committed to the Edina community.
She "is just tremendous in her work, got a great work ethic, passionate about all students being successful," said Manderfeld, who has championed equity work in the district.
In recent years, Amarapurkar has also been involved in other aspects of the district's racial equity training.
In 2020, after the murder of George Floyd, Amarapurkar wanted to take action on what she said was anti-Black bias within the South Asian community. So, she helped launch an initiative, along with other South Asian community advocates, called SAARI, which stands for South Asians Against Racial Injustice. The name coincides with a garment, the saari, that Indian women often wear, Amarapurkar said.
The group hosted a silent vigil at the George Floyd Square memorial in Minneapolis and since then, has put on several virtual information sessions with community members of color. The initiative later became part of an official community committee with the India Association of Minnesota, Amarapurkar said.
In 2021, she joined the Board of Directors for the India Association of Minnesota.
Last year, Amarapurkar started a bi-weekly Hindi-language podcast, called Global Desi Parenting, to aid South Asian families in their child-rearing.
For Amarapurkar, who said she grew up in a family with "a history of giving back to the community," seeking out ways to help someone else is second nature. "Every morning, if I get up and I can't think of, how can I make a difference in somebody's life, I feel I wasted my day," she said.
While studying at different institutions, Amarapurkar often encountered a Western lens to information. In her work, Amarapurkar said she "used to always feel that we cannot apply that lens if we are working with different families coming from a different culture."
Now, in her various roles, Amarapurkar uses that idea to instead support "culturally relevant work … where we really, you know, look at where this community is coming from and what their specific needs are."
That sense of making a difference has spread to her two sons. Om Jahagirdar, now a junior at Stanford University, and Atman Jahagirdar, a senior at Edina High School and soon-to-be Stanford student, founded an organization called Omnisight International in 2016. The organization offers vision screenings and collects eyeglasses for youth in poorer areas of the world. And last year, Atman created a website to tackle vaccine hesitancy among minority populations, featuring several different languages.
Since their sons were born, Amarapurkar and her husband, an oncologist, would go back to India almost every year to visit family. She said they wanted to make sure their children stayed connected to their culture while at the same time searching for ways to give back.
"It runs in our DNA," she said. "They both have come up with these ideas and done work, and they still continue to do the work. So we are happy about that."
Amarapurkar said she was surprised to learn that someone had nominated her for the Tom Oye Award.
"What I do is basically just what I am passionate about, what I think our community needs. ... And I always feel this is just the beginning for me," she said.
After seeing Amarapurkar's nomination letter, "it should be obvious to everybody why we felt that she was more than qualified to earn this year's Tom Oye Award," Human Rights & Relations Commission Chair Michael Epstein told the City Council Dec. 7 ahead of presenting the award.
Through this recognition, Amarapurkar hopes people will understand the importance of the work AshaUSA does.
"There's so much work that needs to be done," she said. "We haven't even scratched the surface, as they say."
– Follow Caitlin Anderson on Twitter @EdinaSunCurrent