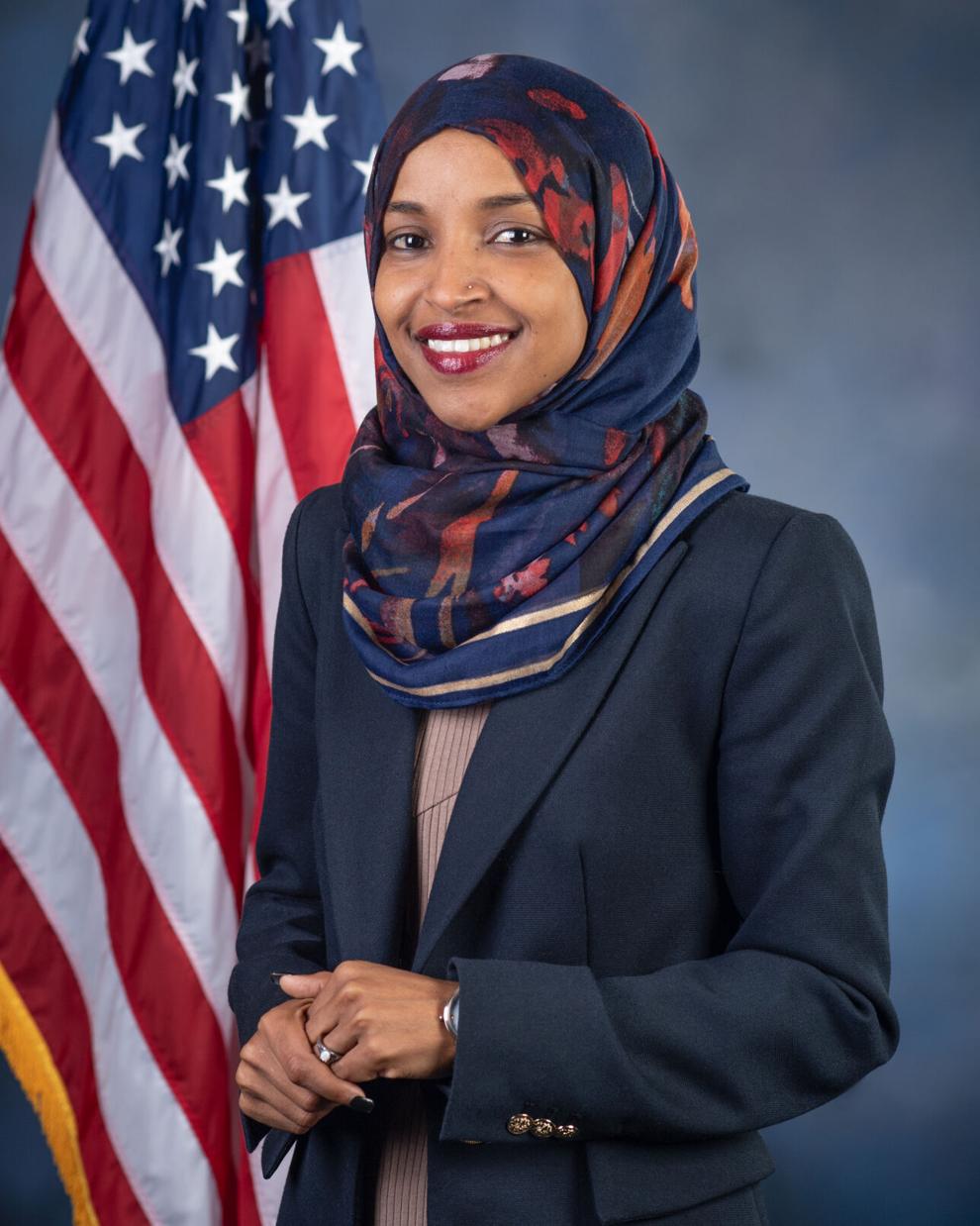 Rep. Ilhan Omar (D-Minnesota), who represents the 5th Congressional District, sent a letter to the U.S. Department of Justice late last month, requesting investigations into law enforcement agencies including the Edina Police Department.
The May 25 letter, addressed to U.S. Attorney General Merrick Garland, called for additional investigations into several law enforcement agencies beyond the Minneapolis Police Department and city of Minneapolis, which are both the subjects of a current investigation by the federal department. In the letter, Omar requests that Garland look into the patterns and practices of the Minnesota Bureau of Criminal Apprehension, Minnesota State Patrol, Hennepin County Sheriff's Office and several police departments, including Edina's.
Edina's current and former public officials, including City Manager Scott Neal, Mayor Jim Hovland and recently retired Police Chief Dave Nelson, told the Sun Current they believe the investigation is unnecessary and unfair to its police officers.
Following the police killing of George Floyd last May and the recent murder conviction of Derek Chauvin for that death, the Department of Justice announced in April the opening of a pattern-or-practice investigation into the two Minneapolis entities.
A pattern-or-practice investigation is a process through the federal department's Civil Rights Division, which looks to "reform serious patterns and practices of excessive force, biased policing and other unconstitutional practices by law enforcement," the department's website states.
The letter, signed by several Minnesota senators and representatives, Hennepin County commissioners and Minneapolis City Council members, asserts that the killing of Floyd is "not unique – it is a pattern among many Minnesota law enforcement agencies."
The letter mentions the killing of Brian Quinones in September of 2019 at the hands of the Edina and Richfield police departments. It said that officers involved in this incident faced no legal consequences.
Quinones, who was a 30-year-old Richfield resident, was shot and killed by police near the intersection of 77th Street and Portland Avenue in Richfield on Sept. 7, 2019, after a police pursuit that started in Edina. Hennepin County Attorney Mike Freeman declined to file charges against the officers, who had been placed on administrative leave for a period of time.
In a video recorded by a police dash camera of the incident, an officer yells "Drop the knife," as Quinones appears to be walking away, according to a past article of the Sun Current. But then, he appears to abruptly move toward the officer as other officers arrive and gunfire sounds.
The footage shows Quinones holding his abdomen after an initial round of gunfire before falling to the ground following more shots being fired. Quinones was struck a total of seven times, the article said.
Edina's public officials have indicated they don't believe an investigation into the Edina Police Department is needed.
"I was deeply disappointed to see the letter from Representative Ilhan Omar," Mayor Jim Hovland told the Sun Current. "We were investigated independently and cleared of any wrongdoing in the death of Brian Quinones."
He added that Edina was the first city to show Quinones' family the dash camera footage.
"We stand behind our officers in Edina. We know that they work hard every single day to protect and serve, honor their oath. And they do it in a highly professional manner," Hovland said. "There are no systemic issues in the enforcement of the law in Edina."
In an interview with the Sun Current for a future story on his retirement, Nelson was asked about the letter. He said he doesn't think it's necessary. Nelson served as Edina's police chief from 2014 to 2021. He retired in June.
City Manager Scott Neal told the Sun Current that the city will try to make a counter-argument to U.S. Attorney General. He said the city had undergone talks with Omar's office ahead of sending the letter to dissuade Edina's inclusion in it.
"I'm unhappy about it, I think it's unfair to the men and women that work in our Police Department. It tars them with a brush that they don't deserve," Neal said.
The city said it has not yet heard from Garland's office.
Other police departments included in the letter are the Richfield Police Department, Brooklyn Center Police Department and St. Anthony Police Department.
Omar attended an Edina City Council meeting on May 18 to provide an update to the city.
During that meeting, she brought up the letter, indicating that councilmembers received a version of the letter prior to it being sent to the Department of Justice.
One of the criteria for a police department's inclusion in the letter was "whether (it) has been involved in an extrajudicial killing of a person of color in recent years," Omar told the council. "This is not an action that we take to attack any of the municipalities that we represent."
A spokesperson for Omar's office told the Sun Current that they do not have any additional comments related to Edina specifically.
The letter states, "These issues are visible both in proactive law enforcement settings like traffic stops and arrests, but also in the law enforcement response to protests shining a light on these injustices."
It adds, "DOJ's investigation of systemic issues in Minnesota law enforcement would be an important step toward addressing our state's racial inequities."
To read the letter in full and see its signatories, go to trimurl.co/uWxLmo.
– Follow Caitlin Anderson on Twitter @EdinaSunCurrent