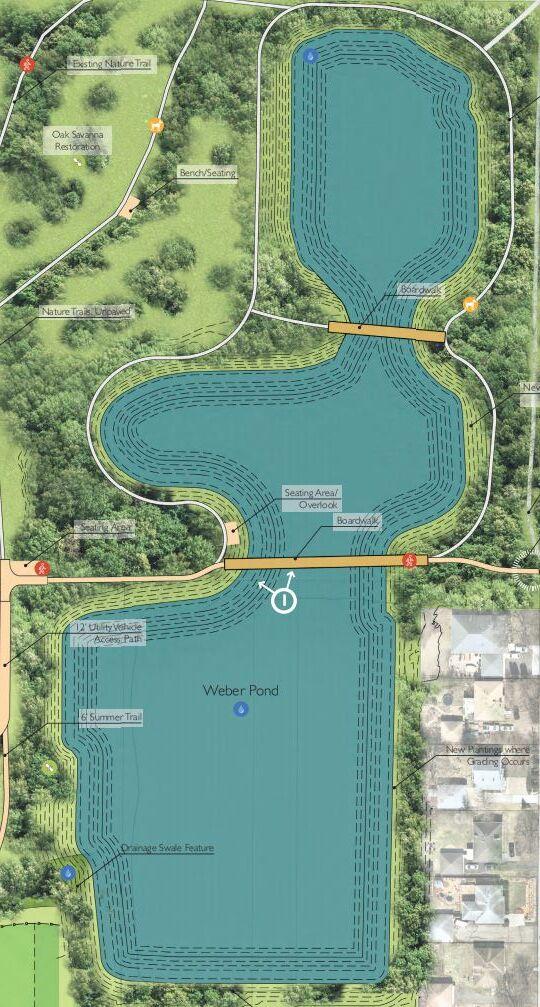 Edina city staff has developed an initial design concept plan for improving flood infrastructure in the Morningside neighborhood.
The plan, posted to the city's engagement website, Better Together Edina, and presented to community members at an open house last month, features the main design elements of the Morningside Flood Infrastructure Project. Launched last year, the project looks to better manage floodwater in the identified high-risk neighborhood of Morningside.
In addition to having major design aspects blueprinted, other design details like the project's timeline and baseline scope have also been established. This signifies that the project has reached a 30%-designed milestone, meaning community members should get a "big picture feel" for the plan at this point, the city's project site said.
"The main purpose of this project is to provide reduction in that flood risk by providing additional storage and conveyances of floodwaters to make sure that they're handled in a way that promotes public safety (and) reduces the risk to homes and other structures," Ross Bintner, the city's engineering services manager, told the Sun Current.
Why the project is happening
In the summer of 2019, city staff began working with residents on a task force to develop a Flood Risk Reduction Strategy. After receiving resident and City Council feedback, the Morningside neighborhood was chosen as a focal point for the new strategy, which was released in a report last year.
This Flood Risk Reduction Strategy outlines how the community should assess flooding risk as well as look for ways to reduce the problem as a whole. Driving factors for flooding risk are climate change and aging infrastructure, and historically, surface imperviousness, the report said.
The Morningside neighborhood, an area prone to flooding, is the first project to be pursued under the new Flood Risk Reduction Strategy by the city. During early summer last year, the city began presenting the idea for a Morningside Flood Infrastructure Project through virtual meetings.
Then, in April, the Edina City Council approved the goals of the project in addition to estimated costs of $1.4 million in design professional services, $600,000 in construction professional services, $9.5 million in capital expenses for 2022 and $500,000 in capital expenses in 2023. An additional $250,000 has been already allocated as part of a Flood Risk Reduction study. In total, the project is estimated to cost about $12.25 million.
Since then, city staff has developed an initial design concept plan that was presented to community members in an open house Aug. 17.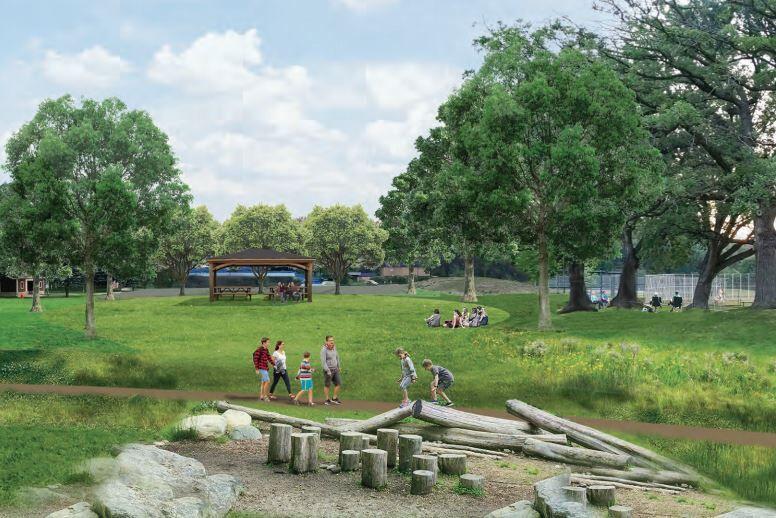 Details of the concept plan
Under the new plan, Weber Pond would be lowered and expanded into Weber Woods, resulting in the removal of trees. This portion of the plan also includes new nature trails, seating areas and overlooks, new plantings and two boardwalks that cut across the pond from east to west. The oak savanna located in the area would also be restored.
A new drainage swale feature, starting at the low point on Grimes Avenue, would flow water near the southwestern corner of the pond. This is meant to be a "relief valve" for floodwater in residential blocks located around Grimes Avenue to the west of Weber Park, Bintner said.
Improvements in and around Weber Park would also be implemented as part of the plan. These feature a central green with new park infrastructure for shade and seating, improved parking lots, new tree plantings, activity lawns, a hockey rink, nature play area and a children's practice infield. Two of the existing softball fields would be reconstructed.
A tree grove and oak knoll at the site would be preserved, city documents show. Several other infrastructure pieces, like the tennis courts and warming house, would remain.
Bintner noted that while trade-offs are required for the project, like the removal of trees to accommodate additional storage of floodwater, it "provides us with an opportunity to reinvest in the park and reinvest in that natural area."
The Lynn/Kipling inundation area, located about two blocks to the west of Weber Park, would be expanded and lowered with new trees and native plantings. The existing groves of trees would be preserved. It would also include a pipe to Weber Park in addition to another pipe outlet that would be added to provide greater capacity for floodwater, Bintner noted.
Another expanded pipe network, extending from east on Morningside Road to west on Branson Road, would also be reshaped to help utilize pipe capacity and reduce surface flows.
Smart infrastructure improvements would also likely be included in the project, Bintner added. The design specifies deepening Weber Pond, which would use a "smart" stormwater pump lift station.
If significant rainfall is in the forecast, this pumping system would detect that and free up storage space to accommodate the future floodwater, Bintner explained. "We think (it) provides really good value," he said.
City staff will present a project update to the City Council at its Sept. 21 meeting, summarizing feedback and how it was used for design development. After that, city staff will begin finalizing the design.
If approved by the City Council at a later date, construction is expected to start in the spring of 2022, Bintner noted.
– Follow Caitlin Anderson on Twitter @EdinaSunCurrent