Candidates running for the Edina School Board participated in a forum last week, answering questions on a variety of issues facing the district.
Each of the six candidates took part in the forum, which was hosted Sept. 23 by the League of Women Voters Edina in the Edina City Council Chambers. The candidates are Erica Allenburg, Owen Michaelson, Karen Gabler, Nicole Schnell, Dan Arom and Michael Birdman. Arom attended the event virtually because he was out of town.
The election for Edina School Board will take place Nov. 2, though absentee and early voting has already begun at Edina City Hall. An Oct. 7 edition of the Edina Sun Current will feature a Voter's Guide.
During the forum, which was moderated by Laura Helmer of the League of Women Voters Minnesota, candidates were asked questions submitted by community members, audience members and the League of Women Voters Edina. These questions delved into a variety of topics, including their priorities as would-be boardmembers, COVID-19 mitigation measures and satisfaction with district communication.
First priorities as boardmembers
Candidates were asked what they see as their first priority if elected to the board.
Arom, a 1990 Edina High graduate with three kids in the district, said he understood there is a large learning curve when first starting on the board, for at least about six months. He noted that focusing on assessments of kids' learning levels will be important and that the district needs to reinforce connections between students and teachers in the wake of the COVID-19 pandemic.
Overseeing the health and safety of students and staff while keeping in mind their education and mental health will be a priority, said Allenburg, who is currently the Edina School Board chair and has two kids in the district. It's about being "nimble as a district," she said. Goals for this year include assessing educational and social/emotional learning of students as a result of the pandemic and launching magnet school programming and the Comprehensive Literacy Plan, Allenburg said.
Birdman, who has two kids in the district and has been involved in the community since at least 2009, said his first priority will be to support Edina Public Schools' new superintendent, Stacie Stanley, and the administration in providing resources to students. This requires a focus on the implementation of the 2020-25 Strategic Plan. Birdman noted that as a boardmember, he would focus on the budget and effectively allocating resources.
Michaelson, who currently sits on the School Board and has four current or past kids in the district, said his role is to act as a voice for various groups in Edina, even those that he has disagreed with in the past. An issue he hopes to continue to pursue as a boardmember if re-elected is publicizing MAP test scores in aggregate, he noted.
Gabler, an instructor at Normandale Community College and parent to three kids in the district, said continuing to implement the priorities laid out in the Strategic Plan, like strengthening partnerships, would be a focus of hers. Gabler added that assessments of students in their academics and in their social-emotional learning will be necessary in upholding their health and safety.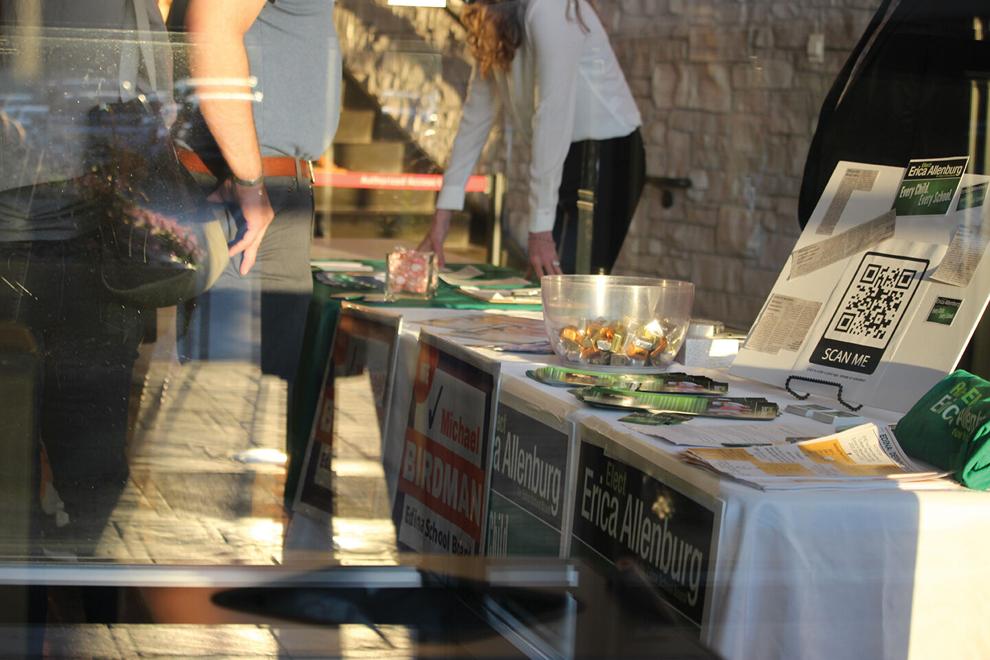 Schnell, a 1993 Edina High graduate with three current and past kids in the district, said it's her mission to "ask the questions" of the administration and the School Board. "I don't feel we've asked good questions of our administration to be a true partner" during the pandemic, she said.
COVID-19 mitigation measures
Regarding COVID-19 mitigation protocols, candidates were asked whether they would support mandatory masking and vaccinations.
Birdman said he supports universal masking until COVID-19 transmission rates decline. He would advocate for making "adjustments on the fly," he said. Arom also said he supports masking, vaccinations and other mitigation tools.
Vaccines and masks are important tools for fighting COVID-19, Michaelson said. He added, "I am ... excited that the kids are back in school." Michaelson also pushed for masks and vaccines for students to be the families' decisions, instead of being mandatory.
A layered mitigation strategy through the use of masks and vaccinations is essential to keeping kids in school, Allenburg said.
Schnell said masks can hinder learning and that it's important to address individual needs on masking. She added that she sees "no reason why (the COVID-19 vaccine) wouldn't go through this exact same procedure" as other vaccines mandated in schools.
It's a priority to keep students in class for five days per week as they learn and engage better in person, Gabler said. With certain ages of students unable to receive the vaccine, precautions, like masking, must be used, she said. "Proven mitigation measures need to be taken," she said.
Candidates were asked to rank the district's communication with a score of 1-5.
Allenburg said site-level communication with parents was a 5, but that district-level communication was lacking. She added that a way to address this may be to improve the perception of the district by telling people the "wonderful things that we do in the Edina school district."
Schnell disagreed with this approach, adding that being promotional would be the worst thing the district could do at this point. While there is "no question" the district's intent is good, simplicity in communication to busy parents should be pursued, she said.
Michaelson said site-level communication was great, but that district-wide communication has had missteps. He cited a district message last year that stated families could not be outside the district for more than two weeks, which upset community members.
Communication in 2021 is "difficult" as the district is trying "to thread that needle" of oversaturation of messaging versus getting the right amount of information to parents, Gabler said.
Communication with parties outside of just those with kids in the district should be a focus, as Edina residents in general make decisions on district issues, like the recent technology levy vote, she said.
Arom echoed this sentiment, stating that two-thirds of voters in Edina are not seeing the district's messaging on items of importance. He said communicating about the strategic plan should also be improved.
Communication is "the core to building trust," Birdman said, giving the district's communication a ranking of 3. There's room for improvement, but it's a two-way street with people needing to be willing to receive the information, he said.
Other topics discussed during the forum included the use of critical race theory, ways to increase enrollment and how to address class sizes. To view the forum in its entirety, go to lwvedina.org.
– Follow Caitlin Anderson on Twitter @EdinaSunCurrent