Edina Liquor's general manager, Josh Furbish, was at the helm of the city-owned enterprise when it decided to begin its e-commerce and delivery services journey in 2019.
A year later, the fruits of Furbish's labor paid off strikingly. The municipal liquor operation, which typically sees up to 15 delivery orders per day, saw, at its peak, 465 orders in one day during the COVID-19 pandemic. This peak, Furbish said, is largely attributed to the pandemic and the initial closing of Edina Liquor's three retail locations.
"That was certainly where we got shot out of a cannon," said Furbish, who joined the city in this role more than four years ago.
The city first launched its e-commerce and delivery service in the spring of 2019. During the fourth quarter of that year, Edina Liquor made $30,000 in sales through its home delivery service. Then, in the fourth quarter of 2020, the city saw a 1,600% increase with $480,000 in liquor delivery revenue.
In an April 5 tweet, City Manager Scott Neal said total sales from home delivery for 2020 was $2 million. In 2019, it was $70,000. "Pivot is such an over-used word these days, but it's a good word to describe a change in Edina Liquor sales from 2019 to 2020," the tweet said.
Edina's home delivery service begins
In 2016, the city of Edina created a task force, called the Liquor Store Task Force, in order to address dramatic losses in revenue, which the city attributed to increased competition in the surrounding area. The Task Force was made up of marketing professionals, retail service specialists and others with expertise in the field in order to work on a strategy to maximize profits, Neal said in an "Agenda: Edina" video interview in 2016.
The Task Force then recommended that the city begin providing home delivery services through an e-commerce platform. During this same time, Furbish was introduced as Edina Liquor's new general manager.
The delivery program launched in 2019, which Furbish said "was a lot of fun. There were certainly moments where it was the most frustrating thing that I've ever taken on but ... that outcome on the other side of it was very, very gratifying."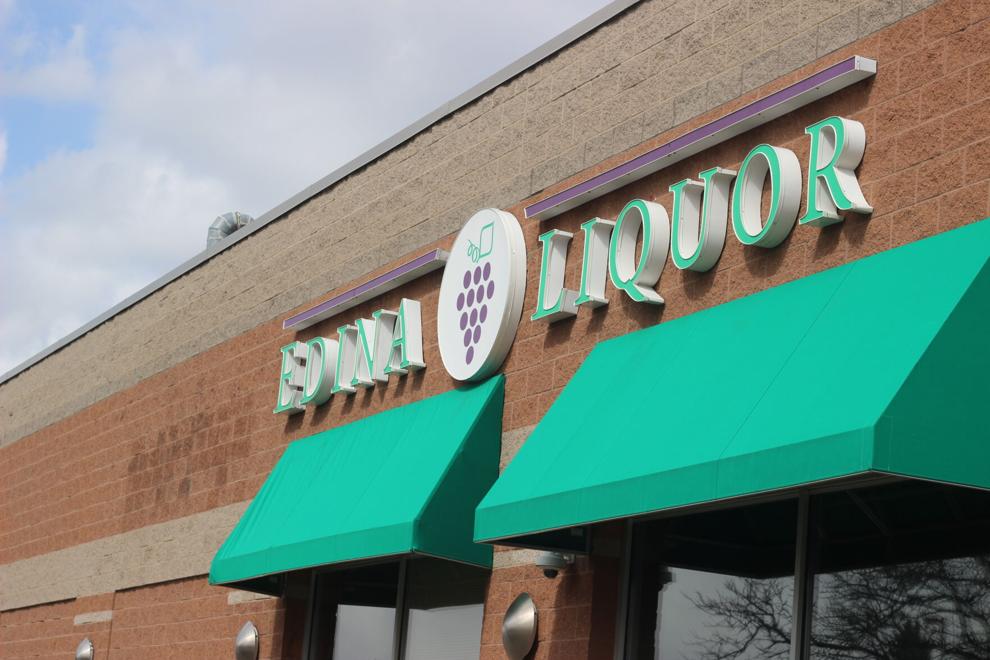 A major aspect of Edina Liquor's delivery service is that it is all in-house, meaning all of those who facilitate the order filling and delivering are city-employed, Furbish said. This allows for easier, faster and more reliable customer service, he said.
And even before the pandemic, usage of the service was trending upward. The end of 2019 and beginning of 2020 saw a spike in delivery sales, which Furbish said shows that the service was beginning to be received well. At that time, the number of deliveries was typically between five and 15 per day.
But then, in the days leading up to Gov. Tim Walz's first address about the COVID-19 pandemic, that number rose to up to 50 orders. Then, when all Edina Liquor locations closed in March, that number spiked to more than 200 orders per day. At one point, Edina Liquor's sales peaked at 465 deliveries in one day, Furbish said.
"We knew it would be busy, just not at the level that it was," he said.
In order to keep up with the number of deliveries, Edina Liquor needed to look beyond its usual resources, Furbish said. The liquor operation started to reach out to Edina's parks and recreation and building departments for help in gathering vehicles, and even had some employees from Edinborough Park pull orders.
"The way that the city holistically came together to support (us,) I don't think that there was a work group here in the city of Edina that was not part of what we created with this delivery program," Furbish said.
Edina Liquor ended up not having to furlough any of its employees.
At one point, the operation had up to eight vehicles on the road with between nine and 12 orders per car. Furbish joked that he found out how many orders could fit into the city's Toyota Prius cars – the answer is between eight and 10.
In addition to keeping up with delivery orders, Edina Liquor's staff had to navigate how to continue providing the same customer relationships outside of a physical location and instead, over the phone. The stores were back to full operation by September. While delivery order volumes did drop when retail stores opened back up, Furbish said the current rate is still four to five times higher than it was prior to the pandemic.
But despite the increase in delivery revenue, Edina Liquor did not see an overall increase in sales in 2020. Furbish said this is due to the closing of its retail locations, which lasted for seven weeks until mid-May. At the annual State of the Community address in February, Mayor Jim Hovland revealed that Edina Liquor's projected total losses in 2020 amounted to $1.8 million, the highest revenue loss for the city.
Retail sales are relatively the same now compared to prior to the pandemic, Furbish said. He added that people tend to be buying less frequently but are purchasing more items during their trips.
Delivery has also continued to be a major source of growth for the city, he said. Revenue from delivery accounted for just more than 10% of the total for Edina Liquor in the first quarter.
Edina Liquor profits go toward supporting Braemar Arena and the Edina Art Center, or are added to the city's Construction Fund and General Fund, Furbish added in a statement from the city.
Keeping up with the spike in deliveries has "easily been the most challenging junction that I've ever been at in my career professionally, but it's also been the most gratifying," Furbish said.
The year's liquor delivery boom is not the first time Edina Liquor has seen sales success. In 2011, the Southdale store, where the delivery service is based, became the first single municipal liquor store to break $6 million in sales. In another standout year, 1988, the operation sold more wine than any other municipal liquor operation in Minnesota, according to timelines on the city's website.
There is not yet available data on whether Edina Liquor's delivery sales have surpassed other municipal liquor operations' delivery revenue.
According to the Office of the State Auditor's most recent report on municipal liquor operations, Edina trailed behind only Lakeville in gross total sales in 2019. Its sales were more than $13.0 million compared to Lakeville's $16.2 million.
Edina Liquor will continue to advance and enhance the delivery service operation, which includes investments to reach a broader audience and expand its customer base, Furbish said.
A potential application for better liquor ordering and support for senior communities who may not be as familiar with technology are initiatives Furbish is looking at working on in the future, he said.
– Follow Caitlin Anderson on Twitter @EdinaSunCurrent