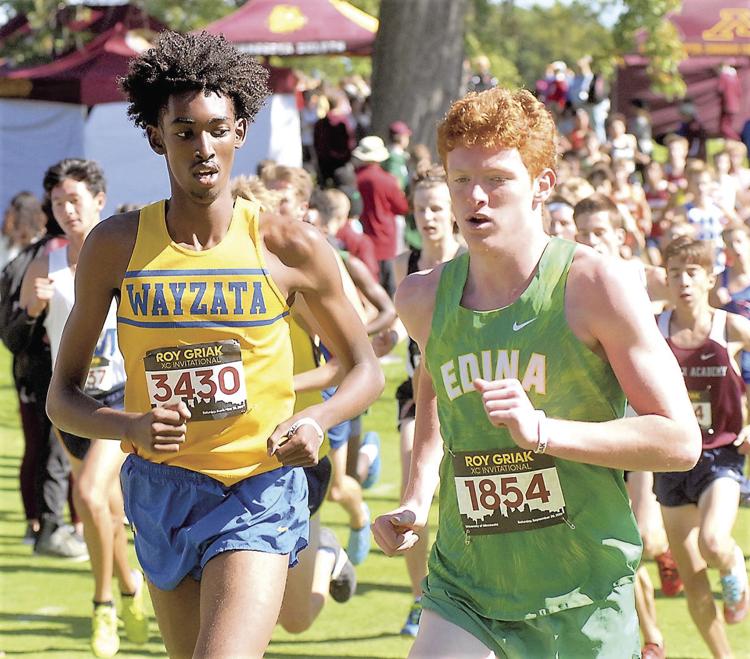 Coming off a second-place finish in the prestigious Roy Griak Invitational Boys Gold Division race two weeks ago, the Edina boys cross country team is seeking the Lake Conference title this week.
The Lake race is set for a 4:10 p.m. start Thursday, Oct. 10, at Gale Woods Farm in Minnetrista. In addition to Edina, the participants are Eden Prairie, Hopkins, Minnetonka and Wayzata, plus Lake newcomers Buffalo and St. Michael-Albertville.
"We have been putting in a lot of work, making a lot of progress in practice," Edina head coach Jamie Kirkpatrick said. "But I still think we can get better."
Edina has not yet raced at Gale Woods Farm this season, but the Hornets are familiar with the course from previous years.
"I don't think Gale Woods favors us more than it does anybody else," Kirkpatrick said. "But it is a good course and usually pretty firm."
Leading the Hornets into the conference meet are seniors Russell Gokemeijer and Augustus Hubbell. Gokemeijer finished 20th in the Griak meet with a 5K time of 16:30 and Hubbell placed 29th in 16:39.
As of last Thursday, Kirkpatrick had an established top six that includes Gokemeijer and Hubbell along with Otto Schreiner, Sean Baird, Noah Koelbl and Ethan Richter.
"I don't know who our seventh runner will be for the Section 6AA Meet," the coach said. "But it would be hard to argue with the results of the conference meet."
At the conference race, each team is allowed 12 entries, but for the section meet, there are only seven runners, plus an alternate.
Kirkpatrick said Eden Prairie is the favorite for the Lake boys race, based on results this season. Minnetonka and Wayzata are also in the mix.
"Wayzata is down from last year," Kirkpatrick said. "But don't count them out."
Eden Prairie's No. 1 runner, Jake Derouin, has been out for most of the season, yet when he's healthy, he is the best in the Lake Conference.
Other contenders are Gokemeijer and Hubbell, plus Minnetonka's Max Lauerman and Reese Thompson, Buffalo's Nick Oak, Eden Prairie's Mohamed Mohamud and Zach Spears and Wayzata's Shuayb Hussein and Abdi Robleh.