Several Edina residents received postcards in the mail last month inquiring if they had been looking to sell their home but didn't want it to be torn down.
The postcard, which was sent by the city on behalf of a program called Homes Within Reach, was mailed to specific Edina homeowners who had single-family houses that fit into eligible criteria. The Homes Within Reach program is run by the West Hennepin Affordable Housing Land Trust, and was approved for additional funding by the city in 2020 to allow Edina to preserve homes for at least 99 years through a land trust, said Stephanie Hawkinson, the city's affordable housing development director.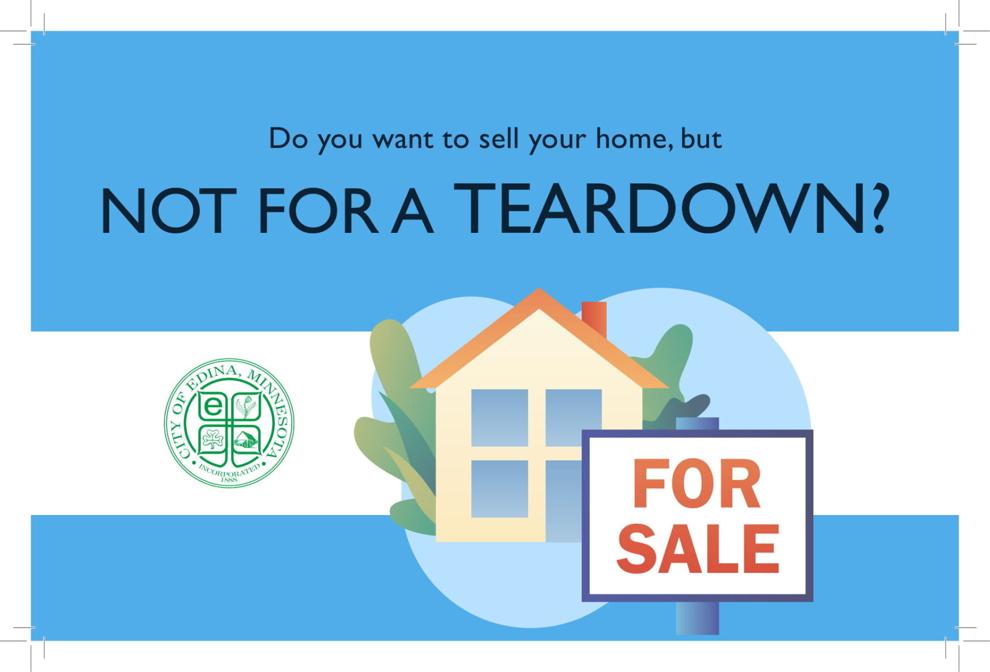 This option could work for residents "if they have great memories in their home and want to make sure another family is able to build memories, and (if) they want a little bit more assurances that a household will move in there but they don't want to deal with the hassle that is required with selling a home," she told the Sun Current.
The city's goal through the program is to hold onto smaller single-family homes in Edina to ensure affordable living instead of seeing them torn down to become large, luxury homes, which Edina residents have been concerned about over the years, Hawkinson said.
To meet the criteria, a home must be single-family with an assessed value of up to $425,000. According to a city press release, the houses for this program would be purchased with developer buy-in funds and some money from the city's Community Development Block Grant allocation fund. The city receives the buy-in funds when a developer decides not to include affordable housing units in a project and to instead provide money for affordable housing.
The postcard sent to residents reads, "Do you want to sell your home, but not for a teardown?" For Edina residents looking to sell their homes, teardowns have been a concern, Hawkinson said.
"(Some residents) are concerned by the number of tear downs that are occurring, that it is changing the character of some of the neighborhoods and that some perfectly fine homes are going away," she said.
Between 2008 and 2018, the average value of a home destined to be razed in Edina was $421,420, according to a 2020 housing study performed by Maxfield Research. The average increase in value for the rebuilt home was 177%, making the average price for such a home over $1.6 million.
Since 2008, the peak in new home permits issued by year, excluding those issued for lots not previoulsy built on, was 115 in 2014. Last year, the city issued 71 such permits.
After receiving concerns about the postcards from residents, Edina City Councilmember Carolyn Jackson sent an email to neighbors reassuring them about the program.
"As a candidate for City Council, the issue I heard about most frequently and passionately was the loss of smaller homes in our City. The loss of ownership opportunities for middle income families in our community changes our economic diversity," the email reads.
Jackson explained that the Homes Within Reach program allowed the city to offer to buy homes at an eligible price range in order to preserve its sale on an "income-restricted basis."
She added, "Edina residents presented me with this idea on multiple occasions, so I can vouch for the demand for this program."
Hawkinson said she wants to make it clear that the program is voluntary and that it just provides another option for homeowners that are looking to sell their homes. She received some calls from residents who were concerned that the city targeted specific homeowners for the program, which she said is untrue. The intention of the city's postcard was to inform eligible homeowners of their options, she said.
But for the most part, people have responded positively, Hawkinson said. As of last week, the city had a dozen names of homeowners interested in selling their homes within the next few months.
– Follow Caitlin Anderson on Twitter @EdinaSunCurrent