Edina Public Schools will launch a voluntary COVID-19 pooled testing program for students in partnership with UnitedHealth Group, making it the first public school district in Minnesota to do so.
The pilot program, called "Test The Nest," was discussed at an Edina School Board special meeting March 4. The voluntary program organizes secondary students into pools of about 10 people each, testing their diagnostic samples as a whole once a week. The goal is to track the asymptomatic spread of COVID-19, efficiently test a high number of students and help sustain in-person learning through the school year.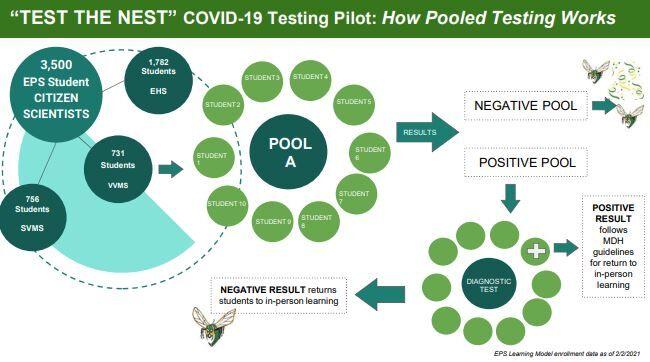 "This effort has been a true reflection on the strength of our community in coming together to address a large challenge," Boardmember Matt Fox said at the meeting, during which the School Board approved the district's contract with UnitedHealth Group.
After a small-scale trial run that was scheduled for this week, the new pooled testing program will launch March 15. On Mondays, half of registered students at Edina High School will be tested along with all of Valley View Middle School. The other half of registered students at Edina High School will be tested on Thursdays, as will all participants at South View Middle School, according to board documents. All participation is voluntary.
The program will last the duration of the 2020-21 school year and is meant to supplement existing spread-mitigation measures. Three surveys will be sent out so that students can weigh in on the program over the next few months.
Testing can be a vital measure in curbing the spread of COVID-19 through people without symptoms, according to the Centers for Disease Control and Prevention. The Minnesota Department of Health indicates that 40-50% of people who are infected with the virus do not develop symptoms.
Other schools in the U.S. have implemented similar programs, including Washington International School in Washington, D.C., and a statewide effort in Massachusetts, Fox said.
Boardmember Janie Shaw said at the special meeting that while she's looking to the future, she acknowledges, "We aren't completely out of the woods yet."
"Following conventional science, which is part of what we need to do being a public school, I think that this program really lends itself to us being safe, to having the importance of our students being in the classroom and learning, (and) to having this as a mitigation layer ... It's so exciting to me," she said.
Al Tsai, an epidemiologist with the Minnesota Department of Health who sits on the School Board's COVID-19 testing committee as a community member, said at the special meeting that he believes this program will help keep kids in school. "It'll actually help our kids keep playing sports and doing their activities," he said.
So far, the only students eligible to participate in the program are those in grades 6-12 who are attending school through the in-person learning model. Students are able to withdraw at any time.
However, students are encouraged to participate, board documents state, as "we know the more students that participate, the more of a 'bubble' we create which ultimately keeps our nest safer and our schools open."
A group of about 10 students will be designated to a pool anonymously. Each student in the pool will self-administer their own nasal swab test either on a Monday or Thursday before school in the presence of a trained volunteer.
Their nasal swab, along with the others in their same pool, will go into a single test tube to be submitted for processing at UnitedHealth Group's Optum program, which has an office located nearby. Results are expected by the end of school hours on the day of the test.
The nasal swab used in the tests goes about an inch into the nose, Boardmember Julie Greene, who sits on the board's COVID-19 testing committee, said at the special meeting.
According to board documents, pooled testing is both cost-effective and time-efficient as it reduces the number of necessary tests and supplies. This allows the district to process more individuals faster, it reads.
Students can sign up for the program through their Infinite Campus portal. All students will need to register online prior to participating. Parents will also need to sign a consent waiver.
If a pooled test comes back positive, all students in the pool will be notified and removed from class. Then, each student will need to take their own diagnostic test and follow quarantine protocol.
If an individual student then tests negative, they can return to school the next day. If positive, they should continue with quarantine protocol and work with district Health Services staff to determine when they can return to school, the district said.
At that time, the district will also conduct contact tracing – as it normally would – and notify close contacts. Students in the same testing pool are not considered close contacts.
Whether students choose to participate in the program or not, the district is still requiring them to follow an at-home COVID-19 screening process. If a student is showing symptoms, they cannot participate in the testing program because the goal of the program is to identify asymptomatic cases.
If the program detects asymptomatic cases, this does not mean the district will need to move to distance learning. "Test The Nest" is a surveillance program that pulls those positive cases from the school while adding a layer of mitigation to better allow schools to stay open, according to board documents.
School Board discusses the move
Prior to a vote, boardmembers asked the COVID-19 testing committee about the program.
Boardmember Owen Michaelson asked about the ownership of data. Boardmember Ellen Jones had questions about confidentiality of health record keeping, but Fox reassured them that any data collected is used without identification. School Board Chair Erica Allenburg added that the district has been handling health records all year so it's not new.
Fox said the district's goal as the first public school in the state to do this type of testing is to "help all other public schools in a de-identified basis. ... (Data) won't be shared on an individual level in any case."
Allenburg inquired about the cost of the program for the district. Fox responded by saying the district will only be paying for testing supplies, which comes from federal funding like the CARES Act. The district is limited to spending $45,000 on the program, though Fox said he personally doesn't think this full amount will be used. UnitedHealth will not be making money off of the district, he noted.
Tsai added that this program is an effective way for the district to align with recommendations that students be tested.
Michaelson expressed concern about the potential for false positives due to a test's cycle threshold, or sensitivity level, which he said could "backfire" on plans for staying open.
Fox said he trusts the expertise of those at UnitedHealth. Sarah Prebil, a doctor who sits on the committee, added that the tests used as part of this program have a cycle threshold of 40 – the standard among major health care institutions. If a cycle threshold is higher, the test is more sensitive. But the test that will be used for the program is considered to have more than 95% accuracy, according to board documents.
Boardmember Leny Wallen-Friedman suggested that going into this level of detail over testing sensitivity is a waste of time. "This group is not competent to sit there and argue over (a threshold of) 32 versus 40," he said. "... You either look to professionals and you respect their opinion, or you don't. In my case, I look to the professionals. I respect their opinion."
Allenburg abstained from the vote to avoid the appearance of a potential conflict of interest. All voted to approve the contract except Jones and Michaelson, who voted nay.
– Follow Caitlin Anderson on Twitter @EdinaSunCurrent