Edina Mayor James Hovland has seen the city change continuously under his leadership during his more than 16 years in the role.
Now, having just started his fifth term after being re-elected, Hovland, 73, plans to continue to facilitate Edina as a forward-thinking and ever-evolving community. He begins his next four-year term alongside Carolyn Jackson, the 11th woman to sit on the City Council, and James Pierce, the first African American to be elected to the council.
"(Edina has) just a fine, fine group of people. It's been my privilege to live here and also to be their mayor," Hovland said in an in an interview with the Sun Current.
As a young boy living in Grand Forks, North Dakota, Hovland grew up with school teachers for parents. His father served on several community boards, including the School Board and Library Board. "I think it's in the DNA for public service," he said.
During junior high, Hovland worked on a farm in South Dakota, playing trumpet in a town band Friday nights, said his wife, LaRae Ellingson Hovland.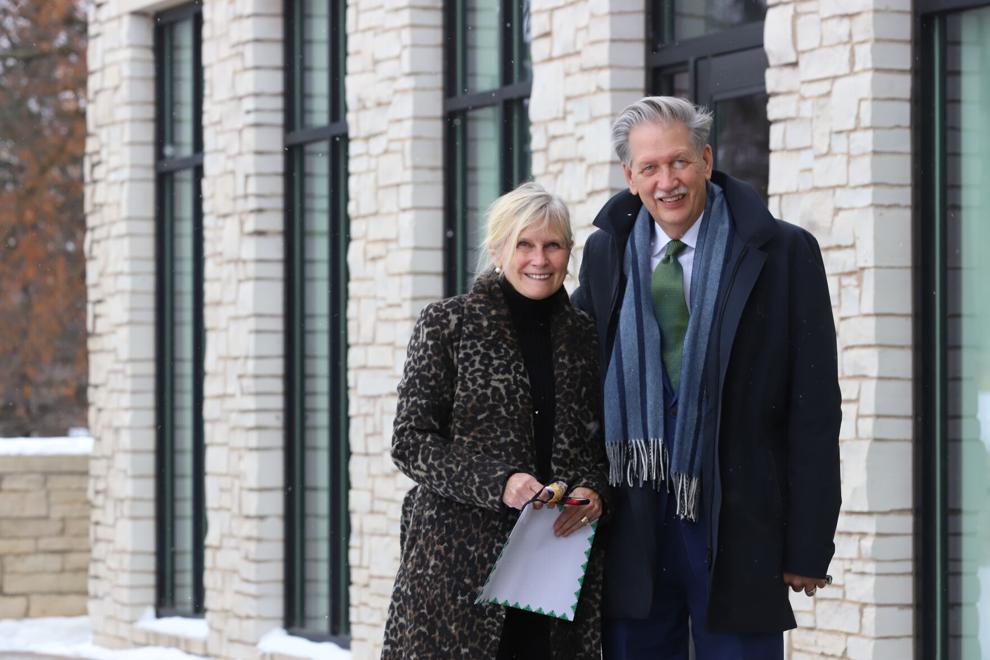 When Hovland reached college age, he decided to attend the University of North Dakota, a decision made with his father's practicality in mind: The school was right in his hometown. He graduated in 1969, and later attended the University of Colorado-Boulder, where he worked part-time for the Colorado public defender's office before graduating in 1972.
After working at a law firm for seven years in Fargo, Hovland moved to Minneapolis where he married Ellingson Hovland in 1987. A couple years later, they moved to Edina. The pair have two daughters – Angie Freeman, of Edina, and Erika Batcheller, of Sioux Falls, South Dakota.
Ellingson Hovland said when she married Hovland, she had no idea he would be so involved in public service. But when she first heard he wanted to run for an elected city position, she thought, "He cares about making the world a better place. And so, this would be a good way to do it."
Prior to being elected mayor in 2004, Hovland served on the board for the Edina Community Foundation and as an Edina City Councilmember from 1997 to 2004.
In 2007, having recently left the Republican party to become a Democrat, Hovland ran for a seat in the 3rd Minnesota Congressional District before leaving the race without his party's nomination.
As mayor, Hovland has been involved in many community groups both in and out in his official mayoral capacity. This includes co-chair of the Regional Council of Mayors, chair of the Transportation Advisory Board to the Metropolitan Council and a board member for the Edina Chamber of Commerce. For work, Hovland is also an attorney at his own law firm, Hovland, Rasmus, Brendtro & Trzynka.
For the past 16 years, Hovland said he's continued to run for mayor because it's constantly interesting work and because he enjoys trying to make people's lives better.
Hovland cites a Mother Theresa quote, "Find your own Calcutta," which refers to the place the saint was devoted to helping. He said his "Calcutta" is local government.
"You keep wanting to try to be involved in making a great town better and better over time," Hovland said. "I've been privileged to be part of what we've worked on and built together in Edina over those years."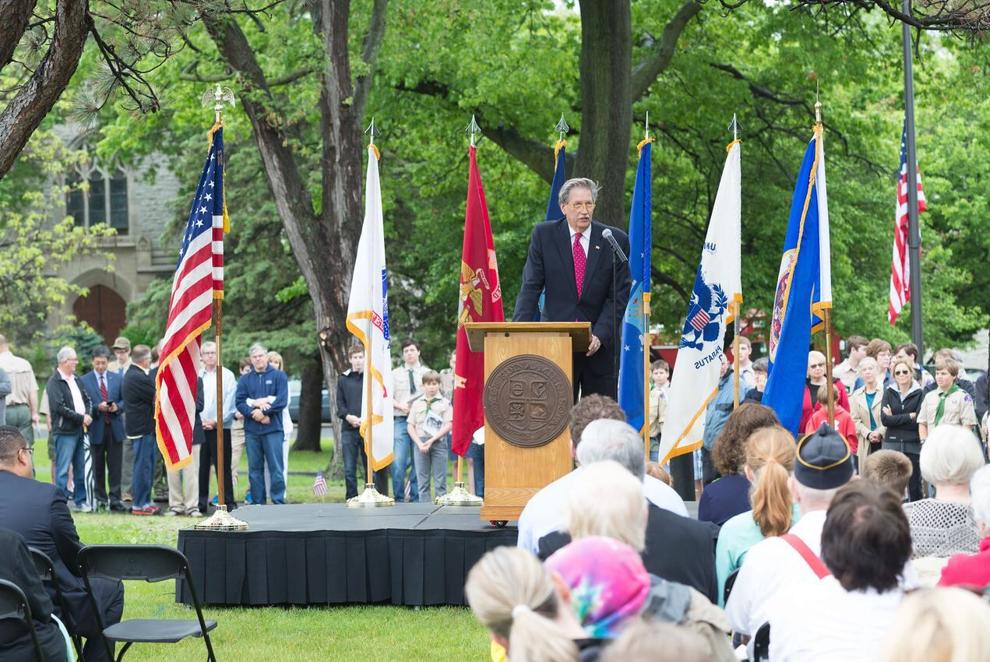 He likes getting to work locally, regionally and nationally, such as for the U.S. Conference of Mayors, which most recently called on him and other mayors to meet virtually with U.S. Secretary of Transportation Pete Buttigieg to discuss transportation policy.
Former Edina Mayor Dennis Maetzold said Hovland has the right temperament for the role.
"He's really a nice guy, he's gracious and engaging, approachable, and he's very interested in our community," said Maetzold, who was succeeded by Hovland.
While Hovland has been elected five times, some constituents have pushed for new mayoral leadership in the city, criticizing his longevity in the role. This viewpoint was expressed in several letters to the editor in the Sun Current, but Hovland still ran for his fifth term unopposed.
In response to criticism that he has stayed too long, Hovland said, "I was grateful that many people in our town thought I was doing a good job … because I was re-elected." He added, "I was quite surprised there wasn't somebody that ran against me."
Over the years, the city has seen changes related to development, community values and diversity, Hovland said.
When he first started as mayor, Hovland said the city saw a lot of development activity, especially in the Southdale District, which has continued through to today. The construction of the Westin hotel by the Galleria prompted discord among city councilmembers at the time, but has since become part of the fabric of Edina, Hovland said.
He also noted that the city has also become more racially diverse since he first arrived.
Edina has also adopted more outward-facing ideals, such as its efforts regarding climate change, and has become a leader on important issues, Hovland said. In being leaders, Edina became the first Minnesota city to adopt a Tobacco 21 ordinance in 2017 and, more recently, the second city in the state to limit the fees that third-party delivery services can charge restaurants.
"People in the state look to us for that leadership," Hovland said.
Getting information out to residents has also become increasingly important in the city, he said. When Hovland first started on the council, the city didn't have a communications department, he said.
"Now, we've had to really recognize that communication is a vital issue with respect to our residents and is becoming more and more important over time," he said.
Maetzold said that since he was mayor, residents in the city seem to have gotten more involved in municipal decision-making, such as showing up to City Council meetings to voice concerns. He also cited new building projects as a major change.
To Hovland, Edina's position as a first-ring suburb makes it susceptible to being part of the "amorphous metropolitan area." But "Edina has done a wonderful job of keeping its identity," he said.
And with some people having concerns with change, Hovland said it will be important for the community to have a conversation in the future about continuing to embrace and manage that change.
Hovland said overcoming the pandemic will be a priority over the next months. The community – the city, county, state and country – must work to figure out how to better manage emergencies, like a pandemic, in the future.
Other priorities include valuing communication both with constituents and among each other, especially in discourse that has seemed increasingly divisive in the nation, Hovland said. "If you have a good dialogue and you respect people's opinions, you can make decisions that everyone is comfortable with, he said."
Land-use decisions will be important amid continued interest in residential housing in the city, Hovland. Now having to replace infrastructure, the city should be looking at ways to keep the cost down for residents – such as through smart decisions on density and building height in specific areas like Southdale. Addressing transportation needs will also be significant for this area, he added.
Having housing options "to cover a lifetime of living in Edina" is also a goal, Hovland said. And more comprehensive work on racial justice to ensure Edina is an inclusive society will be another priority.
"He has boundless energy and he is so patient," said City Councilmember Kevin Staunton. "He is so dedicated to the city, it's hard to describe adequately his dedication."
Hovland said it's important to remember that all of these things, though some intangible, build a better sense of community and belonging.
"Home isn't just where you live," he said.
– Follow Caitlin Anderson on Twitter @EdinaSunCurrent