Despite having a disease that can sometimes make it difficult to expend energy, Keeya Steel and her toy poodle Quixote have continued to find ways to stay agile – literally.
Edina resident and former City Council candidate Steel, who has mast cell activation syndrome, competed with her dog late last month at the American Kennel Association's National Agility Championship in Tulsa, Oklahoma. This was the pair's first time qualifying for nationals – and they managed to win a ribbon, too.
"Even though both of our bodies have challenges, we enjoy running around the dirt and doing what we can," Steel said.
Steel, 34, who has been training her 11-year-old dog since 2014, has gone through a series of medical struggles that have made dog training – let alone living life – difficult. She was first diagnosed with mast cell activation syndrome in 2015 after having run for Edina City Council in 2014.
This immune system disease causes Steel to experience allergic reactions to substances that someone without the disease may not, such as reacting to certain perfumes, temperatures, foods and extreme exercise, Steel said. She often must take precautions and use accommodations to prevent these triggers, which can cause Steel to start having tremors, throwing up or near-passing out, she said.
But that hasn't stopped her from continuing to compete. Quixote has won at least 150 ribbons at various competitions over the years, Steel said.
At the championship, which took place March 26-28, dogs and their trainers were tasked with navigating a set of obstacles as correctly and quickly as possible. In order to qualify for nationals, the canine-and-human teams had to achieve four double qualifying scores, meaning they had to complete a perfect run twice in one day a total of four times, Steel said.
When Steel found out she qualified for nationals, she had some hesitancy in deciding whether to travel due to the COVID-19 pandemic, she said. But ultimately, she realized this may be a one-time opportunity, given her dog's age.
Another key motivator to go to the championship was the memory of her grandmother, who grew up in Tulsa and supported Steel in getting a dog. Her grandmother died about a year ago without Steel being able to say goodbye due to the pandemic, she said.
Steel also figured that due to social distancing measures and the lack of spectators at the competition, this year's championship may be the easiest for her to deal with her disability while also being able to compete. She noted that the American Kennel Club had been quite accommodating to her, including allowing her to have a seat near the competition arena ring instead of in a different building.
Due to the dirt in the competition arena, Steel said she would have had to wear a mask even outside of pandemic times because the allergens kicked up during a run could trigger an allergic reaction. Now, she's just one among many wearing a mask, she said.
The first day of the competition was "overwhelming" for Steel after she got a glimpse of the huge arena, she said. "I almost broke into tears of just gratefulness of making it there," she recounted.
Sen. Melisa Franzen shouted out "Team Quixote" on her social media ahead of the championship to show support for Steel and her dog. The state senator held up a photo of Quixote with a spoon, the utensil symbolizing chronic illness, Steel said.
Regardless of where she and Quixote placed, Steel said her goal was simply to have their feet touch the arena dirt. And after their first run, Quixote was ranked 20 out of 93 dogs, Steel said.
After that first run, Steel said the pressure of the competition seemed to fade away and she started "soaking it in." But in their next couple runs over the weekend, "our bodies fell apart," she said.
During one run, Steel misdirected her dog due to weakened muscles, and after the next, Quixote's shoulders started to become sore, she said. But regardless of the outcome and challenges, Steel said she enjoyed the experience.
"I'm just proud that we did the best we could and we had a fun time doing it," she said.
Julia Forelli, who is a longtime friend of Steel's and frequently travels with her, said she observed how challenging the experience can be for her friend physically. But even so, Steel is "so motivated and she is so excited," Forelli said.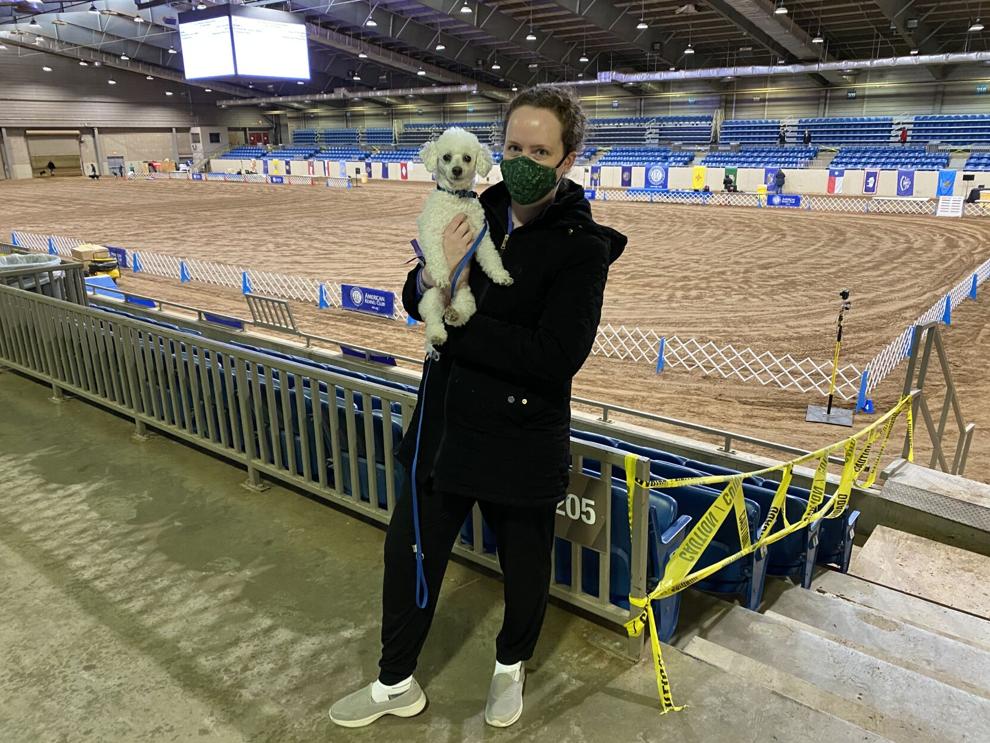 Steel's experience with the pandemic
Similar to how the competition's safety measures were helpful to Steel in handling her disability, community actions to curb the spread of COVID-19 over the past year have also been beneficial to her.
Prior to the pandemic, Steel, who works at the University of Minnesota, had previously not been given permission to work from home most days of the week. As a result, Steel went through cycles of recovery on weekends while being in pain during the weekdays.
Then, the pandemic hit. And Steel said she has been able to work from home, cook her specially made meals and not expend energy to head into work and stay there all day.
"The pandemic singlehandedly has been the best improvement for my health," she said. Telemedicine has also been beneficial for accessing better medical care, Steel added.
She hopes employers will be more accommodating in the future after seeing that people can work from home, especially those who may need it most, she said.
Training Quixote is one of the best things to help distract from the pain, Steel said. Following the championship, Steel needed to recover from the physically demanding agility runs. Watching videos of Quixote running around the arena "brought me so much joy," she recounted.
And when she's working the courses with Quixote, the pain she's feeling often melts away, she said.
"I've lost so many sources of joy to my disease that it was really important to have this for my physical and mental health," Steel said.
– Follow Caitlin Anderson on Twitter @EdinaSunCurrent