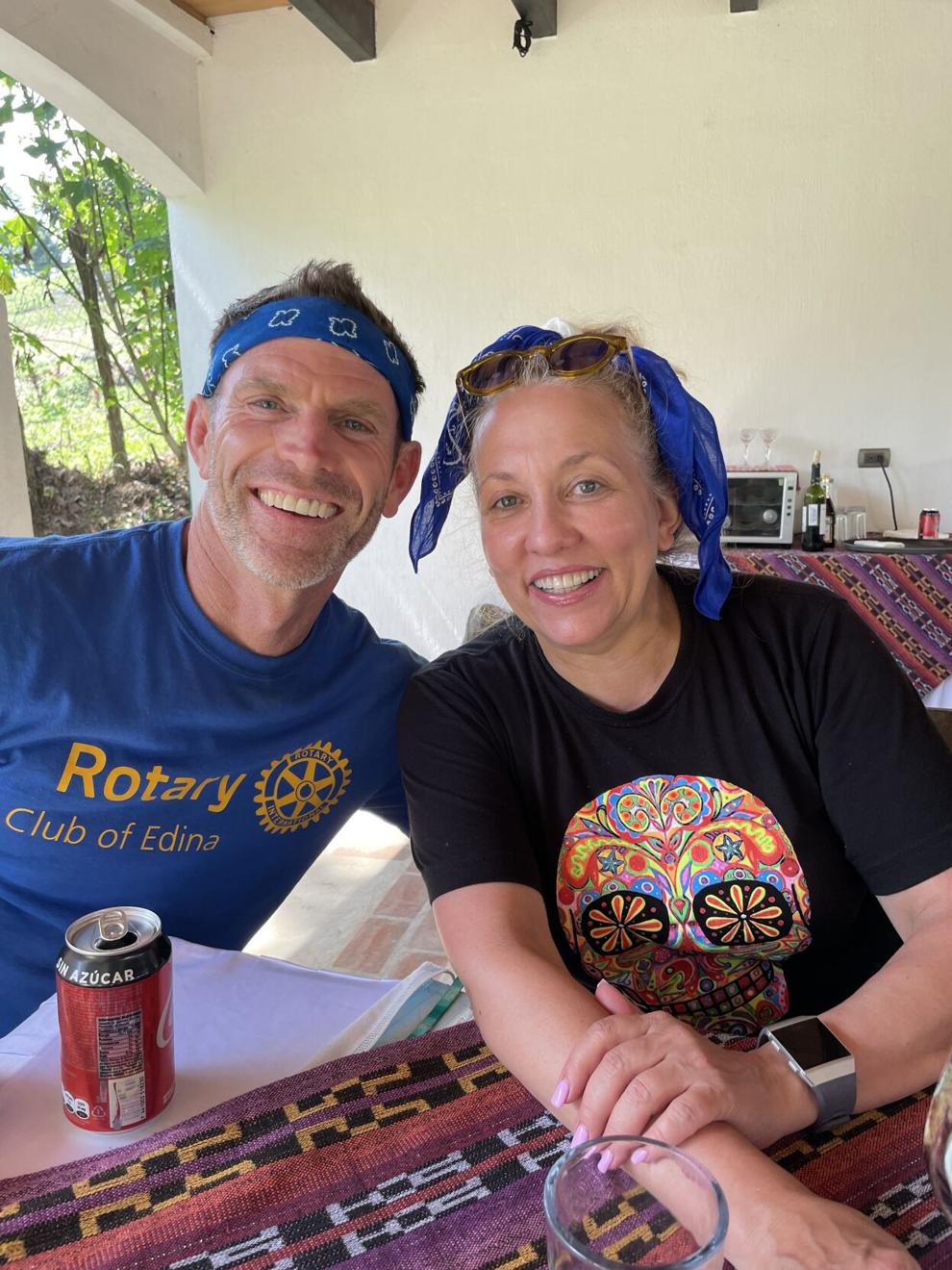 An 8-year-old girl likely would have lost her life had it not been for two Edina Rotarians who stepped in to help.
Saida, who lives in a remote village of Cobán, Guatemala, developed a large, protruding cyst on her face that had begun affecting her sight and ability to breathe. The cyst, which was the size of a grapefruit, had been growing in size over the previous two years.
Then, when two Rotary Club of Edina members saw her by chance earlier this year, they decided they had to intervene. And since undergoing surgery last month, Saida's cyst is now gone.
The Edina Rotarians, Josh Sprague and Susan Stiles, first met Saida in May when they were part of a group of Rotarians that traveled to Guatemala to deliver water filtration systems to families in remote villages. While heading out to the villages, the group's truck got a flat tire, causing their schedule to be disrupted for the rest of the day.
That truck happened to be stuck near Saida's village. Both Stiles and Sprague came across her while doing work in the village, noticing, in addition to the cyst, her big smile. "She looked really sweet," Stiles said.
Later, as the group was gathering up to leave to another village, the two Rotarians saw Saida again. This time, she was with her family among other villagers, who were waving at the group. Stiles said she and Sprague looked at each other and the decision to help came as an impulse.
"With the two of us together ... there was no question that it had to get done," she said.
The two found Saida and her family, and began asking questions about her medical condition. With one bar of service, Sprague video-called his friend, Sofia Posadas de Menendez, who is head of pediatrics for the Hospital Nacional Regional de Escuintla, to give Saida a visual examination of her cyst over the phone. Sprague said Posadas de Menendez made it apparent that Saida's cyst was of immediate concern.
Conversations between the Rotarians and Saida's family were a bit tough; though Stiles is fluent in Spanish and used it when speaking to them, Saida's family's native language is K'iche'. Stiles knew that in order to get the family on board with finding Saida treatment, she had to gain the trust of the family.
And she was successful. The Rotarians – along with Saida, her parents and sister – took the five-hour drive to Escuintla, near central Guatemala. Saida then went through a series of examinations by Posadas de Menendez, a pediatrician named Willy Menendez Nieves and other doctors from Guatemala City to figure out the source of the cyst and what the treatment would look like, according to the fundraising site.
Following a biopsy, the doctors deemed the cyst to be benign. It was an odontogenic cyst, meaning it originated in a tooth or surrounding tissue, Stiles said.
Then, a month later and after a series of appointments, Saida's cyst was finally removed in July at San Juan de Dios in Guatemala City. Just before the surgery, due to a blood shortage, members of the Rotary Club of Escuintla donated blood in the case Saida needed it during surgery, which was "pretty amazing," Stiles said.
Members of the Rotary Clubs of Edina and Escuintla worked together to cover costs for the family. This includes room and board, transportation and food. The first surgery was conducted pro bono by a surgeon whom the Rotary members knew through a friend, Stiles said.
Saida is currently recovering from surgery, and once the swelling subsides, will begin looking into further treatments or procedures to help reconstruct her face. The cyst had caused some of her facial bones to begin growing around it, Stiles explained.
To cover additional costs of food, shelter, education, physical therapy and other medical expenses, Stiles and Sprague launched a fundraiser, which has so far received more than $5,500 in donations. This includes an education fund for Saida's future in addition to helping pay back the Rotary Club of Escuintla.
Rotary, and its connections all across the world, is largely what made transforming Saida's life possible, Stiles said. "Rotary is known as service above self. And so, as a Rotarian, that's just what we do."
Sprague said he enjoyed getting to know Saida during his time in Guatemala, especially when playing games and laughing with her while at the hospital. "The cool part was I connected with Saida immediately. And this is without language," he said.
He added that there are ways that people can make a difference – even helping one person can cause a ripple effect. "You have to just get started somewhere and there's plenty of human need and suffering all around us," he observed. "Choose one thing and go. Don't wait."
– Follow Caitlin Anderson on Twitter @EdinaSunCurrent