If there was one message officials wanted to drive home during a meeting with Edina residents last week, it was that their tap water is OK to drink.
"Over this whole night, I'm going to keep telling you your water is safe. Because your water is safe," Rep. Heather Edelson (D-Edina) told attendees of a Nov. 20 informational meeting.
The curious and concerned citizens were gathered in the council chambers of Edina City Hall to learn more about a plume of groundwater contamination in the area of Highway 100 and County Road 3 that has long been acknowledged but is now being proposed as an EPA Superfund site, a classification that would help secure federal assistance in cleaning up the polluted water.
The city of Edina temporarily stopped using a well in the northeastern portion of the city in 2003 after a pollutant called vinyl chloride was discovered at levels exceeding allowable contaminant levels. The plume was listed as a Minnesota Superfund site in 2006. Around that time, the same type of contamination was discovered in groundwater in St. Louis Park, prompting another state Superfund listing in 2010.
With the help of the Minnesota Pollution Control Agency, the city of Edina built a treatment plant to address the contamination in 2012, returning the affected well to use. The city of St. Louis Park installed its own treatment system for the contamination in 2018.
"The drinking water is safe. Systems have been installed," Crague Biglow, an MPCA Superfund remediation manager, assured meeting attendees.
Although it is being treated for safe drinking, the contaminated water remains. "It's there, it's continuing to move," Biglow said.
Designating the St. Louis Park-Edina plume as a Superfund site, also known as a listing on the EPA's National Priorities List, would be the first step toward positively identifying the parties responsible for the pollution, "and hopefully at some point do cost recovery," Biglow said.
The plume consists of a shallow section in St. Louis Park and a deeper portion that extends into Edina. Above the shallow portion, evaporating contaminated water has been among concerns for homes and businesses, which were mitigated for the danger in 2007 and 2008, according to Biglow. In Edina, vapor intrusion is not a concern due to the 300-foot depth of the plume in that area, he added.
Although it was found to exist at two different depths, "the assumption is the plume is continuous," Biglow said.
Five properties in the area of the shallow contaminated groundwater, which is not used for drinking, have been identified as potential sources of the pollution.
"None of the facilities that may have resulted in those releases operate in that area today," Biglow said.
A map from the EPA lists 10 sites, mostly industrial and clustered around County Road 3 west of Highway 100, as possible sources. Nine of the sites are located in St. Louis Park – three former metal fabrication facilities, a former print shop, two dry cleaners, a dry cleaner fluid distributor, a computer components facility and a heat transfer facility.
In Edina, a dry cleaner in the area of Vernon Avenue and Highway 100 is also noted on the EPA map.
While the contamination remains in the ground, a continuously contributing source has not been found, according to Biglow.
"We haven't identified any continuing sources like drums or tanks," he said. "The properties that we did identify – they are no longer operating, and they haven't operated at those locations for years. But, they left behind some legacy contamination that may need to be dealt with."
The best way to rid the groundwater of the contamination is to stop it at the source and then wait for it to dissipate.
"I would expect the remedy would be working with the source areas to reduce them or eliminate them so that the deep groundwater plume can clean itself up over time," Biglow said.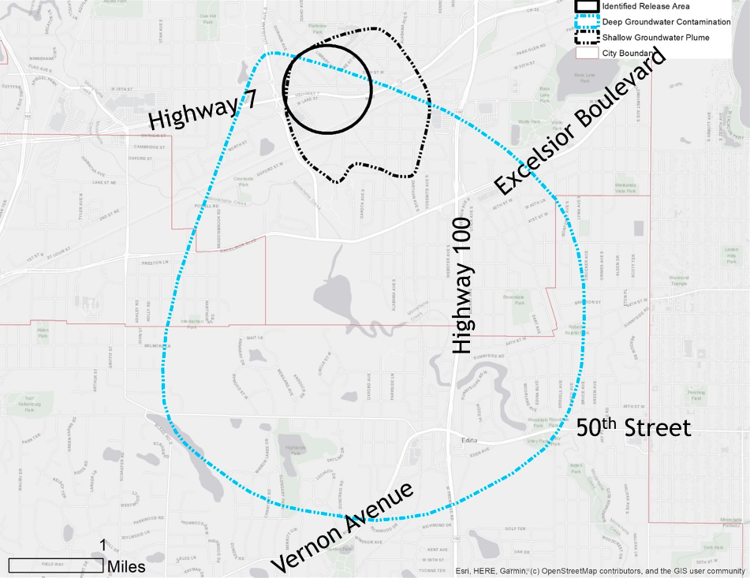 'We treat this very seriously'
Hosted by Edelson, the informational meeting was attended by several state and local officials.
Providing a potable water source is one of the city's primary roles, Edina City Manager Scott Neal said, "so we treat this very seriously."
He reiterated that the water "meets all state and federal health guidelines, and we're proud to provide it to you."
Meeting attendees had the opportunity to ask questions about the plume, one of their chief concerns being the effect a Superfund site could have on property values. "The reason we are having this is exactly that," Edelson said.
"We haven't seen any evidence that this deep plume would impact property values," Biglow stated.
The Superfund site would technically only apply to the plume itself, not the land above it, he said. "The Superfund site is the plume," Biglow explained.
Neal reminded residents that the plume has been a state Superfund site for years, and "it hasn't influenced our property values to this point."
Yet, one remaining concern was how the perception of a federal Superfund listing could impact property values.
"I live in this area, too," Edelson said. " … and I had the same question you had: 'Is this going to impact property values in our community?'"
Part of the concern is a risk-reward calculus, as a Superfund designation does not guarantee remediation. Edelson acknowledged residents' worries that "we don't necessarily know if we're going to get help on fixing anything in our community. Why are we going to be a part of the Superfund?"
She continued, "But the reality is, Edina doesn't live in a vacuum. We have to get to the source of this pollution. … I hear you and I share your concerns, and I'm definitely open to working with you on how do we address this issue of home values, because I share your concern."
Biglow, too, acknowledged the uncertainty pertaining to the actual results of a Superfund designation.
"As the EPA lists this site on the national priorities list, they'll have to evaluate it and compare it to the other sites that they're working on," he said. " … I know there's a lot of sites, and they're all clamoring for resources."
The Edina residents had several other questions about the plume. One addressed the potential for it to expand. Wells located south of the plume, which moves in the ground from the north, are being monitored, Biglow responded, "and in those additional wells south, we're not seeing that yet. It doesn't mean it can't or won't happen."
Another meeting attendee asked about the contamination entering nearby Minnehaha Creek. Testing has been conducted between the suspected source of the contamination and the creek, MPCA hydrologist Dave Scheer said, and the contamination is "not at high levels before it gets to the creek. … We don't anticipate that it will get into the creek."
Biglow provided further clarity in noting the plume being discussed is not related to another instance of contamination in the area, a Superfund site resulting from the former presence of a tar facility.
A comment period for the proposed federal Superfund site at Highway 100 and Country Road 3 is open through Jan. 7, 2020. Those wishing to comment or learn more about the site may visit tinyurl.com/yxxmtklp.
– Follow Andrew Wig on Twitter @EdinaSunCurrent