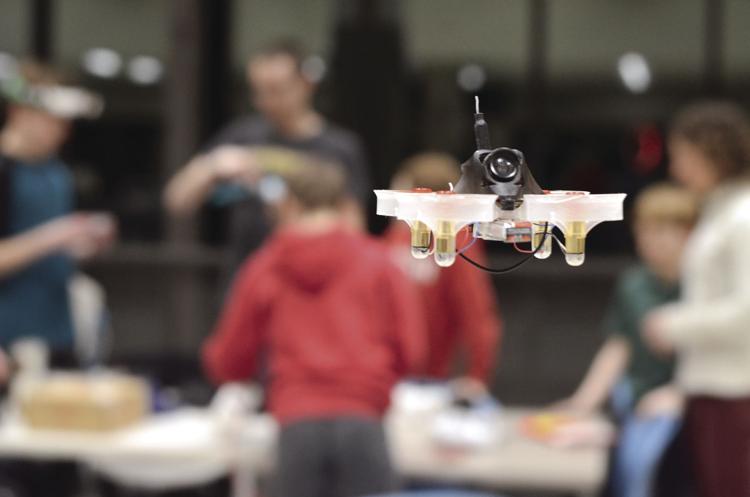 What was once a barroom curiosity has spread to metro area high schools, signaling the spread of drone racing as a STEM-based learning opportunity.
Since getting its start last spring, the Youth Drone Sports Championships has grown from two teams to 20, inviting young pilots to put on a set of goggles that give them a first-person view of their craft as they guide it via remote control. The spectacle was on display at Edina High School during a joint practice last month, as the 1-ounce drones buzzed around a commons area like giant gnats while teams huddled to tinker away at their airborne implements.
The new league is the brainchild of Marty Wetherall and Joel Stewart, who started it after organizing drone races for adults, competitions that took place largely in bars and restaurants. The mini drones, known as "tiny whoops" – as opposed to "big whoop" – differ from their larger cousins that inhabit the world of high-level drone racing.
The larger drones come with 5-inch propellers and can reach 100 miles per hour, making them hard to see and too dangerous for spectators to get close, "whereas tiny whoops are relatively harmless," Wetherall said. Plus, the audience gets to enjoy the same first-person view the pilot sees, giving the mini drones what he perceives as a leg up as a spectator sport.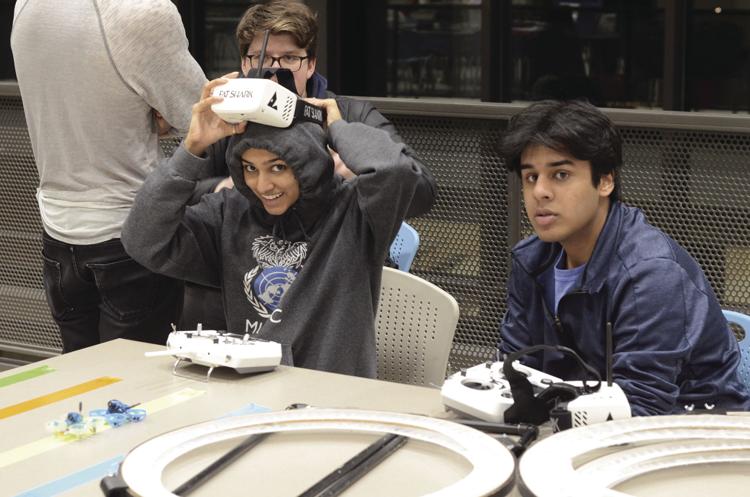 Wetherall and Stewart started a company called Hydra FPV to facilitate the drone races in 2017. The next year, they conducted their first youth-focused event at The Works Museum, a STEM-focused interactive attraction in Bloomington.
"Once we saw how much kids were getting into it, we decided, let's create the market by bringing it to students first," Wetherall said.
The focus on youth especially makes sense when considering that teens, due to their sharp reflexes, tend to make the best drone pilots, according to the league founder. "The world champion drone racing pilots are all 15, 16 years old, so this is a young person's sport," Wetherall said as he watched the pilots practice in Edina. "All these kids are in their prime right now."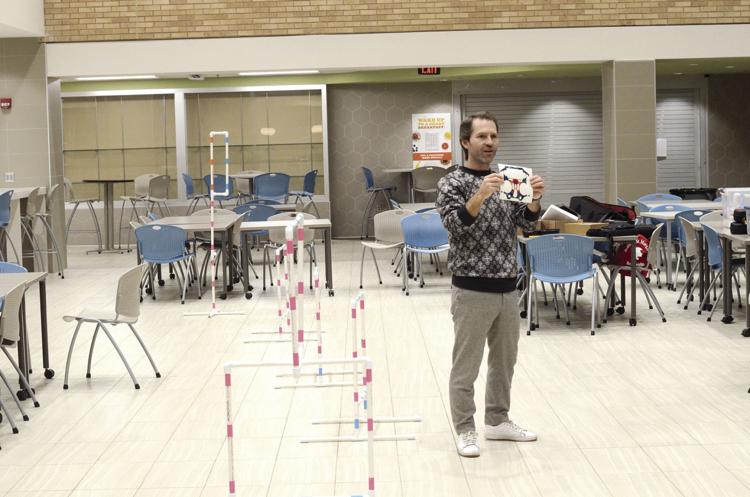 Drone racing is a blend between school-based competitive robotics and another youth-focused phenomenon – e-sports, which draw legions of young fans to watch professionals play video games.
Jen Nowlin, the mother of three drone pilots representing Benilde-St. Margaret's in St. Louis Park, was intrigued by that blend of the digital and physical worlds when she watched her sons take up the hobby. That's why, despite not allowing video games in her house, she's fine with her boys flying drones. While video games are entrenched in the digital space, drone racing teaches kids how manipulating digital phenomena can affect the real world, the mother explains.
From the perspective of Nowlin, who works with emerging technologies as an occupation, her boys are learning a technology that will only proliferate.
"Drones, in particular, are going to enable a whole next generation of capabilities we haven't even dialed in yet," she said.
Nowlin can even envision her sons, who are in grades 5-9, getting part-time jobs as drone delivery pilots in late high school or college. That new job category indeed looks to be on the way, with UPS recently granted the first-ever federal certification to operate drones on a commercial basis outside the pilot's physical-world line of sight.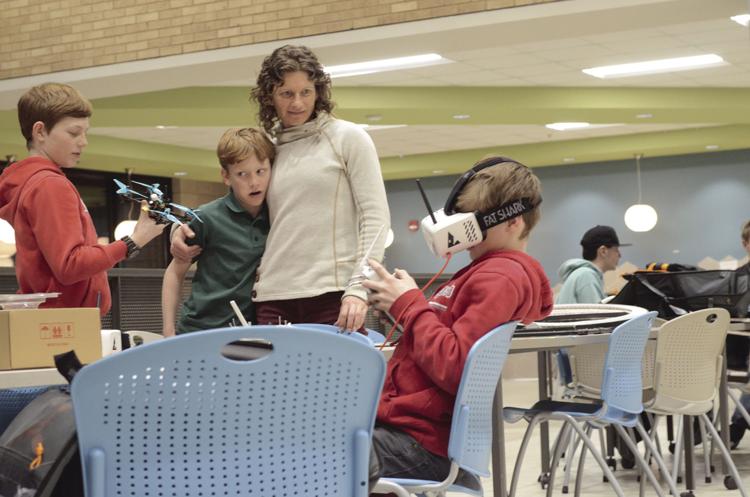 The job of drone delivery pilot won't be commonplace before Parii Bafna, co-captain of the Edina drone team, graduates this spring, but she still appreciates the learning opportunity. Bafna plans to pursue an education in engineering, but until she joined the new drone team this year, she didn't have much hands-on experience in the field.
"I didn't have any previous knowledge of circuit boards or anything," Bafna said.
She never gravitated toward Edina's much-celebrated robotics program, but drones were more her style. Plus, now she gets to be a trailblazer.
"The part I'm super proud of, though, is I'm the first female captain in Minnesota," the co-captain said of the drone league.
Bafna and her cohort have to build their own drones, troubleshoot them and optimize them, learning how all the components interact while also learning to work with each other – Youth Drone Sports Championships races include relays that involve cooperation amongst teammates with NASCAR-style pit stops, since the gadgets' batteries only last two to three minutes at a time.
"All these kids are promising engineers," Wetherall said. "They're all learning really valuable skills. The sportsmanship helps them follow this passion."
The opportunity is becoming more and more common, as St. Louis Park and Apple Valley high schools have been joined by schools including Edina, Eden Prairie and Benilde-St. Margaret's to fill out the league.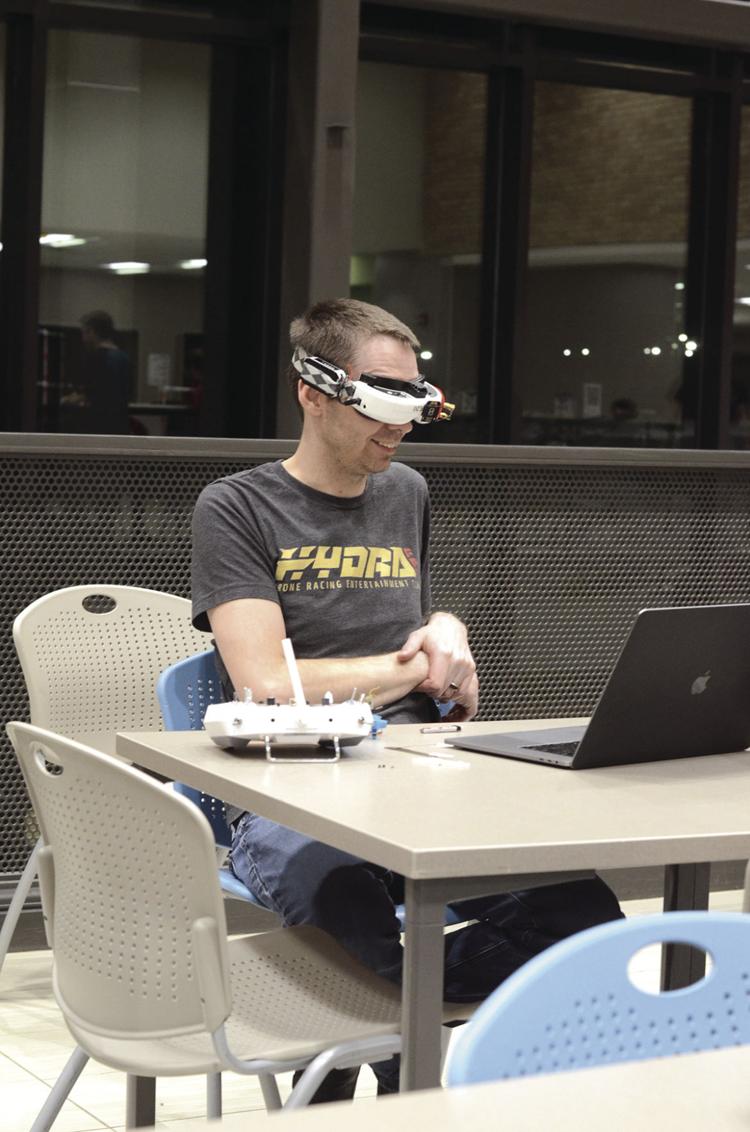 Wetherall expects his drone racing operation to take another giant leap next school year.
"We've already got interest from six other markets around the country that want to take our program next fall," he said. " … We are in the very early stage of what should be everywhere pretty soon."
To help get the drones off the ground in more schools, the Youth Drone Sports Championships is looking for financial support, he added. "We're looking for team sponsors, we're looking for program sponsors," Wetherall said.
Financial considerations notwithstanding, he sees the sport of youth drone racing as an activity with a broad, elemental appeal.
"Every kid wants to fly if they can," Wetherall said. "It's the natural instinct of all human beings."
– Follow Andrew Wig on Twitter @EdinaSunCurrent