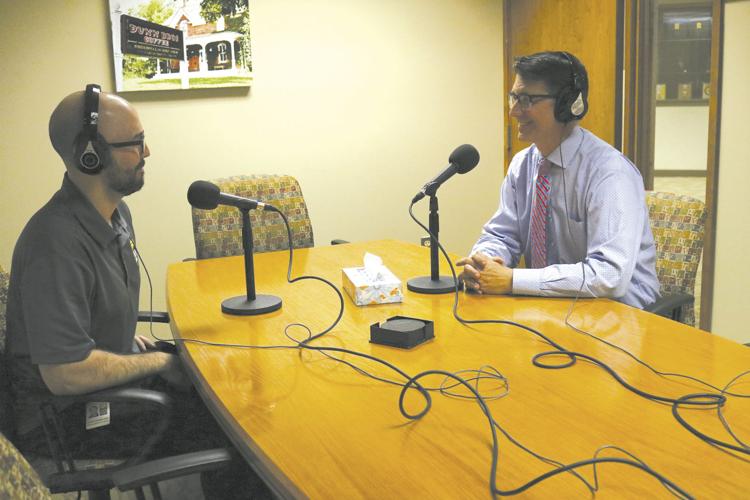 As Eden Prairie city manager, Rick Getschow is responsible for the administration of city business and overseeing the day-to-day operations of the city's administration department. This past fall, Getschow added another item to his list of duties.
In September 2018, he began the "Real Talk with Rick" podcast as a way for residents to learn more about Eden Prairie and the people who live and/or work in the city. He wanted his podcast to be a means of communication between residents and government workers. The podcast currently has 19 episodes, which are released twice monthly.
The police chief, police department and fire department currently operate blogs––another tool to connect with its residents.
"The city for the last 10-15 years has a lot of different citizen engagement tools we've used, the longest for a while were blogs. I wanted to move away from blogs and do a podcast as a way to communicate with residents," Getschow said.
Each "Real Talk with Rick" episode consists of individual interviews with city officials, Eden Prairie workers and residents with a specific focus on one person. Podcasts generally involve multiple people recording, but Getschow wanted the podcast to go in-depth on one individual person, resident or Eden Prairie worker.
Getschow interviews people who are involved with different aspects of the community so residents are able to learn a broad range of information about the city of Eden Prairie.
"The whole point is for people that are interested in Eden Prairie to get a little bit of insight from an individual who is involved in the city. Hopefully, we do this for a number of years and are able to hit every single aspect of the city. I think there's a lot of interesting people who work and/or live in Eden Prairie," Getschow said.
One of the podcasts discusses what it's like plowing the streets in the winter. Although it pertains to the city, general information is shared that can be relevant to residents from other cities.
"The audience of the podcast is not meant for someone who lives away from Eden Prairie, but I think they can find value in it too," Getschow said. Getschow hopes to continue the connection with Eden Prairie residents.
Starting and making the podcast was a new endeavor for Getschow, and he jumped right in and gave it a try. The duties of city manager are time-intensive, but Getschow finds the right amount of time needed to record and upload his podcasts with the help of Johnny Germscheid, communications coordinator and podcast producer.
"I do have a busy job, but the commitment of spending a couple hours a month is time I can absolutely find. I think it's time well spent to do something I think is pretty fun and interesting and allows people to learn more about the city," Getschow said.
Along with the podcast, he also releases a report on city news every Friday to keep residents informed. The unique part of the podcast is that it's not recorded in a studio like most podcasts.
"This is a city podcast, and it is very low cost," Getschow said.
The recording is done in a small conference room located inside the city hall with two pairs of headphones, two microphones and a laptop.