Kennedy senior Isaac Grams comes into the wrestling season ranked No. 2 at 195 pounds in Class AA with an eye on a third state meet appearance in March. Grams is one of three Eagles to make the rankings, along with sophomore Zach Greenhouse at 113 pounds and junior Mason Scott at 160 pounds.
The trio gives Kennedy a strong shot to compete for hardware in the Metro West Conference and Section 5-AAA.  
After a lack of spring, summer, and fall time on the gold and blue mats at the Kennedy Activity center, coach Chuck Vavrosky and the staff are trying to get the wrestlers into form as quickly as possible.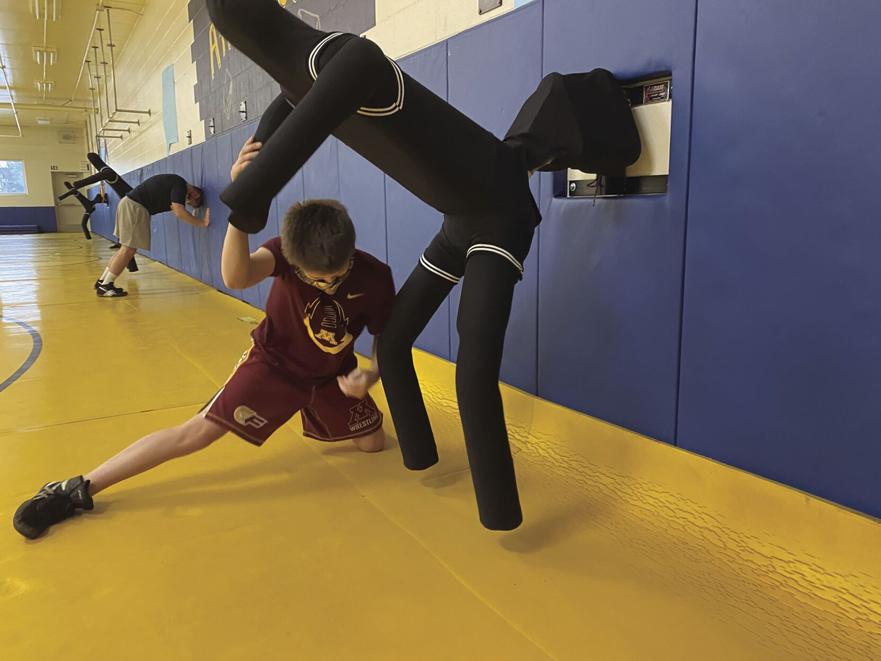 Knowing COVID-19 would impact the season, Vavrosky, along with the Kennedy Wrestling Boosters, invested in wrestling dummies to help promote social distancing while allowing the wrestlers to develop and refine moves.
"Kids can drill in smaller groups to stay apart," he said, as the dummies allow for one group to train on the mats together, another group to train on the dummies and another to work on cardio or weight training upstairs from the wrestling room.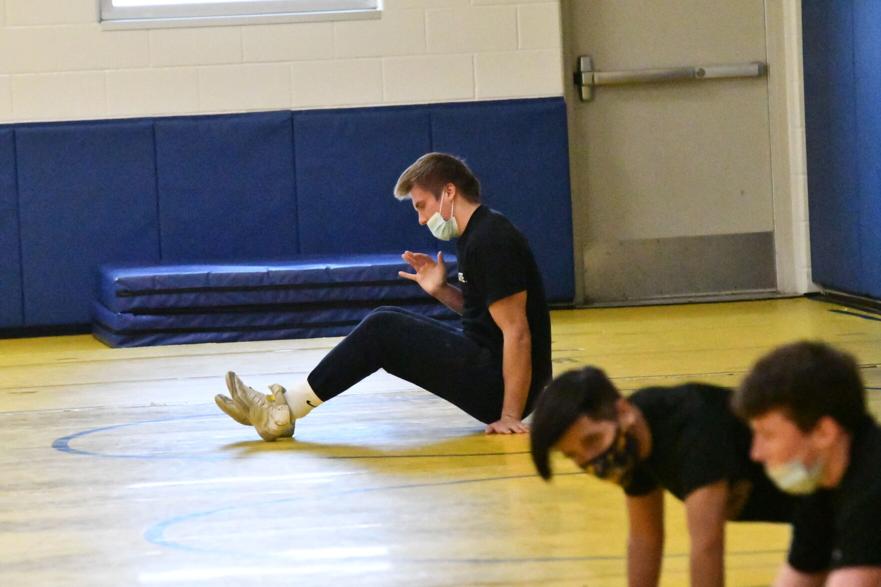 The booster club worked with the school district to split the cost of the dummies, which were installed this fall.
In December, Vavrosky said the wrestlers were staying in shape on their own with a lot of running and home workouts.
"It will be interesting to catch up," he said as the weight room at the school was closed during the summer.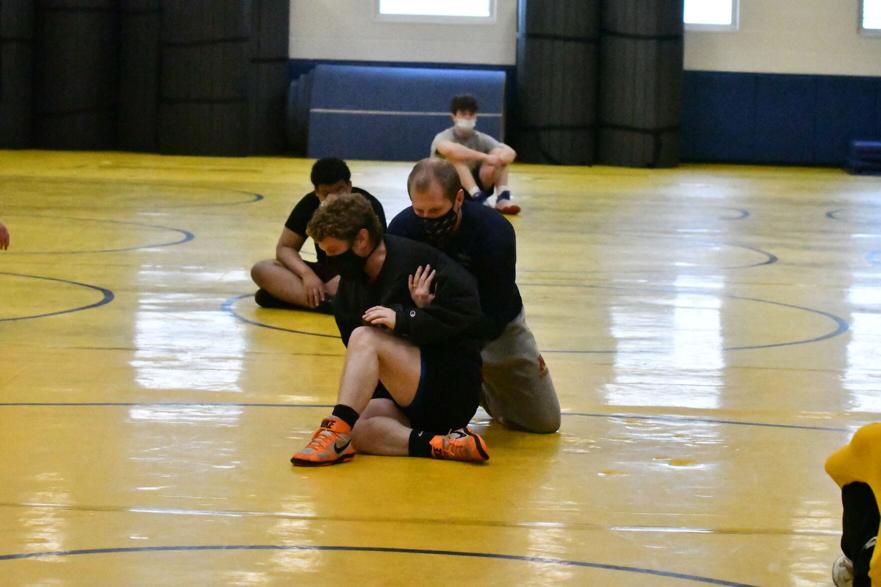 The program already lost the valuable Grecco/freestyle season after the end of the high school state tournament. One week after starting the training, everything was shutdown. Vavrosky said a wrestler typically gets up to 100 more matches, which is invaluable to gain experience for the next winter.
"During the spring they learn how to fight through a match and that's what I'd like to see the kids coming back do," Vavrosky said.
Grams recently committed to join St. Cloud State, the top-ranked program in NCAA Division II, but not before one more go-around with the Eagles.
SCSU has won four of the last five NCAA National Championships.
He started actively looking to wrestle in college after state in March, primarily looking at DII-DIII programs.
"I got a text from Coach Kastanza at St. Cloud and I went there and right away, you could feel the culture in the room and the way he talked about his guys you could tell he cared about them," Grams said. "I went there on a visit, went home and talked about it with my parents for a few days and I knew that's where I'm going to go."
The plan is to redshirt as a freshman to put on more weight to compete at 184 pounds, or 197 as a sophomore. 
"It will be fun to get in there and battle every day," he said as he is ready to meet the challenge.
After state last spring, Grams took a week off to recover from the season in anticipation of the Grecco season.
Grams was a standout football player this fall, moving from tight end to center just before the season. He also played a key role in the defensive line and plans to pick up lacrosse this spring after being encouraged by his cousins on the team. 
Grams didn't wrestle in the Eagles wrestling room until Jan. 4, going nearly a full 10 months away from what he's called home during his high school career.
He trained with a friend from Totino-Grace, bought weights to lift in his garage and started CrossFit training.
He went 42-3 last season finishing fourth at state at 170 pounds.
Scott advanced to state at 138 pounds as did since-graduated Joe Jeans (152 pounds) and Billy Reiniccius (160).
Kennedy had several place winners in Section 5AA including Greenhouse who placed third at 106 pounds was 29-13 as a freshman. After an 0-13 start, he went 15-3 the rest of the way. "It's a confidence thing," Vavrosky said of the turnaround. "He's an unbelievably hard worker but once the losses piled up it was tough. Going into a match at South St. Paul we talked to him about winning that first one and right after that win the second. Wrestling is a huge head game and if you are confident you will win and if you have any doubt you will get beat badly." 
Senior Leighton Gabler was sixth at 138 pounds, since-graduated Quincy Miller was fifth (182), senior Jaxon Reichenberger Cooper was fourth (195) and since-graduated Valiant Taylor was third (285).
Vavrosky said there is a very solid group of wrestlers ready to make an impact on the program, including Honor Melgar and Max Guy, who wrestled at 106 pounds as an eighth-grader on the JV team last season.
Jaylen Robbs went 8-13 at 120 pounds last season and will be back in that role. Gabler is anticipated to move up to 152 pounds and Melgar at 145 pounds.
What frustrates Vavrosky from the lack of off-season wrestling leading into pushing the season back was that other states continued to wrestle with protocols to keep COVID-19 from spreading.
"Other states were hosting big tournaments with nothing coming out of those tournaments in terms of outbreaks. They took temps each day and did very well to keep it all out of there," he said. "In the whole scheme of things (high schools and athletics) kids need to be social and it's been stripped from them because of this."
To make up for lost time, Kennedy scheduled five dates between Jan. 15-29 including three triangular meets starting Friday, Jan. 15 at New Prague. The Eagles will compete against the Trojans and Plainville-Elgin-Millville starting at 5 p.m. Kennedy travels to Robbinsdale Armstrong to open the Metro West Conference schedule at 7 p.m. Thursday, Jan. 21 before the home opener the next evening against rival Richfield. The match is scheduled to begin at 6 p.m. Friday, Jan. 22.
Kennedy will host Benilde-St. Margaret's and Robbinsdale Cooper in a Metro West triangular starting at 6 p.m. Wednesday, Jan. 27. Minneapolis Southwest and Prior Lake will come to Kennedy for another triangular with matches beginning at 6 p.m. Friday, Jan. 29.