Candice Luu's return to the board nets first trip to state
Under the guidance of first-year diving coach Jonathan Bovee, Kennedy had not one but two divers advance to the Class A state meet.
Senior Candice Luu and junior Cassie Fetsch made their state debuts at the Jean K. Freeman Aquatic Center on the University of Minnesota campus for the noon start to the preliminary round Thursday, Nov. 18, followed by the finals Saturday, Nov. 20.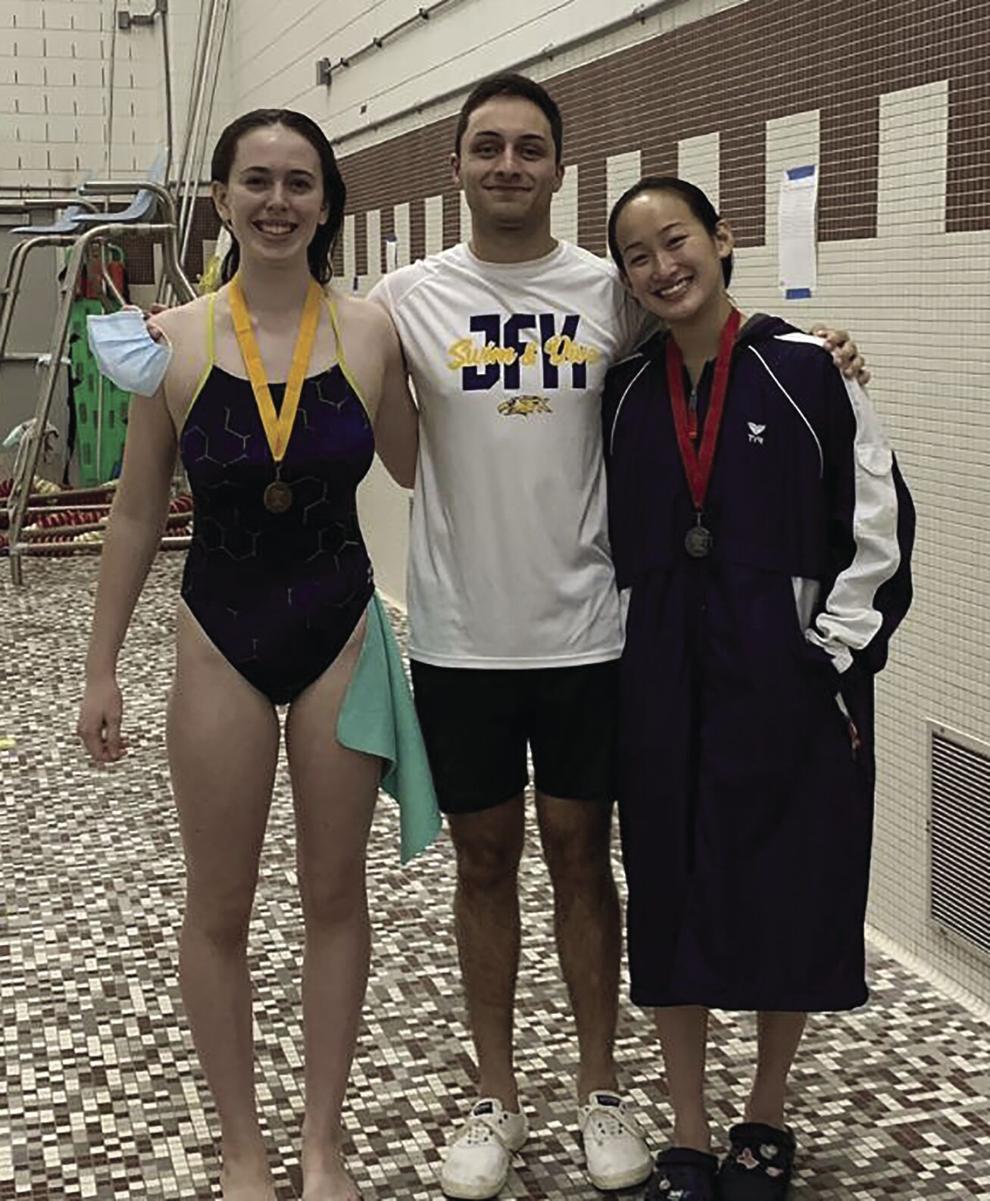 Luu return to the 1-meter diving board after two years away from the sport and began the season by narrowly missing her all-time best score by nine points.
"She is back and fired up about diving," Kennedy head coach Todd Walsh noted in an early-season email after that opening meet. Luu and Fetsch were joined by junior Maddie Houtkooper and eighth-grader Hannah Oliver for the Eagles. He also coaches the Jefferson divers Erin Hall, Lauren Gerlach and Elizabeth Swanson. 
Two months after that strong start, Luu placed second at the Section 2A meet scoring 256.55 points, while Fetsch scored a 238.50 to finish fourth and advance to state. 
Luu and Fetsch placed 29th (124.00 points) and 32nd (103.95) in the state prelims on Thursday to bring their season to an end. The top 20 scores advanced to the semifinals which had a 139.10 points cutoff. The top 16 divers moved on to Saturday's finals.
After sections, Bovee was excited to see how Luu's reverse dives would translate from sections to state, in particular her difficult back 1-1/2. 
"About 80% of divers hate reverses in general because of the blind entry [into the water]," Bovee said. "Candice has gotten really good at them. I don't have to ask her to do them during practice, she volunteers to work on it."
Another tricky thing about the dive is learning when to time the kick out at the top of the dive to set up a clean entry into the water.
"The fact that she has gotten really good at a hard dive gets her a lot of points," Bovee, said as the tougher dives add a multiplier to the judges' total score per dive.
Luu's top score for an 11-dive meet hovers around 300 points, while her top six-dive score is 192.
Walsh is excited about the future of the diving program with Bovee guiding the group.
"Jonathan has a wealth of experience coaching the youngest divers in the community ed program in Farmington, as well as some interim coaching at Gustavus," Walsh said. Bovee gave lessons through high school and college for seven years. "We are excited to get to know Jonathan and see him grow our program."
Bovee brought a wealth of knowledge and experience as a three-time state entrant with Farmington where he graduated in 2015 before a four-year collegiate diving career at Gustavus Adolphus College in New Ulm.
He credits Farmington diving coach John Tagg and head coach Gregg Rappe for helping him along the way as a diver and now as a coach.
"We dove against [Farmington] earlier this year and it was fun to see everybody," Bovee said. "To me, it is cool to see the old coaches I know."
Bovee is quite familiar with the Jean K. Freeman Aquatic Center at the University of Minnesota, competing in three state meets in addition to four MIAC Championships with the Gusties. 
He placed 12th at state as a Farmington senior and went on to success at Gustavus including a second-place finish on the 3-meter board in 2019 to advance to the NCAA Regionals in Indianapolis, Indiana as a senior with a score of 462.45. He was fourth on the 1-meter diving event in 2019 with a 430.50. He was third on the 3-meter in 2018 with a 434.60 and sixth on the 1-meter board with a 393.80. Bovee was sixth on the 3-meter as a freshman and sophomore and fifth on the 1-meter as a freshman (371.20) and sixth as a sophomore in the event.
In preparing for state, Bovee reiterated how elite the venue at the state meet is in terms of the bounce in the board, water temperature and ambiance on the state's biggest stage.
"I've been on those boards numerous times and somehow they are always perfect – extra bouncy," he said. "Going into a new pool, I want them to think about the pool depth and temperature of the water and not about the competitive part of the meet.
"I want them to stay inside their own heads. Have a good time and stay in a good mood."
Being his first year as a dedicated diving coach, Bovee said it was a lot of fun coaching the group. "I've been lucky to have a great group of divers. The booster club has done a great job supporting them by a few things they did during the season."
One example was how a parent built a shower set-up on the pool deck at Oak Grove Middle School that the divers used during practices. He also ordered new boards for the Oak Grove pool but they just arrived before sections and didn't get a chance to install them during the girls season.