After pushing the start back a month, programs were thankful for nearly a complete eight-week season
Volleyball and football were the last fall sports still being played before the Nov. 20 state shutdown.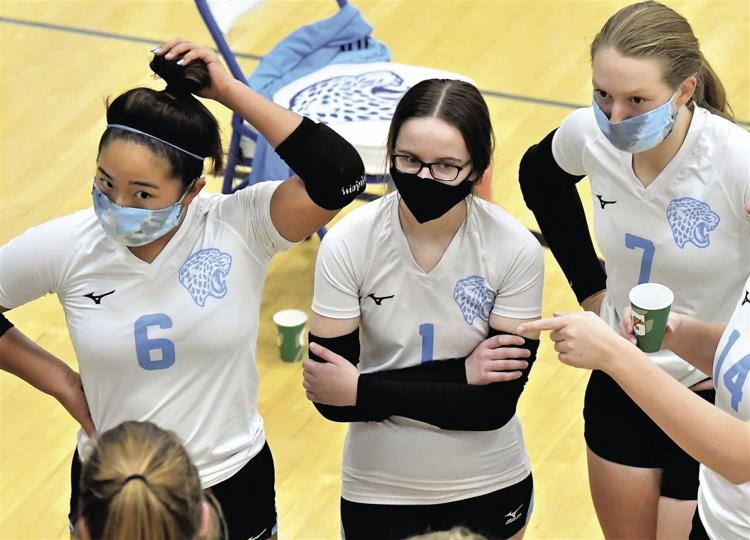 Richfield volleyball coach Carmen Christian was informed the season would end with one game left on the regular-season schedule, which is a remarkable accomplishment to manage to play an almost full conference schedule without disruption in 2020.
The Spartans (5-6) made the most of the final week of the season playing three times in seven days, splitting five-set matches before the season-culminating match at Visitation on Nov. 20. The Blazers won the first Tri-Metro Conference match 3-2 on Oct. 21 in what was a very intense match. Richfield won the opening set 26-24, lost 25-7 and 25-17 before coming back to win the fourth set 27-25 to force a fifth set. Visitation prevailed 15-12.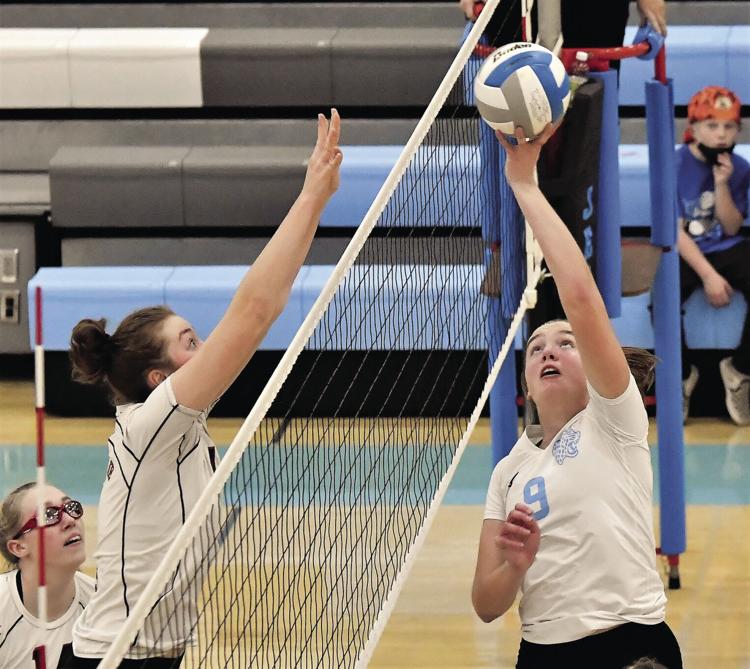 "Of course we are disappointed, but we are trying to focus on the positive," Christian said of the situation. "Aside from a match that was postponed for a snowstorm, a first for all of us, we've had an uninterrupted season. And we want to be grateful for that."
With several multi-sport students, Christian said realizing they might not have a winter season is another challenge the team is dealing with. 
"This group has done an awesome job of going with the flow all season and this wasn't any different."
Christian reminds the team often to write items on the calendar in pencil, "because it could change tomorrow. We are constantly reminding them to play and practice like it is your last time because it could be. I couldn't be prouder of this group."
Reflecting on all that was accomplished and the way the team adjusted to the COVID-19 protocols, Christian said it was amazing. 
"Lots of hand sanitizer, masks, cleaning solutions, two buses to everything, sign-ups for fans, keeping the teams separate at matches and waving before and after matches instead of a handshake," Christian said.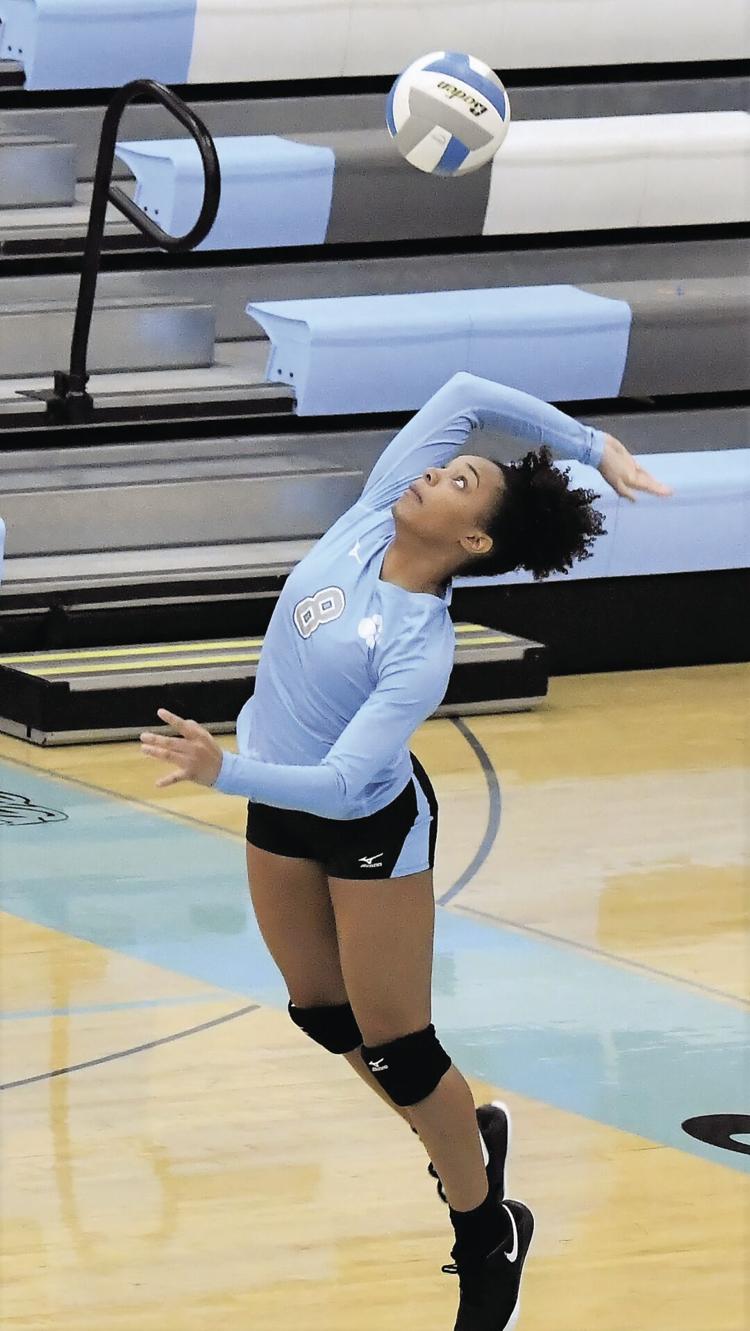 She took the customary wave to be a "full-circle reminder after a win or loss that we're all just trying to accomplish the same thing."
Richfield came up short Nov. 10 at Columbia Heights 3-2 after building a 2-0 lead (25-21 and 25-10). The Highlanders won the next three sets by a combined 10 points (25-21, 25-21, 15-13).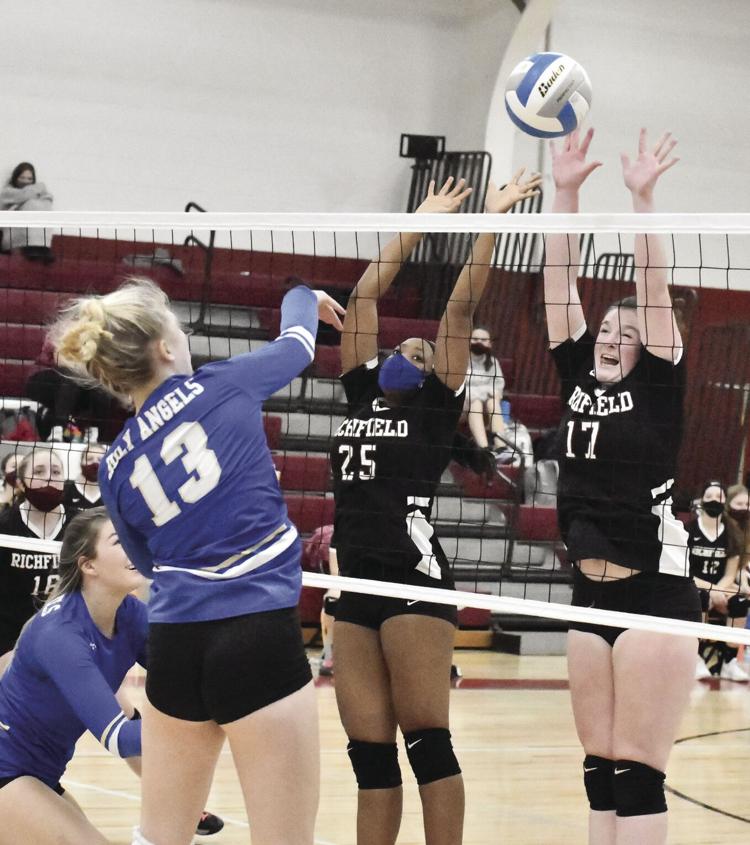 Richfield returned to play on the new home court for the final time, Nov. 18 against Fridley in a Tri-Metro match.
The Spartans once again started strong winning the opening sets 25-15, 25-15 but struggled to close out the next two sets, losing 25-19 and 28-26. Richfield regained its composure for a thrilling 15-8 final set victory to secure the fifth win of the season. Richfield was fifth in the nine-team conference, matching the wins total of St. Anthony (5-3) who played three fewer matches while third-place DeLaSalle was third (6-2), Holy Angels were second (8-1), and leader St. Croix Lutheran (9-0) as of Nov. 18.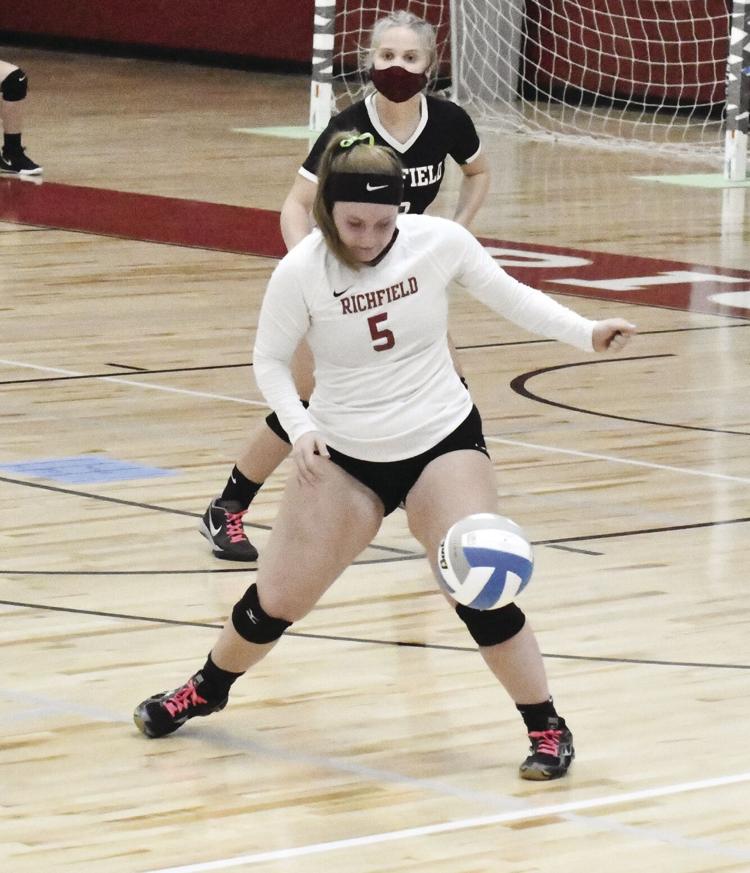 The Spartans are a veteran group with 10 seniors in the lineup including outside hitter Kylie Petersen who continues to show why she is the strongest all-around player with 18 kills, 27 digs and five aces over the first two weeks of November. 
"She leads on the court by getting the job done," Christian said.
Classmate Riley Herling is productive with 12 kills, 24 digs and four aces. "Riley's one of the most coachable kids I've had the privilege to work with," Christian added.
In the middle are seniors Sara Stoffel and Naomi Ferguson, who have 12 and 11 kills, respectively during the same two-week period leading up to Nov. 9. Liberio Noelle Olson contributed 28 digs and senior setter Rynne Skof had 37 assists and senior Baylee O'Donnell had 25 assists. Junior Mya Gibbs is the top server with eight aces.
Trying to consolidate as many matches into the final week of the season meant lots of volleyball for Jefferson, playing three matches last week including a key Metro West Conference match against St. Louis Park on the Jaguars home court on Nov. 17.
Park opened on an 11-3 run and it was a 15-6 lead for the Orioles before Jags coach Crystal Dohlman called a timeout to assess the situation. Park went on to win the opening set but Jefferson roared back to win the next three sets 25-21, 25-21 and 25-20 to take the match 3-1 and improve to 10-1 on the season, winners of eight straight matches.
Ellie Sieling and Cassie Sieling accounted for 24 kills (Ellie 13 and Cassie 11) and 37 digs (Cassie 19 and Ellie 18) while Olivia Opstad and Melanie Meyer added five kills. Setter Kelly McArthur and Paige Flowers added three kills each.
McArthur, who will play at Niagara University, had 37 assists and the team had 10 aces including three each from Cassie Sieling and Meyer. Meyer also had 12 digs as the team worked hard to generate 84 digs in the match. Meyer also accounted for three of Jefferson's blocks, assisting on the other two from Ellie Sieling and Opstad. Libero Paris Alvarez had five serve receptions. 
The win completed the season sweep for Jefferson which played relatively light on the number of players on the bench this fall, nine players down from 15 players in 2019.
"We have a lot of versatile players," Cassie Sieling said, as they pulled players up from JV to supplement the varsity program. They've worked on maintaining their level of play given a short time together from the later start on Oct. 8 to end one week earlier than anticipated.
"The team is really close this year, we work well together and don't give up," Ellie Sieling said. "We're really scrappy, like in the [Oct. 15] Chaska game."
Jefferson came back from down 0-2 to win the final three sets in the only meeting at Chaska High School.
Not being able to do the typical team-bonding events like traveling to the Southwest Challenge in Marshall was a disappointment. "That's sad we don't get to go to them because we have team-bonding on the bus and share rooms," Cassie Sieling said. "And play teams we normally don't get to play."
Not having a rowdy student section as last year took away the home-court advantage for the Sielings.
"I feel like we need to be even louder on the bench and the court to keep our energy up," Cassie Sieling said. 
"Normally we feed our energy off the fan section and it takes away the pressure when the opposite fan section does those cheers," Ellie Sieling said. "We miss the fans."
The sisters, both experienced club players, said the environment for club volleyball is different, with more families and college coaches watching.
Following the Nov. 17 match, Jefferson (9-1) maintained a one-half game lead on Chaska (8-0) at the top of the Metro West Conference. 
An important match to determine the final conference standings was played Nov. 19 with BSM at Chaska, then Chanhassen at Chaska on Nov. 20. 
The standings as of Nov. 17 included third-place St. Louis Park (7-3 conference, 8-4 overall), fourth-place Chanhassen (5-5, 5-7), fifth-place Benilde-St. Margaret's (4-6, 6-6), sixth-place Robbinsdale Cooper (1-9, 2-9), and seventh-place Kennedy (1-11). 
Jefferson wrapped up the already abbreviated season against two non-conference opponents at home including Class A powerhouse Concordia Academy on Nov. 19 and Eastview on Nov. 20.