Buddy Michaelson and his growing support network continue to churn out face masks to the tune of surpassing the 20,000 mark July 19.
Updating a story from earlier this spring, Michaelson, 20, continues to measure, cut and sew face masks with a few modifications including elastic loops, a variety of sizes and a huge variety of patterns.
He celebrated hitting the 20,000-mask mark, which was double his initial goal, in April with dinner at McDonald's. 
"I've ate breakfast/lunch/dinner at my sewing machine for the past 101 days. I can say I've possibly helped flatten the curve slightly in the Twin Cities," Michaelson said in a text about the achievement.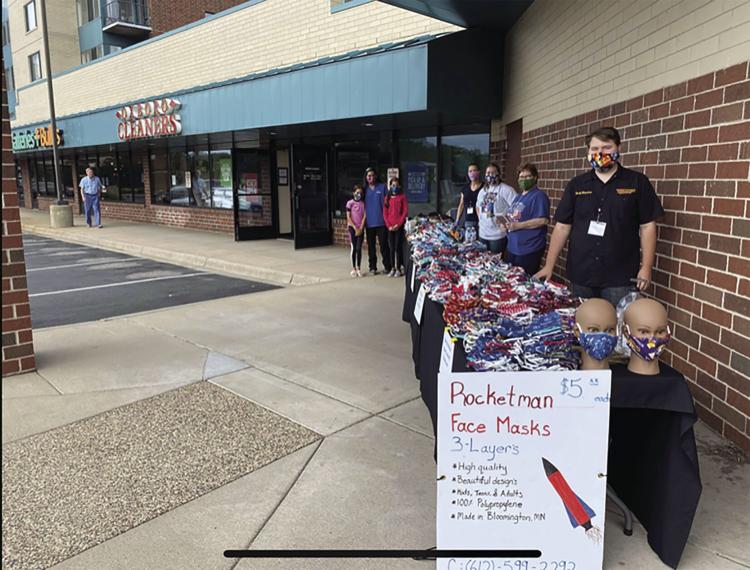 He continues to collect fabric from the major retailers with the filter material coming in a special order from a supplier near Green Bay, Wisconsin. He was running low on the filter material and decided to make the 600-plus mile drive for resupplies overnight to keep working.
In addition to selling masks out of the family front door near the Penn Avenue and 84th Street, he's opened pop-up stands across the area. This included Oxboro Cleaners, which offered to disinfect the completed masks and also sells them in the business when Michaelson isn't greeted by long lines extending around Walgreens at Lyndale Avenue and 98th Street.
He continues to donate masks to various community resources, including 122 masks to the Phillips Neighborhood Clinic in Minneapolis last week.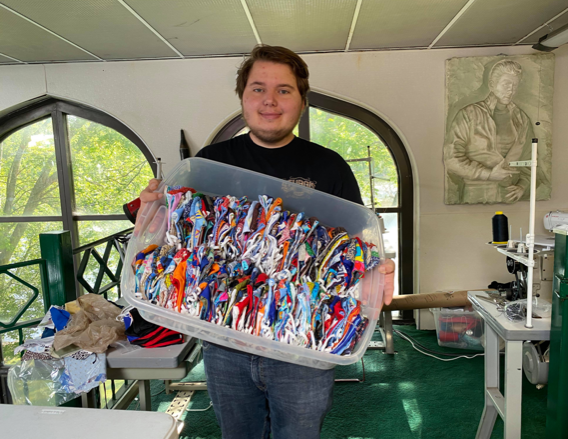 The free student-run clinic is in desperate need of supplies, which makes the donation even more meaningful for Michaelson. 
In a letter from the clinic, they noted the masks make a difference in their ability to see every patient who comes in, regardless if they have a mask on or not. Before they had to turn away patients without a mask.
"Along with giving them one, we are going to teach them proper mask-wearing techniques," the letter from the clinic said.
He made 250 masks for VEAP, the Bloomington-based food pantry and community resource, plus 700 more masks went to Scott County in May. 
He's supplied several restaurants in the Twin Cities with masks for staff this summer and the orders aren't slowing down.
In fact, Michaelson's 81-year-old father, Ky, is responsible for flipping each mask inside and out once the seams are sewn, then sewing 80 percent of the elastics, working up to 12 hours a day to meet the demand.
"He's done just about everything now from setting world records to rockets into space to working on hundreds of movies and TV shows to sewing masks now," his youngest son said.
Since the original story was published, he's had neighbors offer to lend a hand. 
"I was walking three days after the story came out and my neighbor was talking to her mom that someone was making masks in Bloomington by the name Rocketman," Michaelson said. "She says 'Hey! Are you making masks?' I said 'Yes' so she got some from me and now she helps me nearly everyday layer the filer inside the masks so I go back and forth. She's helped me so much."