BSM's Pauly notices a need to reinforce new standards
Each summer the two indoor ice sheets at St. Louis Park Recreation Center remain busy through the warmest months of the year and the outdoor ROC rink serves several purposes, including dryland hockey training.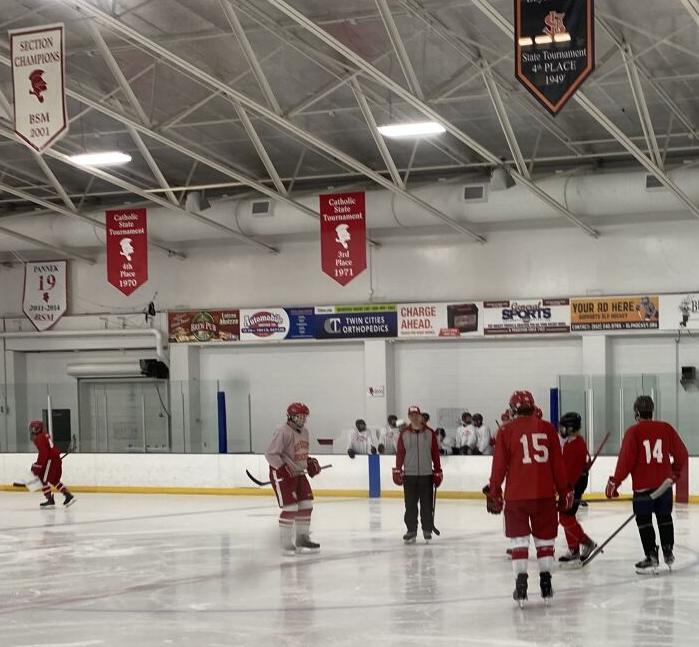 Benilde-St. Margaret's boys hockey teams joined with Fortis Academy for its summer training camp, open to those entering seventh through 12th grades. This year was no different for the hockey camps, despite the arena being shut down earlier this spring and summer. 
In an attempt to mitigate the spread of COVID-19, guidelines for sports were put in place across the state with special precautions for hockey. Participants were asked to arrive just 15 minutes before a scheduled ice-time, as close to fully dressed as possible with sticks and skates in hand. No sharing water bottles, no unnecessary contact and no spitting.
The varsity scrimmages included teams from St. Thomas, Lakeville South, and Centennial July 17-18 and were streamed by MNHockey.tv. JV programs scrimmaged at Braemar Arena in Edina at the same time.
BSM coach Ken Pauly summed up the summer to this point saying: "I've never been on the ice less and worked harder. From an administrative and logistically perspective it has been challenging. Normally, we wouldn't care what time kids get to the rink or who they were with or any of that stuff but now we have training pods, specific spaces in the lockeroom for everything and we've found out is that it [safely returning to hockey] can be done but we have to be diligent. Everyone has to be hyper-sensitive and hyper-vigilant to keep your guards up off-ice. Usually, it is the opposite to be laser-focused on the ice."
Pauly said the most frustrating piece of this comes from not knowing what you don't know. "We have the kids doing the right stuff and they need to figure out how to do it the right way but everyone isn't enforcing to the same standard," he said as schools have been consistent but private entrepreneurs aren't held to the same standards. The BSM program hired two more people to make policies that are followed in the locker room and another shooting temperatures when they come in.
"If we do everything right but kids get something from somewhere else, it affects what we are doing," Pauly said after six players picked up COVID-19 from a football camp, preventing those six players from participating in the STP program.
Pauly saw the discrepancies in procedures first hand at the weekend scrimmages at the rec center. "If we are going to have a hockey season people are going to have to pull their head out and figure it out," he said. "We stay vigilant with our kids, coming in half-dressed, sign-in, and at the right time. We didn't do well on the ice but I'm more concerned about the health and procedures right now. We see teams come in 45 minutes before a game in T-shirts and shorts warming up in the hallways like they are not supposed to do. We're going old-school where you show up 15 minutes before. 
"It can be done but the challenge for coaches is they have to understand if they don't want to do it, they need to have someone else do it for them who will – locker room administrators. We have to step-up and understand their role as a coach has to change a little bit."
In 36 hours of in-person camp, no skaters tested positive among the 150-200 campers.
For camp, they used four locker rooms with no more than 10 people inside at once. "What we told them was to spread out and if you count nine in the room, you leave and we saw some teams with 15 bags in the locker room," he said. "If we want to play this winter, the powers that be need to see the numbers go in the right direction."
Pauly said campers and parents have been great about adjusting to the new guidelines over the previous three weeks. "People are hungry to get the kids out to do something and we get it," Pauly said as the senior leadership for the Red Knights helped alleviate the pressure and stress on the staff. "Our seniors have taken this to heart and helped enforce standards to get the type of training we needed to see and so we feel really good about where we are at as a team. No matter how good your team is, if you don't have good leadership you aren't going far and we have good leaders in this group who have never missed a beat with the training."
One of those leaders was second-year captain James Callahan who was an assistant captain in 2019-20. "He couldn't play during Friday's scrimmage so he was going around the locker rooms making sure the guys were ready to go and helped show the younger guys what we are trying to do with the blackboard on the bench, which is tremendous to see."