Six seniors put pen-to-paper
Friends and family gathered in the Kennedy lunchroom Wednesday afternoon for a brief signing ceremony as six seniors signed National Letters of Intent to play collegiate sports starting next fall.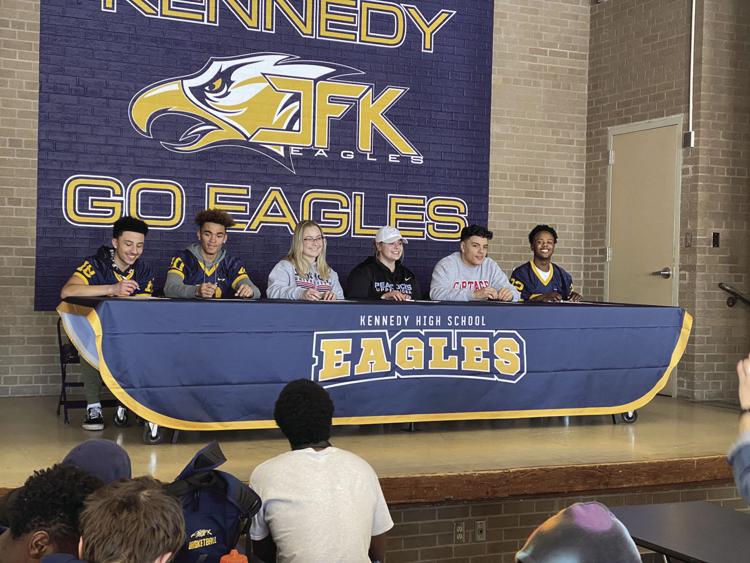 Three seniors plan to play spring sports in college including Maya Chesky at Upper Iowa (Fayette, Iowa), Johnny Lane at Carthage College (Kenosha, Wisconsin) and Cordelia Ruch plans to play softball at St. Mary's.
Seniors Avante Monroe, Dickson Owusu and Mekhi Taylor each signed NLI to play football at Mesabi Range Community College in Mountain Iron in the fall.    
Longtime Kennedy girls lacrosse coach Sheryl Raithel was on hand to see yet another of her longtime players advance to play at the next level. 
Chesky was part of Raithel's program from eighth grade and is primed to be a go-to offensive threat again this spring. 
"She's way up there," Raithel said about Chesky's spot on the all-time scoring list. She will join a young Upper Iowa program looking to build on its second season as part of the GLIAC.
"Everything became real," Chesky said after the ceremony. "It's exciting to know all your hard work is paying off."
The Peacocks pursued Chesky and the Kennedy senior liked the idea of having playing time available early while continuing to develop as a player and asked for advice from Raithel. Chesky will join a class that includes Eden Prairie's Paige Nicklaus, Chaplin Park's Brooke Freeman, Northfield's Becca Hollister and Park of Cottage Grove's Taryn Leonard.
"How exciting," Raithel said of the opportunity to be part of a program in its infancy. "I talked to the coach, too, and a lot of times it is about passion. When we first started we just went from nothing to something quickly and a lot of that was that the kids have a passion to play and Maya is definitely one of those kids with a passion for the game." 
The Kennedy program began in 1999-2000. Raithel became the coach in the second season and has been there ever since, winning three consecutive state titles in 2003-05.
Raithel believes the mix of Chesky's passion for the game with the Peacocks coaching staff including head coach Erin Doherty is a tremendous mix that will help Chesky only get better with time.
This winter Chesky is part of the basketball team in hopes of being ready to hit the turf once the weather changes for the team to get outdoors.