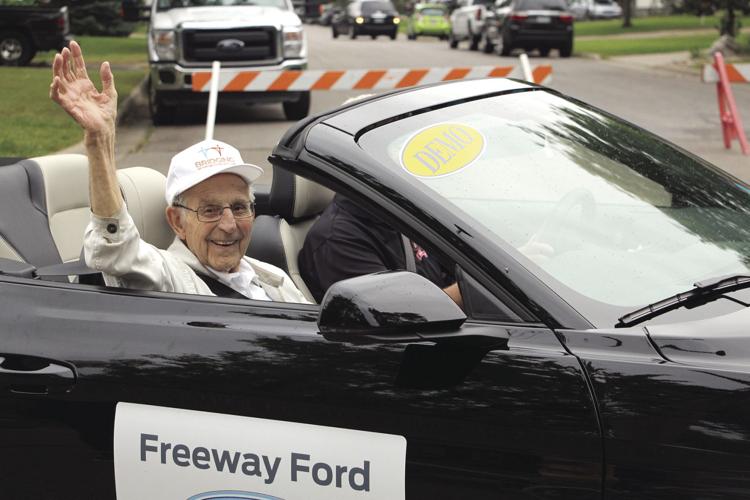 When presented with a simple problem, Francis "Fran" Heitzman initially sought a simple solution.
And yet that one simple sequence of events would launch a local nonprofit organization that Heitzman would champion for more than three decades, serving tirelessly as its ambassador.
Heitzman founded Bridging, a Bloomington-based nonprofit that provides household furnishings and home goods to those in need. Heitzman, 94, died Jan. 11
During the 1980s, Heitzman was working as a maintenance man at Pax Christi Catholic Church of Eden Prairie when a parishioner asked if the church could use an old crib for its nursery. The church had no use for it, but Heitzman took it anyway and promised, "I'll find a home for it," he recalled during a 2012 interview.
Realizing that there was no local organization dedicated to the collecting and disseminating of essential household items, Heitzman set out to fill the void. What started as a mission to find a new home for a crib grew into a nonprofit that had served more than 60,000 families by 2012––the 25th year of the organization, Heitzman said.
Heitzman received many accolades for spearheading an organization that collects furniture and home furnishing donations that are provided to families in transition that would otherwise be unable to provide basic necessities for their home, such as beds and dinnerware. Everyone deserved to have a bed to sleep in, he reasoned.
Although Heitzman was honored many times, locally and nationally, he was quick to credit Bridging's staff and volunteers that had helped fulfill the organization's mission since 1987.
Bridging announced his death on its website and praised his contributions to the organization: "The contagious inspiration and passion Fran shared as an advocate for those in need, ensured all families were served with dignity and was vital in achieving Bridging's most recent milestone of serving 95,000 households since its inception."
Mark Wilkening, Bridging's executive director, also shared thoughts on Heitzman as part of the announcement.
"It has been a true honor to serve alongside this most extraordinary man – so full of love, care and compassion for others. I will forever treasure my experiences with him and all the wisdom shared. He was a true champion for the community," Wilkening wrote.
"We have the privilege to carry on his incredible legacy of love and service to all whom we encounter; and at Bridging, we will do just that."
Visitations will be held 4:30-8:30 p.m. Thursday, Jan. 16, and noon to 1 p.m. Friday, Jan. 17, at Pax Christi Catholic Community, 12100 Pioneer Trail, Eden Prairie. A mass of Christian burial will be held at 1 p.m. Friday, with a private family interment to follow at Dawn Valley Memorial Park Cemetery in Bloomington.
Bridging's memorial page for Heitzman, including videos, is available online at tr.im/franh.
Follow Bloomington community editor Mike Hanks on Twitter at @suncurrent and on Facebook at suncurrentcentral.