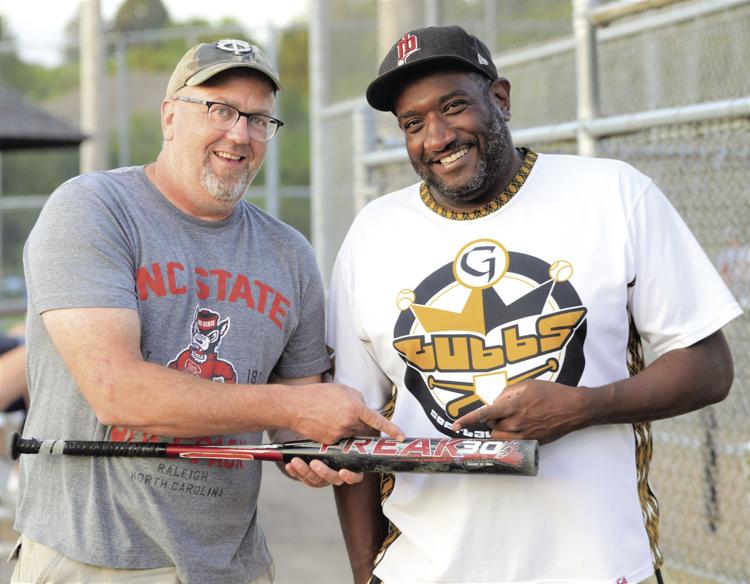 Whenever you see Joel Frank at a softball field, you'll probably see Jamar Hardy too.
These slowpitch buddies have been playing on the same teams since they met in 1988, and they usually hit back-to-back in the lineup. At one time, that meant Frank hit in the third spot, with Hardy behind him in the clean-up position. But for the last few years, they have moved down in the lineup to make room for some of the rising stars in the Edina Monday Doubleheader League.
For many years Frank and Hardy have played for the perennial Edina contenders known as Cowboy Jack's/YMCA. Like most "Cowboys," they have nicknames. Many people at the softball park know Frank as "Hobbs" and Hardy as "Jammer." In fact most of Frank's teammates couldn't tell you his given name.
Frank got the nickname Hobbs during a slowpitch tournament years ago in Carlton, Minnesota. At first his teammates called him "Kingman" after Major League Dave Kingman, who once popped a ball through a hole in the roof, 212 feet above home plate at the old Metrodome downtown. Frank was popping them high, and soon he was also popping them long, so one teammate exclaimed, "He hits like Roy Hobbs - The Natural." So, that's the moniker that stuck.
Hardy came by his nickname when he starred as an all-conference basketball player for Richfield High. It had to do with the way he dunked a basketball. "Jammer" was a perfect fit.
Cowboy Jack's/YMCA is one of the legendary teams in Edina softball and had a two-year winning streak in the Thursday Night League before switching to Monday nights about five years ago.
"The competition in the Monday night league is great," Frank said.
"Hobbs and I have played on different teams together in different places, but there's nothing like playing in Edina," Hardy said. "These fields are impeccable."
"We don't mind hitting toward the bottom of the lineup and not playing much in the field," Frank said. "Jammer can still get the job done at first base. When I was younger I played mostly in the outfield, then I made the transition to infield."
These boys of summer can still hit the long ball. They each used to hit 15 home runs a year, now it might be two or three.
On Thursday nights at Dakota Field in St. Louis Park Frank and Hardy are teammates on a co-rec team - five men and five women.
"It's a fun league," Frank said. "You're only as good as your female players. A lot of the women in the league are great athletes. They can play outfield, third base, shortstop."
The Edina Monday night playoffs didn't go well for Cowboy Jack's/YMCA this year.
"Some of us were coming off six games in a tournament the weekend before, so we weren't at our best Monday night," Hardy said.
As a result, Cowboy Jack's lost to Kekambas in the quarterfinals of the playoffs, 22-12. Kekambas then lost to the eventual champion, Caddyswag Radio, 13-1 in the semifinals.
Caddyswag won the regular-season title with an 18-2 mark. Meanwhile, Cowboy Jack's/YMCA had a solid fourth-place finish with a 14-6 record.
What does the softball future hold for Frank and Hardy?
"Even when we're older, we'll still be able to play co-rec," Frank said. "There aren't any scouts in the stands, we're just out there for recreation."
Hardy added that they plan to continue playing for Cowboy Jack's/YMCA. They play integral roles in the success of the franchise with their team-oriented style and positive outlook.