Depth, experience helping lead the way after missing the 2020 season
Football fans who ventured to Edina's Kuhlman Field for the final two Minnesota Vixen home games were treated to playoff football in July.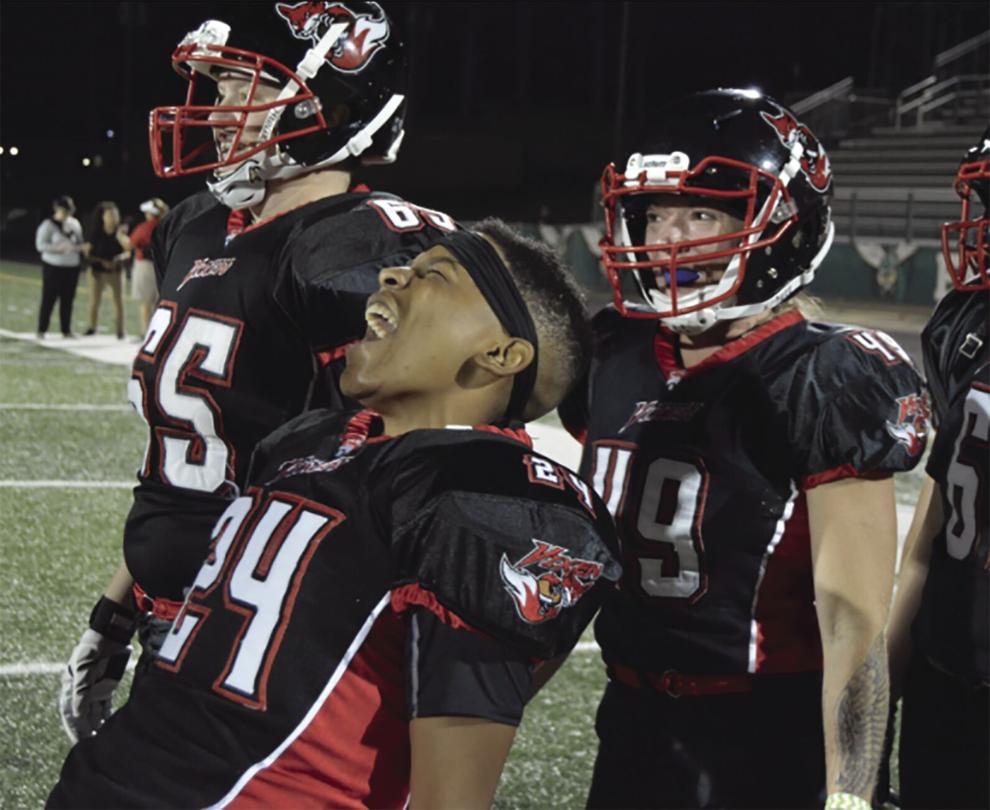 The Vixen (8-0) captured the American Conference Championship by way of a 33-22 win over Cali War July 10, the second playoff game to be played in Edina after their regular season home, Concordia University St. Paul, already scheduled an event before the playoffs were set. to Edina.
The Vixen is set to face back-to-back national champion Boston Renegades in Canton, Ohio for the Women's Football Alliance Division 1 National Championship July 24.
The Renegades (9-1) have a ton of momentum as multiple-time defending champions. But the Vixen have scored on the opening drive in each game this season and only trailed once, during the second quarter of the Conference Championship game against Cali War at Edina's Kuhlman Field July 10.
It has been a memorable season so far for the team as Vixen teammates dot the top of the individual statistics as running back Grace Cooper has rushed for a WFA-leading 904 yards and 13 touchdowns and receiver Kiya Sygulla is second in the league in receiving with 319 yards on 15 catches with seven touchdowns.
To get to Ohio is another story for the teammates, who have to pay to play without major sponsorship dollars, to travel as a team.
Sygulla, a Bloomington resident and  physical therapist, said the schedule is for everyone to meet in Canton for a walk-through Saturday morning the day before the game.
"Some are flying but most of them are driving," she said, as the cost of a flight isn't an option for most and car rental prices are expensive right now. "Playing a sport you don't get paid to play is tough."
Sygulla is excited about being in a spot to play for a national title. "At the beginning of the season I knew we are talented but I wouldn't have said we were going to pull off getting to the national championship because there are so many good teams," she said.
Divisions are determined by roster size, with Division 1 being the largest.
"You've got to go through a lot of people and we had no idea what this season was going to look like," she said. The 2020 season was canceled due to the pandemic and even early into the 2021 season in April the schedule was changing due to several factors, from not enough healthy players to travel logistics and more. Sygulla played in the All-American game a couple of years ago on the same field and weekend as the national championship. "I'm so excited to be there with all of my teammates this year," she said.
Two-thirds of the team have played together for at least three seasons while they host team tryouts in the fall. Nose tackle Cynthia "Red" Bryant has held down her spot in the middle of the line for all 23 seasons of Vixens football. She is joined by running back Angela Griffin and offensive lineman Maria Beck as the three captains.
Quarterback Errin McIsaac has completed 71.9 percent of her passes for 778 yards. She has 15 touchdowns compared to two interceptions for a passer rating of 139.1. She is also second on the team in rushing averaging 15.9 yards on 16 carries with three touchdowns.
Without a 2020 season, the Vixen has two classes of rookie players to bolster the roster in 2021 with around 10-15 new players making it through the tryout process each October. Tryouts typically draw 60 prospective players, which are whittled down to only a handful from all athletic backgrounds.
"Literally everything," Sygulla said. "From people who have never played an organized sport before who never thought they were good enough who thought, 'Oh! I guess I'll try it.' And then we have people who have played college sports or football before but most people do not have a football background when they come into the Vixen."
The upperclassmen [experienced players] and coaches play a huge role in teaching the game as quickly as possible. "We progress quickly, they all figure it out and come along," Sygulla said, estimating 8-10 players are back for a second season.
Rookie practices begin the first week of January with two rookie practices before full team practices later in the month, meaning the championship game marks the seventh month of organized practices.
Linebacker Megan Myers, a teacher from Bloomington, watched a July 15 practice with crutches and a knee brace after tearing two ligaments in her knee two minutes into the second game of the season. 
"I'm a rookie so I'm calling it my redshirt year since I played two minutes and one game," Myers said.
She had 18 rookies in her class but faced a tough setback with the injury and is now in recovery mode.
Another challenge besides the logistics of traveling is the family and professional aspects of life. 
"All of us work jobs and either does a typical 9-5 or 8-4 or work it out with your employer," Sygulla said. "People have to make sacrifices on both ends, the team understands that because we don't get paid to play here. You have to make money to come to play and some sacrifice family time, spouses, and kids."
One player has five kids and drives over an hour just to practice, along with another player who lives in South Dakota.
"It's a big commitment and sacrifice but it is a family," Sygulla said.
The coasts provide the most competitive while the Midwest teams are still young and figuring out how to compete.
The Vixen is averaging 48.7 points per game after scoring 56-0 and 62-6 wins over third-year team Iowa Phoenix to start the season May 1 and May 22, respectively. They shut out South Dakota Snow Leopards 66-0 on May 29 before the first big test of the season in a 49-6 win over Arlington Impact on June 5. 
Arlington was the toughest opponent of the regular season as the defense made stops near the goal line to keep the Impact off the scoreboard.
"Their offense would drive 90 yards and we'd stop them on the 5-yard-line so it was like we got a workout in but we stopped them and that's all that matters," Myers said.
Hosting Cali for the American Conference Championship provided the Vixen with a big home-field advantage of not having to figure out the logistics of getting to the stadium. 
Minnesota's defense forced four turnovers by Cali which helped turn the tides.
"Our team does an amazing job of raising funds, if somebody needs help we help and figure it out," Sygulla said. 
Dallas Elite had to forfeit to Cali in the playoff opener as they couldn't field a complete team, having traveled the previous two weeks and injuries were piling up.
This is much different compared to their NFL counterparts who don't have to think about how to get there, pay for it, ask for time off from work or who will watch their kids. 
"I set up my work schedule months in advance to take Fridays off because you never know what is going to happen," Sygulla said.
Myers and Sygulla described the Vixen fans are the best in the WFA. "Our fans travel," Myers said as they had fans follow the team to Arlington, Texas earlier in the season. 
"Other teams will have empty stands when they are away and a few fans at home," Sygulla said. She noticed on the Townsquare TV broadcast of the game against Cali that the fans were all standing and cheering late in the game. "Seeing and hearing those fans cheering gave me the chills," Myers said."Our fans are amazing and if they don't show up they are watching it from somewhere."
It's the passion for the game that was either there all along, or stirred up through tryouts and practices, which set the wheels in motion on what is a remarkable season for the oldest franchise in women's football.