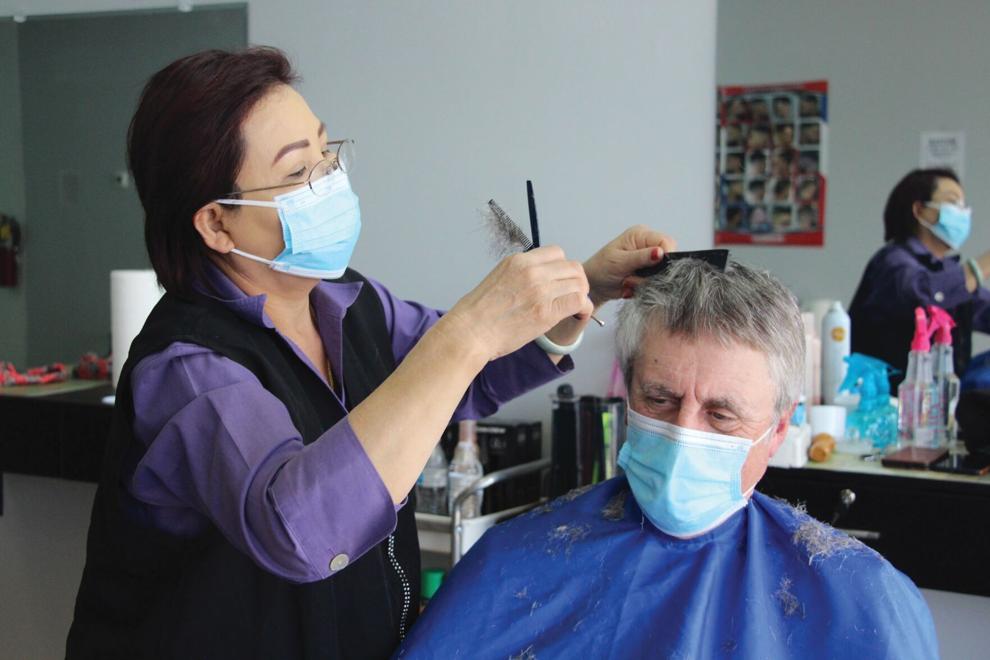 A longtime barber has set up shop for herself on Lyndale Avenue, and it's the latest chapter in the most unlikely journey to Bloomington barbering.
Joanne Regenold has been working in Bloomington and Richfield for more than 20 years, and opened Joanne's Barbershop Feb. 9 at 8555 Lyndale Ave., having completed her second stint working at Bruce's Penn Lake Barbers in December.
For Regenold, her longevity in Bloomington is a testament to her dedication and determination, and it's a world apart from a childhood spent in Laos and Thailand.
Regenold was born in Laos, but her family fled the communist country. She wound up in Hawaii, by way of Thailand, as a young adult in 1987. She didn't speak English, and didn't have a career or life mapped out when she arrived in the United States, she recalled.
Living in Hawaii and learning English, Regenold knew she didn't want to spend her life working in hotels and restaurants. Tourism ensures plenty of hospitality jobs in Hawaii, but it was a barber school that caught her eye. The career pursuit was appealing, as many of the school's students were women. She didn't have a traditional high school diploma when she applied, as required, but she passed the school's entry exam nonetheless and was accepted, she explained.
The Navy seamen stationed in Hawaii provided plenty of jobs and customers for area barbers, she soon learned. "You're busy all day, until close," she said. And the tips were good, she noted.
The Navy also introduced her to her husband, Rick. While Rick was stationed in Hawaii, Regenold became a U.S. citizen. They were married a year prior to the conclusion of Rick's Navy career, and moved to Iowa in 1997, where Rick was from, Regenold said.
A lack of jobs in their area soon drove the couple north to the Twin Cities, where they would find a home in Eagan. It also provided Regenold with a job, cutting hair for Great Clips in Eagan. Within a year, she moved to Penn Avenue, for her first of two stints. She set up her own shop in Richfield in 2008, on Lyndale Avenue near Highway 62, but closed it after five years and returned to Penn Avenue, she recalled.
Regenold may not embody the image many people immediately associate with a Minnesota barber, but she has garnered loyal customers, both men and women, during her years in Bloomington. Mary Linker of Bloomington and her husband Joel are longtime customers. Joel has been going to Regenold since early in her Bloomington career, and Mary gave her a try about 10 years ago. "I was looking for a good, simple haircut," she said.
Regenold's skill impressed Mary, and she is entertained by the conversations she has with the barber who has traveled far from her homeland to cut hair in Bloomington. "She's lovely to visit with," Mary said.
Regenold's shop has multiple chairs, but for now she's the only barber at the shop. Haircuts are $25, with $2 discounts for seniors, children and military personnel. She also offers shaving and beard trimming.
Appointments are available by calling 612-986-8895. The shop is open 9 a.m. to 6 p.m. Tuesday through Friday and 8 a.m. to 2 p.m. Saturday. Cash and check payments are accepted.
Follow Bloomington community editor Mike Hanks on Twitter at @suncurrent and on Facebook at suncurrentcentral.