Lifelong volunteer, teacher, coach helped pave the way for girls athletics in Bloomington 
Editor's note: Betty Lokken, known to many kids and families around Bloomington as "Miss Betty" died at age 96 on Dec. 30. 
She was not only the first daycare provider in the community but as a clipping from a 1973 Sun Current explains, "the founding mother" of girls inclusion in the Bloomington Athletic Association.
I knew Miss Betty as a daycare kid back in the mid-1980s when her pool helped me gain confidence to swim from one side to the other, among other many fond memories.
Lokken helped launch girls sports for BAA in the 1960s and was recognized with numerous awards over the years including induction as the first female into the Bloomington Athletic Hall of Fame in 1981. In 2015,  the association created the Betty Lokken Award presented to, "BAA's most outstanding helper that year."
Below is a story Lokken's rich life and legacy in Bloomington from Our Life reporter Sue Webber, originally published Nov. 2, 2017 and updated July 15, 2009.
Betty Lokken reflects on years of athletic involvement in Bloomington
It's clear that Bloomington athletics wouldn't be what it is today if Betty Lokken hadn't come along.
Lokken, 92, is credited with starting the girls Bloomington Athletic Association (BAA) in the 1960s, after she discovered BAA was only for boys.
"My daughter played at the age of 10 with the Riverside Robins," Lokken said. "I coached. We played anywhere we could find teams. We started girls BAA early in the 1960s. You should see it today."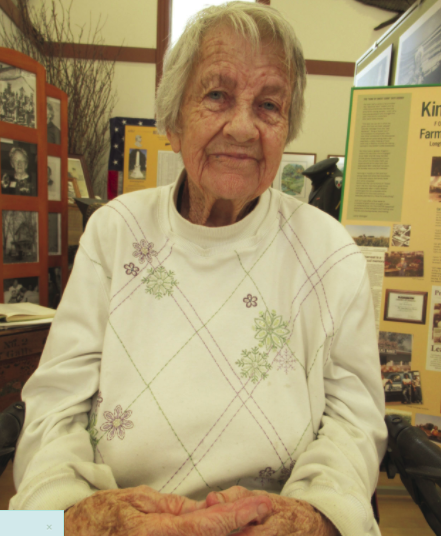 She played and coached volleyball, basketball and fast-pitch softball for many years, as well as organizing adult groups for those sports. She coached boys' soccer and was head umpire.
"Coaches were hard on umps," she said.
Lokken started the first nursery school in Bloomington, which she operated out of her home for 56 years, from 1956 until she retired at age 88 in 2012.
"I started pre-school in my garage/activity room," she said. "We had a hockey rink and swimming pool in the backyard."
Miss Betty, as she was called, offered music and crafts, nature classes, a pet shop with visits from local farmers, visits from Santa on a snowmobile, and visits from professional sports heroes. For 19 years, Lokken taught more than 6,000 children how to swim during the summer.
The school started with 20 children in the morning and 20 in the afternoon on Monday, Wednesday and Friday, and 10 in the morning and 10 in the afternoon on Tuesday and Thursday.
"We never once had to advertise," Lokken said.
For eight years, she volunteered at Bloomington Ice Gardens, where she set up a program in the concession stand whereby parents could work to defray their kids' hockey costs. "A lot of families couldn't afford to have their kids play hockey," she said. She claims the program she initiated spread to Wisconsin and other states, too. "I've been so proud of that," Lokken said. "We helped so many kids play hockey."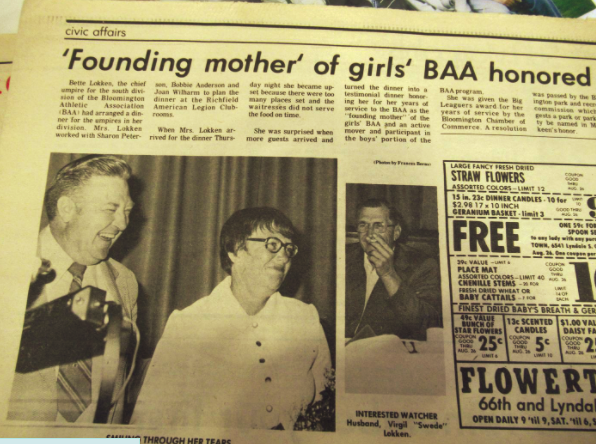 Despite her age, Lokken's spirit is still strong. She's particularly fond of her weekday excursions to Creekside Community Center, where she exercises daily, plays 500 and Hand and Foot, and has lunch each weekday. "I've made some of the most wonderful friends at Creekside," she said.
"I exercise at 9 a.m.," Lokken said. "I can walk short distances because of exercise classes. I exercise every chance I get."
"I take a short nap when I get home from Creekside in the afternoon, and then I like to watch sports," she said. "I like the Wild, Timberwolves, Vikings, Twins and Lynx."
Lokken was born in on a farm in Lemon, South Dakota, and grew up with 11 other siblings. Her dad raised horses, and Lokken remembers having a pony of her own. Six of her brothers served in World War II and "came home without a scratch," she said. She went to live with a brother in Minnesota and graduated from high school in Pine River, where she played softball and was on the swim team. Eventually she earned a teaching certificate by going to night school.
"My dad played pro baseball, so I'm sure it was in my genes," Lokken said. Her daughter was a good player, she has a grandson who plays hockey, and her youngest son played hockey at Kennedy and then with the Green Bay Bobcats in Wisconsin.
Her husband Virgil ("everyone called him Swede") was a truck driver who delivered precut homes. "He died of cancer," Lokken said. "I still miss him."
In 1992, Lokken was presented with a tribute award by Gene Kelley, Parks and Recreation Division manager for the city of Bloomington, "In recognition and grateful appreciation for lifelong contributions to the Bloomington Community." In addition to Lokken's promotion and organization of BAA youth and adult athletic activities, the award cited Lokken's being "chief cheerleader and watchdog for the former Riverside Elementary School playground, offering invaluable recommendations for the betterment of park facilities, including a year around hockey/roller blade rink; for watching over and teaching the children of Bloomington; for serving as organizer of kiddie parades at the Gene C. Kelly youth playfields; for keeping together the friends of old Riverside; and for upholding the spirit of the community."
"I'm glad I did all of it," Lokken said. "I miss it. I wish I could still do it. But every day I'm thankful I'm still around to enjoy it. I still have the hockey rink. The grandkids are out there all the time."
In 2015, the BAA established an annual Betty Lokken award, given to the person who was the BAA's most outstanding helper that year.
Other awards Lokken has received include the Bob Utecht Glove award, 1973; Big Leaguers award from the Bloomington Chamber of Commerce, 1973; the first woman inducted into the Bloomington Athletic Hall of Fame, 1981; Gene C. Kelly award, 1992; BAA award for outstanding services as Coach of the Year, 1995; and a Fox 9 Top Teacher award, 2009. 
Follow Jason Olson on Twitter @Jason0lson.
Betty Lokken, 92, credited with being the backbone for athletics in Bloomington, as well as starting the city's first nursery school, is still exercising daily. (Photo by Sue Webber)