Isabelle Lynch's next decision is to golf or play tennis in college
Jefferson senior Isabelle Lynch is just glad to have a season, any season.
After her junior golf season was canceled due to COVID-19, Lynch was more than ready to get back on the tennis court for her sixth varsity season, the last five years as the Jaguars No. 1 singles player.
"I'm just glad to have a season," she said ahead of her season-opening match Aug. 26. "It's been so crazy to miss the golf season and I'm just glad to get back out here with some friends."
Lynch won her match against Kennedy's seventh-grader Molly Miller 6-2, 6-1 while the Jaguars defended their home court against their crosstown rivals.
Jaguars coach Lynn Larson said Lynch is the anchor of the team, knowing what it takes to not only compete at a high level but how to help motivate her teammates.
Lynch was nominated to represent Jefferson High School in the statewide ExCEL Award (Excellence in Community, Education, and Leadership), presented by the Minnesota State High School League to high school juniors who are active in school activities, show leadership qualities and volunteer in their communities. 
On her last go-around with the Jaguars, Lynch is excited to focus on one sport at a time starting this fall with tennis before moving on to golf training in the winter and, fingers crossed, a spring season in 2021.
She caught the sports bug from her parents Sandy and Michael Lynch, both Jefferson High School graduates who run Lynch Basketball and Tennis camps.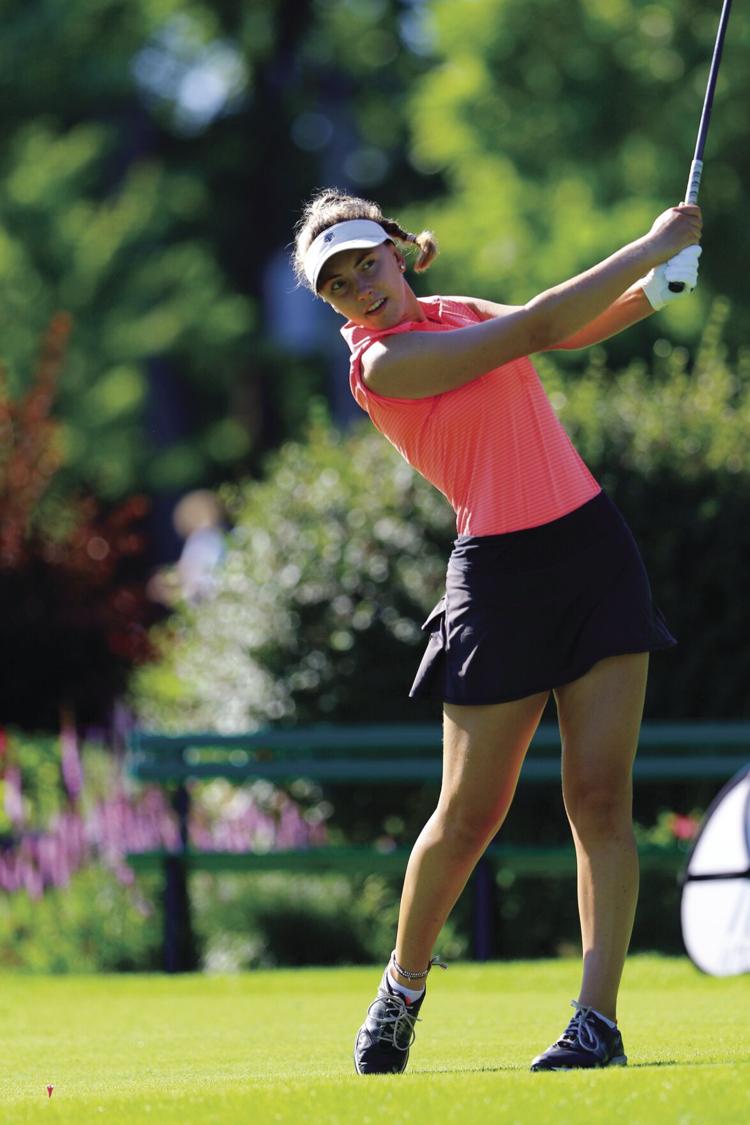 Isabelle was an accomplished basketball player but gave up the sport to focus on golf and tennis in eighth grade.
No doubt she will miss the friends, coaches and teams she has been a part of since middle school. 
"It's kind of melancholy because you are missing the regular season but I'm so happy to have some type of season to hang out with friends and to be a captain in her final season," she said. "It's been so much fun [to be a captain] since in the past you had to concede to other girls in charge but this year I get to have some ideas and get to do some fun ideas like tie-dye socks, all-white uniforms and we get to improvise a little bit more with things like team dinners and other captains are awesome too."
With the uncertainty of a section or state meets, Lynch said its a big bummer but at the same time, she realizes everyone is going to miss out on something. "If it's one thing I miss out on I'm not going to complain. I think a lot of people are missing out on a lot of things. It is too bad."
As for summer tennis, Lynch was limited to training sessions instead of the typical USTA tournament calendar.
She's been part of the USTA's junior team championship over the previous three summers and hits with one of the top players in the state – Kevin Whipple – at Baseline Tennis Center at the University of Minnesota. 
Beyond high school, Lynch said she definitely plans to play a sport in college but has yet to decide on golf or tennis and of course where to go.
She's been courted by several Minnesota schools (MIAC) plus a few regional programs for both golf and tennis including Wayne State (Nebraska) for golf which is a member of the NCAA Division II Northern Sun Conference. 
Soon-to-be Division I St. Thomas and the University of North Dakota are also in the mix.
St. Thomas will wait until December for an official offer while Wayne State needs an answer to their offer by the end of September.
"I'd like to commit sooner than later because it is stressful," she said. "I could not do it without my parents. My mom, especially, looking up colleges, talking to them, filling out the paperwork, there is so much to do."
Golf
As for golf, Lynch didn't entirely miss out on competing at a high level during the summer months.
"It was so strange," she said of the lack of a high school season. "Spring is usually my favorite season to golf and getting rid of winter so it was too bad to miss my junior spring. I did not like distance learning and it was hard because I didn't get to see my friends."
In addition to four PGA Minnesota Junior Golf 'Sota Series events where she had a pair of eighth-place finishes including rounds of 84 and 80 at the Player's Tour event at The Wilds GC July 14-15, Lynch put together a strong summer on the links.
She was 11th at the state junior championship and was fifth at the Sanford Futures Golf Championship with rounds of 74-79.
"Being holed up at home, I was really motivated to get out there and play, more than other years for sure," she said. "I just felt so motivated to get out and play more rounds, tournaments were 10-times more fun and it was just about having more fun."
Lynch tied for 11th place (17-over par) in the Championship Flight at the Minnesota State Junior Girls' Championship with rounds of 79 and 80 to place four strokes out of a top-sixth place finish at Bent Creek Golf Club June 29-30.
Lynch focused on improving her short game the most. 
"It's been a consistent weakness of mine – chips and putts," she said as that practice paid off on the largest possible stage of the summer at the state amateur.
Lynch tied for 42nd place at the Minnesota State Amateur Championship played at Stillwater Country Club July 27-29. 
"It was a such a fun tournament," she said, playing with golfers from North Dakota State, St. Thomas and Bethel. 
Playing among the top amateurs in the state, Lynch held her own against not only top prep golfers but those who have gone on to find success in college and beyond among the field of 77 golfers. Out of the 54 holes, Lynch turned in six birdies and 14 pars. Four of those birdies came during a final-round 9-over par 81.  
Her second-round 79 included nine pars to help her finish out with a 3-over 39 on the back.