Emmett Johnson runs for 416 yards and five touchdowns plus makes eight tackles and grabs an interception on defense
Sixth-ranked (Class 4A) Holy Angels used a 21-point third quarter to top St. Louis Park 49-25 during Friday's homecoming game at StarDome in Richfield.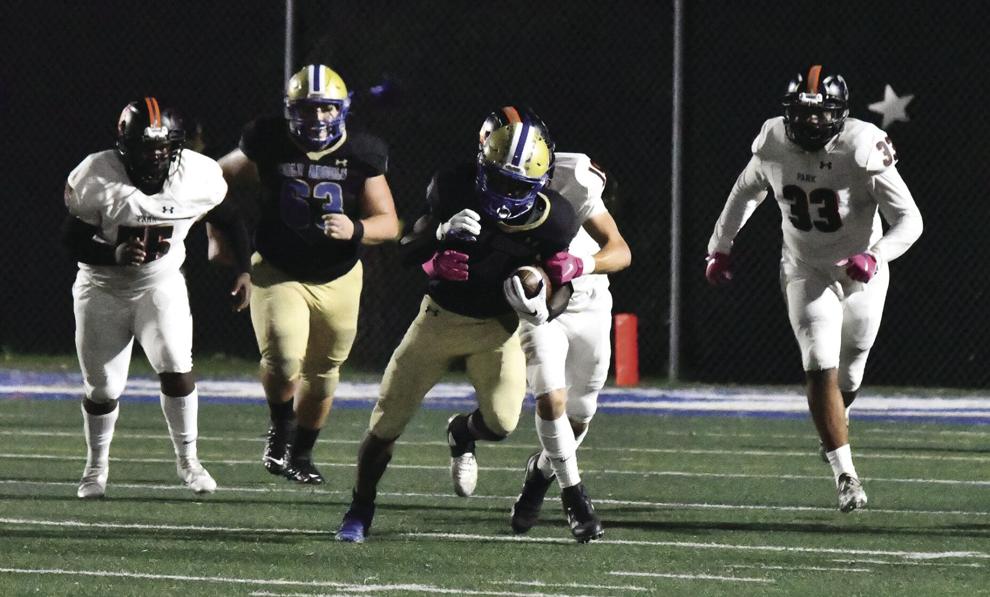 It was only fitting that one of the state's most prolific football players added to his already bright spotlight as Holy Angels senior Emmett Johnson ran for five touchdowns on 416 yards. 
Through six games this season Johnson has 1,453 yards and 24 touchdowns, scoring five touchdowns for the third time in four games. He scored four times and ran for 222 yards in a 35-3 win at Benilde-St. Margaret's on Oct. 1.  
He also had eight tackles (four solos) and an interception as a defensive back.
Stars quarterback Aaron Boarman added 137 yards on the ground and two more touchdowns as the offensive line blocked for an eye-popping 591 yards, averaging 12.8 yards per carrying in the Suburban Red Sub-District game.
Johnson said the message from coach Jim Gunderson was simple: "Win every play." And the team took that to heart. The standout back felt it was the best game yet by the offensive line to open the running lanes. "Once I hit the hole, my vision finds the openings," he said.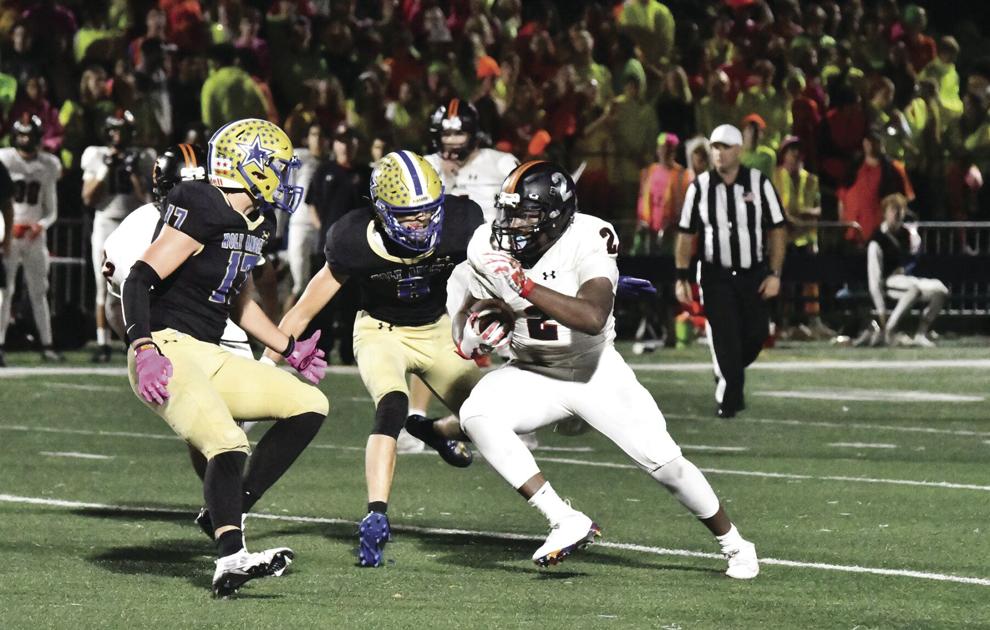 The Stars were without a starting offensive lineman so getting reps for that now two-way player was key. Staying fresh down the stretch will also be key as the Class 4A Stars have more guys playing on both sides of the ball than their Class 5A counterparts. 
The two teams sit at the top of the four-team standings with 2-1 records. Orono is third at 1-1 (1-5 overall) and Benilde-St. Margaret's is 0-2 (0-6 overall).
Gunderson knew they would have a tough test against another Class 5A opponent before wrapping up the regular season against 5A powers Chanhassen and Waconia. 
"What a tough schedule and we are entering the meat of it with St. Louis Park, who some people think is a surprise, but that is a good football team," Gunderson said. "Those are just guys who find ways to win."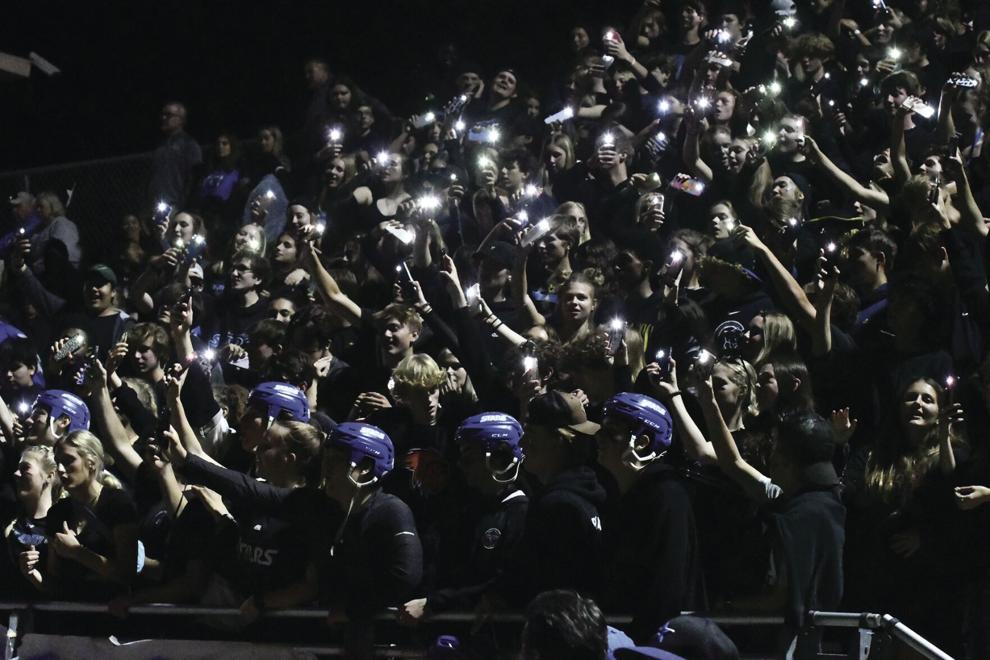 He was especially impressed with quarterback Will Dvorak's ability to evade the pressure and find targets to complete passes on the run.
"They gave us everything we could handle. A couple of big plays out of Emmett Johnson and the O-line winning the line of scrimmage was the difference in the game. Every time they came back, it was like naw, 'E' and 'hey, O-line – open it up for him.'" 
The game was 20-13 at halftime thanks to a pair of second-quarter touchdowns by Park less than two minutes apart. Dvorak scored on a 1-yard keeper before finding receiver Stefano Giovanelli on a 74-yard touchdown. Sandwiched between the touchdowns was a Johnson 80-yard touchdown, 12 seconds after Dvorak's rushing score.
Johnson scored on runs of 16, 80, 3, 65 and 84 yards to earn the respect of Park coach Jason Foster who said, "That kid is something else, best back in the state."
Foster made sure kicker Nicholas Kent kicked the ball out of the end zone.
The plan for the Orioles defense was to deny Johnson. But once they did that, Boarman broke off chunks of yards.
"Even when we thought we got to [Johnson] he found a crease and was gone," Foster said.
Boarman's lone pass was an interception and he ran 13 times for 137 yards. 
Park's Mason Amelse intercepted the Boarman pass, in addition to knocking the football free just shy of the end zone for a touchback just before halftime.
Foster was happy to keep the lead within one score into the second half. After some defensive adjustments to force the ball back into Park's hands, but the Orioles offense couldn't keep up with the offensive pace by the Stars. 
Dvorak and Giovanelli hooked up with another long touchdown this time on a 61-yard slant three minutes into the second half. The extra point was blocked to cut the Stars lead to 28-19. 
Johnson's 65-yard touchdown was followed by a 6-yard run by Boarman, making it a 42-19 lead for Holy Angels going into the final quarter.
The Stars defense was anchored by senior captain Ryan Bercich, who had 16 tackles (10 solos) and Josh Gillard, who had 11 tackles (six solos). 
Dvorak completed 17-of-31 passes for 303 yards and the two touchdowns to Giovanelli plus one late interception. 
Giovanelli's two catches went for 145 yards to give him 16 receptions for 474 yards and seven touchdowns in six games.
"I can't say enough about our quarterback," Foster said about Dvorak. "The things he does to get away and make plays downfield, I'll take him over anyone in our conference."
Gunderson said they tried to pressure Dvorak in the first half but he evaded the rush well. "So we went into man-to-man and he's scrambling," the Stars coach said, so they decided to drop more players into coverage to deny passes. "We've played some good quarterbacks but [Dvorak's] the most waterbug-like quarterback. He extended plays and trying to cover a 12-second play is hard to cover."
Johnson echoed those sentiments as a defensive back trying to cover a quarterback who is all over the field.
Senior receiver Brady Walsh caught a season-high nine passes for 119 yards to give him 22 catches for 289 yards on the season.
"Stefano and Brady do a great job with scramble rules and Will does a great job finding them," Foster said.
Orioles senior running back Deontez Ross, Jr. ran for 141 yards on 23 yards including a 7-yard touchdown midway through the fourth quarter as he wasn't going to be denied the end zone. 
Holy Angels hosts Chanhassen (4-2) Oct. 15 and wraps up the regular season at Waconia (3-3) on Oct. 20. The Storm shutout Waconia 27-0 as Wildcat standout running back Max McEnelly was limited to 88 yards, his second-fewest yards this season, and was shut out from a touchdown for the second time. He was limited to 61 yards and no touchdowns in a 7-0 loss to 2019 Class 5A state champion Chaska Sept. 24.
The Stars have scored at least 35 points in four straight games. The exception was the 30-7 loss to Orono, who was looking for revenge after ending the previous two seasons with losses to the Stars.
Holy Angels turned the ball over three times and Gunderson said the team which forces three turnovers a game increases the win probability to 80%.
Park hosts Waconia Oct. 15 before wrapping up at Chaska Oct. 20.