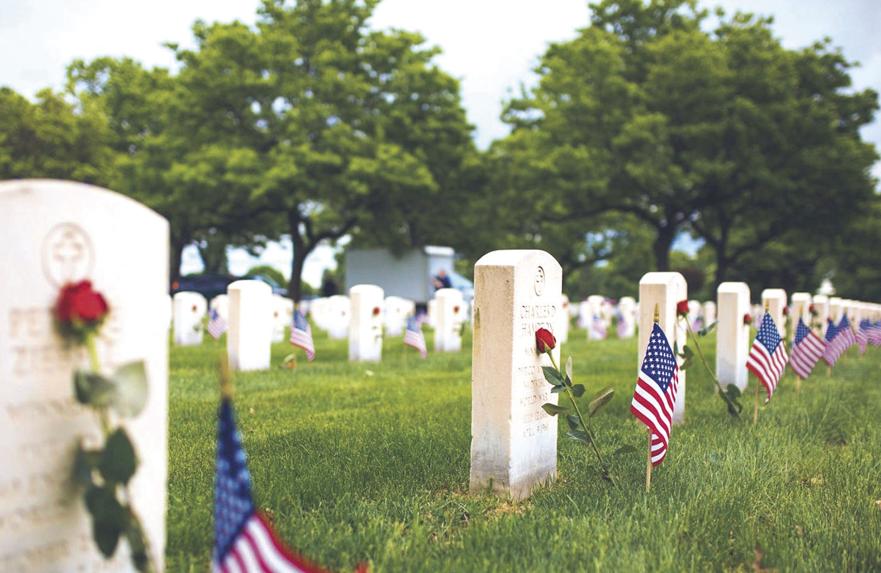 There was a time when flags adorning the grave markers at Fort Snelling National Cemetery were an annual tradition for Memorial Day.
That tradition went away more than 30 years ago. The cost and time required to place flags at the headstones of each grave became too much for the cemetery to undertake annually. That was a surprise to Joanne Malmstedt of Blaine, who wanted to bring her children to the cemetery on Memorial Day a few years ago to see such a display. She was disappointed, and decided to do something about it.
What started as a simple social media campaign soon turned into a nonprofit organization, and this year with the help of businesses such as RBCU credit union and Mall of America, the goal is to place a flag at every gravesite in the cemetery.
Malmstedt's first campaign was in 2015. Through social media outreach, she recruited assistance from friends and family in acquiring miniature flags to set out at the cemetery on Memorial Day, with the cemetery's permission. Among the first-year volunteers was her longtime friend Rocky Borchardt of Coon Rapids, who would soon find herself taking on a bigger role in what would become an annual effort.
The loosely-organized group of volunteers placed about 3,000 flags at the cemetery in 2015. It was a modest effort for a cemetery with more than 200,000 graves, and the women realized that an ongoing effort was needed, according to Borchardt. "This isn't a small task."
They formed a nonprofit organization, Flags for Fort Snelling, to raise money for purchasing flags and organizing volunteers to place them in the cemetery prior to Memorial Day. Borchardt put her marketing company, VantagePoint Marketing, to work, developing a website to help spread the word and recruit donations and volunteers. The effort helped the women place 10,000 flags at the cemetery in 2016.
Last year the organization placed 50,000 in the cemetery for Memorial Day, which was still short of 25 percent of the gravesites. "They all deserve to be honored every Memorial Day," Borchardt said.
The goal for 2018 is to place flags at every grave marker in the cemetery, and RBCU of Bloomington is working to help make that happen. The credit union is helping Flags for Fort Snelling purchase and place flags at more than 200,000 graves this year, and organize the process for placing them in the cemetery each May.
"We're trying to be the wind in the sails that helps that ship reach its destination," said Todd Barduson, the vice-president of marketing and development for RBCU.
When the effort behind Flags for Fort Snelling was presented by cemetery staff members to representatives of RBCU, the organization deemed it a worthy effort. The grassroots effort is akin to the spirit that has made credit unions successful, and the leadership of Flags for Fort Snelling found a trustworthy partner in the credit union, Barduson explained.
The credit union has collected donations on behalf of Flags for Fort Snelling and is helping to promote the goal of raising $100,000 to purchase flags for Memorial Day. In addition, RBCU is helping coordinate the ordering, storage, placement and collection of flags for this spring, a task that will require thousands of volunteers, a place to store the flags and a team to lead the effort, according to Barduson.
Mall of America has offered space for both storage of the flags and organization of their placement, Barduson said. The logistics of organizing volunteers to place the flags, as well as collect them after Memorial Day, is still being worked out, he noted.
The flags will be removed and reused annually, thereby requiring less fundraising in subsequent years, he added.
"Our annual maintenance shouldn't be nearly as much," Borchardt said.
Volunteers will be needed this spring, but recruitment through the Flags for Fort Snelling website is temporarily disabled until the logistics for volunteer assistance are finalized, according to Borchardt.
Donations thus far have exceeded $40,000, according to Barduson. Donations range from small, individual gifts to checks from area American Legions and VFW posts. And, Barduson expects that the momentum of the campaign thus far will grow between now and Memorial Day.
"Word will get out, people will be motivated," he said. "I know that we'll get there."
Follow Bloomington community editor Mike Hanks on Twitter at @suncurrent and on Facebook at suncurrentcentral.